The 3DXChat sex game features several public places where you can hang out, listen to music, dance chat and flirt. However there is one place with a special atmosphere: The Night Club. It is basically a dance place with a pretty cool mix of music. However there are some side rooms as well. One of which I already explored for you and write about it here:
The last time I went there. I noticed this very dark room, right next to the dance floor. I was wondering what is that for? There is nothing in there, no furniture, just an empty dark room and the only rays of light falling in there are the ones through the open door of the bathroom.
It did cross my mind, that this is something similar like the dark rooms in swinger clubs or gay clubs, where people cruise around to find a willing sex partner. Basically having casual sex with a complete stranger. The idea did kinda arouse me.
Give it a try, I said to myself. So I walked into the room, dressed with a mini dress and some hot stockings underneath. I stood around there for a couple of minutes feeling a bit stupid actually.
Suddenly someone walked in. A bit nervous I turned around and walked a bit deeper into the dark. Suddenly that guy had his hand on my ass, stroking it softly and whispered: "I want to feel you!"
I turned around and instead of answering, I pressed my finger on his lips and made: Pssst. Any kind of conversation would have killed this I assumed, so instead I proceeded to open his pants, having my hand sliding into it and grabbed his already hardening cock, gently massaging it.
Only second later we were getting down on the floor, excited, aroused and enjoyed each others bodies.
See yourself: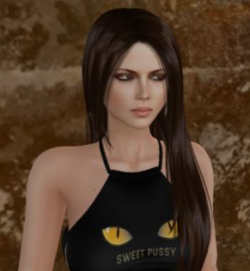 Founder of SLA Media, a company providing adult entertainment websites based on Second Life. Caroline has years of experience in the field of SEO and affiliate marketing. She runs an escort business within Second Life and is well known in the sl adult community.