We had our first party at Caroline's Mansion in 3DXChat. It didn't turn out as expected, but was great fun anyway.

The original intention was to host a swinger party. Typically I would expect people to have sex. That didn't happen.

Instead we had fun dancing to oldies and chatting the night away. One of my own customers, to whom I sold 3DXChat a while ago, ended up there as well. I didn't recognize him at first, I am so bad with names.

What makes that worse is that I actually fucked with him when he first joined and could not remember at first.
/me blushes.

We danced together there and kissed a bit. I knew he would have loved to take me to the bed here and then. He said he fancies me a lot.

But I was the only one who was not able to do anything sexual that day. I was supposed to host the event. Greeting guests, answering questions, looking after the music and so on. Hence I had to postpone that fuck.

I hope some of the other girls from SLA Media help me a bit at our parties in 3DXChat. Would be great. We could attend the guest sexually as well then.
What was funny that morning:

Whilst I was hosting the event in 3DXChat, I was also logged into Second Life at the same time. My other me, was sitting on a bed at the Second Life Version of Caroline's Mansion as an afk sex doll.

3Dxchat was running in the front and I had Second Life minimized. I got too visits actually at the SL-Mansion. Both guys actually quite good looking, fucked me like crazy and both left a nice tip.

When I noticed I switched to Second Life and took some screenshots:
I will do that now every time I am in 3DXChat. I know there is not much money to me made as an afk fuck doll, but at least I might get some tips.

Hence when you see me laying there in Caroline's Mansion (SL), I might not really be afk but attending customers or hosting a party in 3DXChat.

I might as well be watching you. 🙂
Jess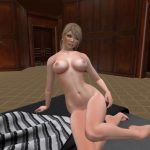 This diary is about the journey of Jessica through Second Life. As Jessica I am a team member of an in-world (in Second Life) company called SLA Media. It is a company which publishes several Second Life related websites (adult rated).