Strawberry Sing (a well known Second Life blogger and artist) started a funny blog challenge here. Write 7 facts about yourself that may or may not be obvious to your readers. I found that actually on webspelunkers blog here.
Ok, I give it try:
Fact #1:
Caroline is an ALT. Only very few people know my main account and I want to keep it that way. In fact on my main account I have only 30 people on my friends list, if you are on it, feel privileged :-).  The account was created back in 2007. I won't tell you her name, but I show you a picture (see above).
Fact #2:
Caroline is sexually very liberal. Exploring sex in second life is probably the most important part of Caroline's existence in Second Life. Swinging rocks! My main is less activ sexually but  more into somewhat deeper relationships. She even was partnered several times  – always to women. I actually prefer women when it comes to romantic relationships.
Fact #3:
My best ever sexperience was working as an escort girl. Getting paid for sex is a serious turn on for me. If somebody asks me for sex against money I can not resist doing it, unless it is for a silly amount.
Fact #4:
My favorite region in Second Life is the blake sea because sailing and flying is what I enjoy doing most in Second Life (after virtual sex). I even have a little moor on blake sea. It is on the parcel of a good friend of us ( of both, alt and main avatar).
Fact #5:
Caroline never bought any Linden $. All stuff I have is financed with money I made In-World.
Fact #6:
Second Life Adventures was created for fun, its success happened by accident.
Fact #7:
I was adopted in Second Life once. However, my SL father died of stomach cancer shortly after this post.
If you are a blogger and this inspired you to write 7 facts about yourself too, then please link to this post, and to the post of Strawberry and Webspelunker.
If you don have a blog yourself, then feel free to leave the 7 facts about yourself right here in the comments!
Looking forward to read YOUR 7 facts.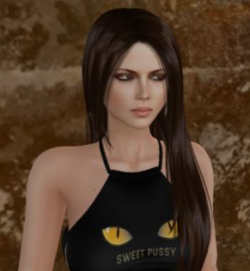 Founder of SLA Media, a company providing adult entertainment websites based on Second Life. Caroline has years of experience in the field of SEO and affiliate marketing. She runs an escort business within Second Life and is well known in the sl adult community.