I stumbled across yet another multiplayer online sex game. It is called AChat. As the name suggests, its an adult chat. I actually updated my sex games review to include Achat in the comparison with 3dXcHat, Chathouse 3D versus Second Life.
In this post I will go into more detail about Achat and show you my own naughty adventures in the game. First of all, they are not forcing you to spend money with them. Instead they seduce you.
To get you started you get a 3 day free premium pass.
Nice one.
Try before you buy is always a good idea. But on top of that they give you 1000 so-called A$, which is the currency in game. With those you can buy stuff like clothing, rooms, animations and so on.
When your 3 day pass runs out, you still can log-in the game and use the basic features. But only those! The stuff you bought with your 1000 A$ is not available anymore unless you buy another pass or you upgrade to a subscription. Of course you can always buy A$ and use those to buy stuff and even passes ( 3day, week, month).
A basic account includes a choice of basic rooms to use and some basic sex animations. If you want a nicer room and a better choices of animations (called "scenes" in Achat), you need to buy them with A$. The choices of scenes is actually quite impressive.
Whatever your preference is, you can get the appropriate scene for it. Each scenes comes actually with about 20 different actions included.
Prices and exchange rates are very similar to what we know from Second Life. The big difference is of course, you can not change A$ back into real money.
Clever isn't it? Give it a try, you might as well like it: Register for AChat
Ok, now what can you do in AChat?
Honestly at first it is a bit confusing. The main menu is not very intuitive, but hey, we come from Second Life. Anything is less complicated than the Second Life viewer.
There are basically three ways to get into the action. A few public places to go to, a partner search facility and a blind date feature.
Lets start with the public places. There are not many of them and they are not as good and not as frequented as the ones in 3dxchat for example. And nothing compared with what we are used to in Second Life.
Don't get me wrong. They are nicely designed, very detailed and quite pretty. But all you can do there is meet people and chat. You can not go into buildings, you can not attend a party in a club. You can not even sit somewhere.
But, yes you can have sex there. Great for those who love sex in public:
To give you an idea what the places look like I took some screen-shots for you:
However, there is one place that caught my attention. It is called the "night-shift".
Guess what that is.
Yup. That is it. A place for whores. You can offer sex for A$. Those of you who read this blog longer already know whats going to happen. Yes, I had to try that.
When you go to the night shift. You are prompted with a message asking you, if you want to enter offering services or as a client. The message also explicitly states that it is allowed to get paid for sex at this places.
You pay with A$ of course.
The place resembles a street whore place. As a whore you actually stand in a window and potential clients walk in the street making their choice.
Just like in Second Life street whore places, you need to have patience. It can take a while until a horny guy approaches you for services. That is mainly due to the fact that it is rather easy to get laid for free in Achat. But as we know from SL, there is always the guy who doesn't want to go through all the motions of chatting up a girl. Or the guy who simply enjoys being served by a whore.
After a bit of waiting in my window, one of the later came up and approached me. Me being a noob, I had no Idea how much I should ask for. After a bit of bargaining we agreed on 300 A$. Not much compared to the 2000 L$ I usually charge in Second Life, but hey, it was for the experience not to become rich.
He took me to one of his rooms. A city apartment penthouse style. (You can actually buy such rooms with A$). Until such time, I did not have my own animations yet. Didn't matter at all. The guy was well "equipped" with scenes.
Tip for the girls:
You don't need to buy many poses. The guys usually have them (unless it's a noob). You better invest your A$ in nice and sexy outfits.
Next I was trying the blind date feature
This is a bit like in Thrixxx Chathouse 3D. The difference to Chathouse 3D to the blind date feature in AChat is the possible choice of animations. AChat offers far more scenes and actions than any of the games I have been testing.
I did it. Not just once. Actually several times. Some encounters where a bit weird, but most where actually very sexy. It is quite exciting to meet a random stranger and see what happens.
Pics of my blind dates:
Just recently I received a substantial amount of A$. That is because I signed up for their affiliate program and asked to get a premium account in order to be able to actually write about it. Hence suddenly I had a premium membership and about 16.000 A$ on my account.
Very cool.
So I went shopping. Got myself one of those rooms, my favorite animations and of course, some sexy clothing.
Time to check out the search facility
That one is well worth using. You do a search based on the obvious filters: gender, sexual preference and also by country and user name. In the search results you see if the player is online. You also see a huge animated picture of his/her avatar.
Here you have to option to initiate a chat, add a user as friend, send money and most importantly to invite to your room, individually or even in groups.
Just like in other sex games, user do typically not appreciate so-called "colds". That means an invitation without prior conversation. Especially for the girls it can get quite annoying.
Tip for the guys: Just don't do it!
Yes, I did get laid. Not only once but several times. Actually I lost count how many guys fucked me within just a few days. I can not even recall their names. The last time I was in-game I even had three just one after the other in my room. Two very young lads who were looking for elder woman, just my cup of tea.
Each time was a hot experience.
 Next?
Well, I want to try a threesome. I will report here about the experience of course. Anyone up for that?
Lets meet up in-game and I show you around, or maybe a bit more than that. Simply use the search facility and search for "CarolineSL". Then send me a friend request stating that do read my blog.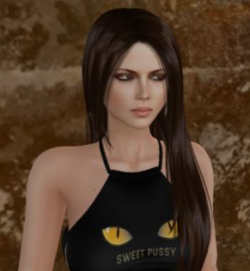 Founder of SLA Media, a company providing adult entertainment websites based on Second Life. Caroline has years of experience in the field of SEO and affiliate marketing. She runs an escort business within Second Life and is well known in the sl adult community.