He came and fucked me. Not much beating around the bush, simply jumped on the bed and had his way with me.
That is what is expected from an afk girl. As you know from my previous post, Caroline redesigned the mansion. Ever since the place gets little by little busy.
I help with that by "parking" my body on those beds for everybody to use in exchange for tipps. Thats should help getting the traffic up which is an important in order to rank well in inworld search.
Of course it's not about the tips only. It's about getting group members. The membership actually costs 1.000 L$. That helps to pay for tier fees, but most importantly it assures a certain level of quality.
So I did this time when this jung quite good looking guy came to the place and had his fun with me.
This is what he actually wrote to me whilst using me (He didn't know I am watching ,-) ):
Mason: Didn't expect to see you here, I've read some of your blog posts and I enjoyed them. I'll admit, it's kind of exciting seeing you "in the flesh."
Huu am I getting famous?
Anyway, I'm gonna pound the fuck out of you. Dig my fingers into that supple body, caressing your curves and every inch of you while my shaft scrapes against your insides.

Mason: Mmf, the fact that your body actually lines up with mine turns me on even more. Just sliding this cock directly into your cunt is way more satisfying seeing that.

Mason: /me grabs hold of your neck and your arm before pushing you onto your back. His throbbing, veiny member twitches just above your vulva, and he rubs against those lips. Teasing over and over before prodding his tip against you, just aching to push through. Finally, with a thrust of his hips, he invades your inner walls, inch by inch his cock slides into you. He wriggles and twists his hips, basking in the pleasure of penetrating you, then tightens his grip on your body.

Filled with lust, he pistons into you hard and deep, kissing the entrance to your womb with each thrust. Each one seems more aggressive than the last, who knows when he would have his fill of your tight cunt and sexy body.
At the same time Sheraka was used too in the opposite room and Caroline herself was entertaining two guys at the same time.
Sheraka:
Caroline:
A busy morning indeed.
We are still looking for beautiful girls as afk girls but as well as escorts. If your interested drop me an IM or leave your user name here in the comments.
See ya soon
Jess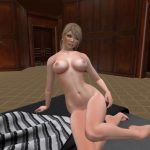 This diary is about the journey of Jessica through Second Life. As Jessica I am a team member of an in-world (in Second Life) company called SLA Media. It is a company which publishes several Second Life related websites (adult rated).