My regular readers might remember the guest post by Ash Wizardly about him fucking the hell out of my ALT Charleen whilst me being afk.
This happened when I was investigating this AFK camping place, a region where girls leave there avatars on poseballs whilst they are actually away from keyboard (AFK) and do other things. They leave their pixel dolls for everone to use for pixel-porn.
Ash is a avid reader and fan of this blog since many years. He knew Charleen is another me.
Maybe that is why fucking AFK-Charleen for hours was such a turn on for him. I even hade him writing about the experience. In return I promised him one of my sex lessons.
It was just recently, when i was unpacking some new stuff I bought, I invited him over to Uwe`s apartment in the sky above the head office. I was only wearing the new pink scarf I bought, nothing else.
Well one thing let to the other and a few moments later, he was having sex with the real Caroline. Not afk at all: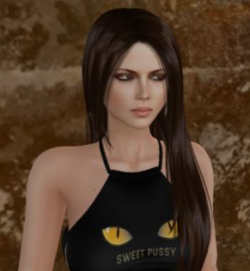 Founder of SLA Media, a company providing adult entertainment websites based on Second Life. Caroline has years of experience in the field of SEO and affiliate marketing. She runs an escort business within Second Life and is well known in the sl adult community.