Today's interview is actually not with a regular 3DXChat user. BrettSmith is a machinima producer. He makes videos in the online sex game 3DXChat. He had seen me posting on the 3dXChat forum that I am interviewing players about their experience in the game.
He wrote me a private message:
Hello Caroline,

I would like to offer you an interview if you would find my involvement in 3dx interesting.
I am the founder of the first virtual 3dxchat porn movie corporation, called JBHeat Productions.
I am among those who use 3dx for some creativity too, not just some naughty online experience

So if I made you curious, let me know and we can meet in game.

Brett Smith
Of course I was curious. Hence we agreed to meet in-game at my favorite club called Fresco.
After a bit of small talk, we talked about the differences between making porn videos in 3DXChat and Second Life. We actually decided to work together and load his videos on our new machinima porn website.
If you are interested read the business talk here: JBHeat Productions.
Suddenly the topic changed when he said this:
BrettSmith: To give you a little more of an image of how I approach things in here. I do find you attractive both intellectually and sexually and if you have time after this interview I would love to take you to the beach for some nice time :-). By the way. Girls in glasses turn me on really fast. Nothing is better than a smart sexy gal.
Caroline: Ha, ha looks so clever doesn't? Tell me about your best sex experience ever in 3dxchat?
BrettSmith: I have two of those that I really love to remember to.
1. My wife and I went to the club. Maybe 50 people were there and she started to give me a blow job butt naked right on the middle of the dance floor, where then I fucked her mercilessly. We got blocked by a few people who thought they were in church but Jina and I had a fun time. And I think most people around us did too 😛
2. Jina invited two of her girlfriends to our home and I could enjoy each one after an other. While I fucked one, the other two girls enjoyed each other next to us. And rotated. It was a lot of fun.
Caroline: Do you us an add-on like a VR viewer or the Vstroker equipment? If yes, does it substantially enhance the experience? If no, why not?
BrettSmith: I can't use VR because I can't type then. I need to look at the keyboard often. That other thingabub has never occurred to me. I have a hand I like.
Caroline: You mentioned your wife a few times, is that an in-game relationship or is she your RL wife too?
BrettSmith: No, not RL wife. Although I know very well as much as I can. I have seen RL how she looks like (she is gorgeous) but everything we have is 3dx only. We both believe that crossing line to RL is not wise.
CarolineResident: Do you actually find it easy or difficult to chat somebody up here for sex?
BrettSmith: I'm a profile stalker. Often I sit quietly in a room and all I do is read people's profiles. When I find someone interesting and hot, and her ways of words turn me on then I initiate a conversation. However I have a certain list of quality "friends" for fun. So i don't really "pick up" new ones lately.
Caroline: Ok, what do you like most about 3dxchat and what do you not like, or in another words: If you could change anything about it, what would that be?
BrettSmith:
1. I love that we all have the same interest here in one thing. Online sex. No one here, doesn't matter what they state in their profile, signed up to make non-sex friends only. Every single person here you see is here to fuck or get fucked.
2. I absolutely love the engine of the entire software that allows such a beautiful setting and I might add probably the best looking, even though limited variation, avatars, skin, lights and animations.
3. I met Jina here. She is a wonderful girl. Kind of a loose cannon and much younger than me but hell that gives me a fun ride too. While I put her as #3 on the list, she is definitely leading it.
And now what I don't like and would change if I could or would have the influence to do so.
1. More scenery, or the opportunity for us to create them, instead of using hack files and build space ships from couches.
2. More inventory items or the options for us to make them, including avatar design so we won't look like a large related incest family.
3. Compatibility to use 3Dconnexion. I love that hardware and it would help to make even better movies with it's beautifully smooth camera control. That would be fantastic here.
Caroline: Now what advise would you give my readers, if they consider trying 3dxchat?
BrettSmith: Don't be shy. Try it all. Being a slut or a stud in 3dx is actually a good thing. Don't think of this "world" as the real one. Forget the real one. Let your lustful emotions fly free and have at it.
Caroline: My last Question: It is known that behind many girls here are actually men in real. Does that bother you or should it bother anybody?
BrettSmith: Well, it is kinda connect to my previous answer above. Forget RL. Which also means. Do NOT tell me. It wouold turn me off if I knew and fun would be killed. Otherwise this is a make believe world. So yes enjoy it. If you offer me to imagine something and you are presenting it well, then let me have that imagination. Don't ruin it with the truth. We are not here for the truth. We have that in RL. 3dx just like other virtual worlds should fundamentally be a world of imagination, an escape from RL.
CarolineResident: I just had a fun idea, do you want to make a movie one day with me starring in it?
BrettSmith: That's an exciting idea. Sure thing. But you have to go through the usual procedure the others do. Interview, bio, promo video, and movie. And yes I do like you, so you passed that part (laughs).
BrettSmith: Tell me have you enjoyed the beach in 3dx style yet?
(I knew where this was going, you do as well I guess).
Caroline: I have been there once. I did even write about it: Sex on the Beach
BrettSmith: Once? And did you have naughty time or just enjoyed the sand as is? Ok, let's go to the beach. What I am thinking of right now is, getting some yummy benefit of your profession/hobby.
Of course we went to the 3DXChat beach. We both knew at this point, it's not going to be to get some sun tan.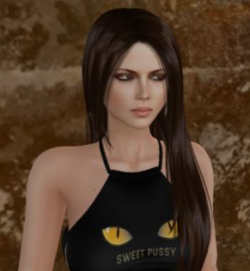 Founder of SLA Media, a company providing adult entertainment websites based on Second Life. Caroline has years of experience in the field of SEO and affiliate marketing. She runs an escort business within Second Life and is well known in the sl adult community.