Next day.
It is me sitting in the hotel restaurant having breakfast. Still smiling about the brief encounter I had yesterday evening in the pool billiard room (blowjob for a guest). It is not something you do on a daily basis: swallow the sperm of a total stranger after spontaneously jerkin him off.
He had a nice cock actually. Not to big, not to small. Thinking about it and the thought of holding his cock in my hand  got me aroused again.
Is he still in the hotel or did he check  out already? Forget it, I thought to myself.
I decided to relax a bit in the whirl pool. I went done to the spa and guess who was laying there on the massage table? All alone. Yes, Billy.
He didn't realize I was there. Was he waiting for someone? The Masseuse maybe? Ok, I decided to surprise him.
I slipped out of my dress, totally naked.
I came closer.
Touched his neck, started to massage him and said: "You ordered a massage Sir?"
"Oh, it is you Jess, I would not have thought to see you again that fast, what a nice surprise. And wow, you are so hot!"
Without hesitation and inhibited I took his cock in my hand again. Massaging it, gently, kissing him. Felt how he grew in my hand.
Jessica : Yes i can feel it getting hard again.
Bill : Probably cause i want you… with your legs spread wide

Jessica: Yes, take me, I want to get fucked again.
Bill: /me fumbles with something in his jeans. "do i need to put on a condom?"

Jessica : nope

Bill: /me pushes down on your back.
Jessica: /me lays back and spreads her legs awaiting him to penetrate her.

Bill: /me looks into your eyes, pushing, slowly driving his bare cock inside you.
Jessica: /me moans as she feels him entering her pussy deeply.

Getting Fucked in the Chamber Hotel Spa

Bill: feeling your legs wrapped around him, your skin warm against his.
Jessica: /me pushes her hips upwards at every stroke he makes into her.

Bill: /me fucks her slow, deep, feeling every inch of her grab him, squeeze him."Take me deep Jessica… make me need it more than anything".

Bill: he stabs into her with more force, watching you, your boobs bouncing with every thrust.
Jessica: Fuck yes, take me hard and fast.
Bill: That's how you want it Jessica? Getting fucked hard?

Jessica: Yes use me, till you cum in me.
Bill: yazzzzz. i need this jessica, I need your body, your pussy, be a slut for my cock, let me use you.

Jessica: /me moves her hips in small circles as he fucks her to feel it on all sides, intense.
Bill (: /me rams you harder, forcing his cock into you over and over, desperate to get off, using your warm pussy for his lust.

Jessica: /me shouts out loud disregarding that they are in a hotel: "Yes honey, fuck me"

Bill: /me fucks you furiously, "you need it?!" (( so close ))
Jessica: fuck me from behind to cum.

The Moment of Release

Bill: /me gets up behind you and grabs your hips, slamming deep into you, me drives his cock deep inside you and cums (rl tooooo). Pumping his seed deep into you.

" Fuck,… that's is baby! Take it!"

Jessica: /me squeeze his throbbing cock with her pussy.
Bill : slut!!!! take it!

Jessica: /me feels his warm juices rides it faster, breathes heavily: "coooming tooo"
Bill : Fuck…..that felt good…
Jessica : /me smiles
We stayed a while after this in the whirlpool and chatted about what we usually do in Second Life. The funny thing was, he said he is normally not into casual sex, it doesn't do much for him. With me it was actually the first time he really enjoyed it.
The conversation went like this:
Jessica: ist a good hotel isnt it haha
Bill : I think i like this spa, lol, sure is.
Jessica : and in here better than standing in the yard haha.
Bill : your pussy sure convinced me of that!

Jessica : what else are you doing in second life when not standing in the hotel yard haha?
Bill : Oh, thats busy me. Normally me hangs out alone in empty sims.

Bill : lol really why is that?
Bill : /me shrugs, its nice and quiet? And most people are boring anyway. I used to go to concerts sometimes. when i knew something was on.

Jessica : so you are not having a lot of sex here then?
Bill : not really no, I really don't do casual sex. Guess i was lonely today.

Jessica : or horny? You don't like casual sex normally?
Bill : nah, doesn't do much for me.
essica : But you enjoyed it today I hope.
Bill : i did, maybe cause I have never been inside the place before.

Jessica : Hmmm will we meet again for some of this ? Or was that a one off thing?
Bill : If I find a hotel and feel lonely… Should i call you?
Jessica : Yes that would be fun, but only if you really want this.

Bill : Hey, this was so sexy!
That was it at the Chamber Hotel for now. I am sure I will meet Bill again, for yet another adventure in the "what hotels are for series".
I have a question to my readers:
Do you have casual sex in Second Life and is sex an important part of your Second life?
Please leave your take on this in the comments!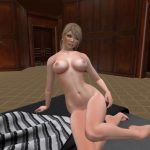 This diary is about the journey of Jessica through Second Life. As Jessica I am a team member of an in-world (in Second Life) company called SLA Media. It is a company which publishes several Second Life related websites (adult rated).