It turned out to be a busy morning again at the Cafe CumCum. I got fucked by 4 guys, one after the other this morning.
Number one was again Istvan. I thought it would be fun if I serve him in front of the Cafe instead of inside, right there on the street.
That was very short encounter, because he couldn't get an erection in real due to some medication he had taken. Not sure if this even counts as a fuck.
Next was a regular. He typically fucks Tandy or Bex, but Tandy was busy with another guest and Bex hadn't started her shift yet. So I did the job.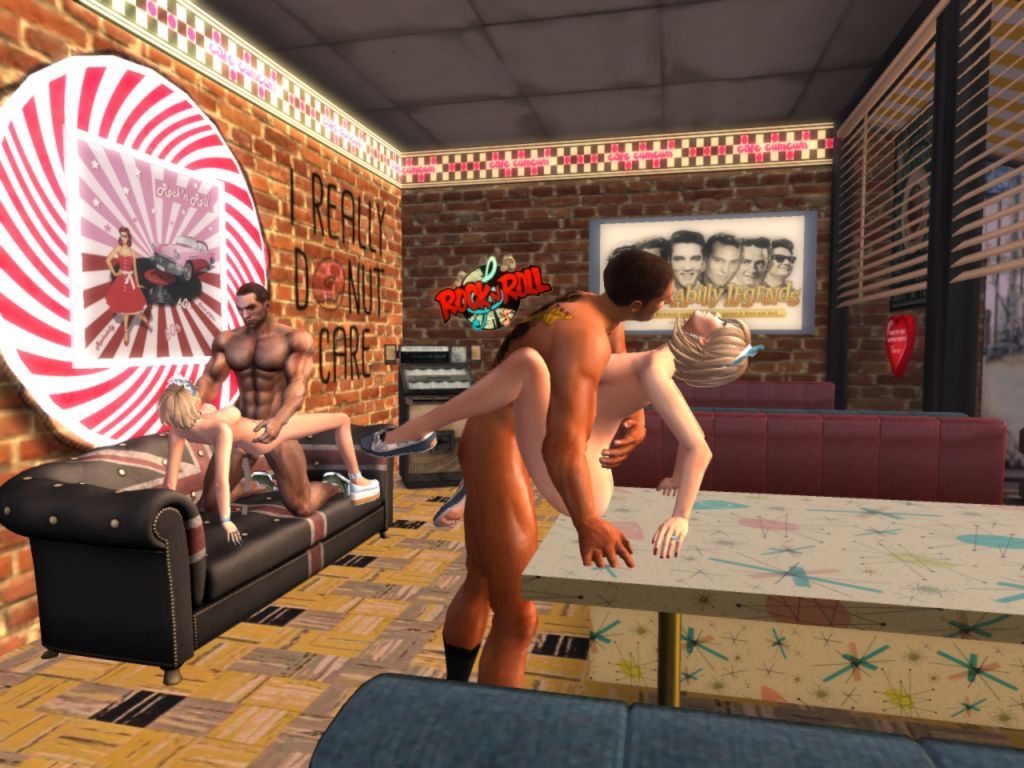 Number three was especially exciting. A young student popped in. Actually on his way to college. He was very shy at first. But turned into a very hot session in the shower.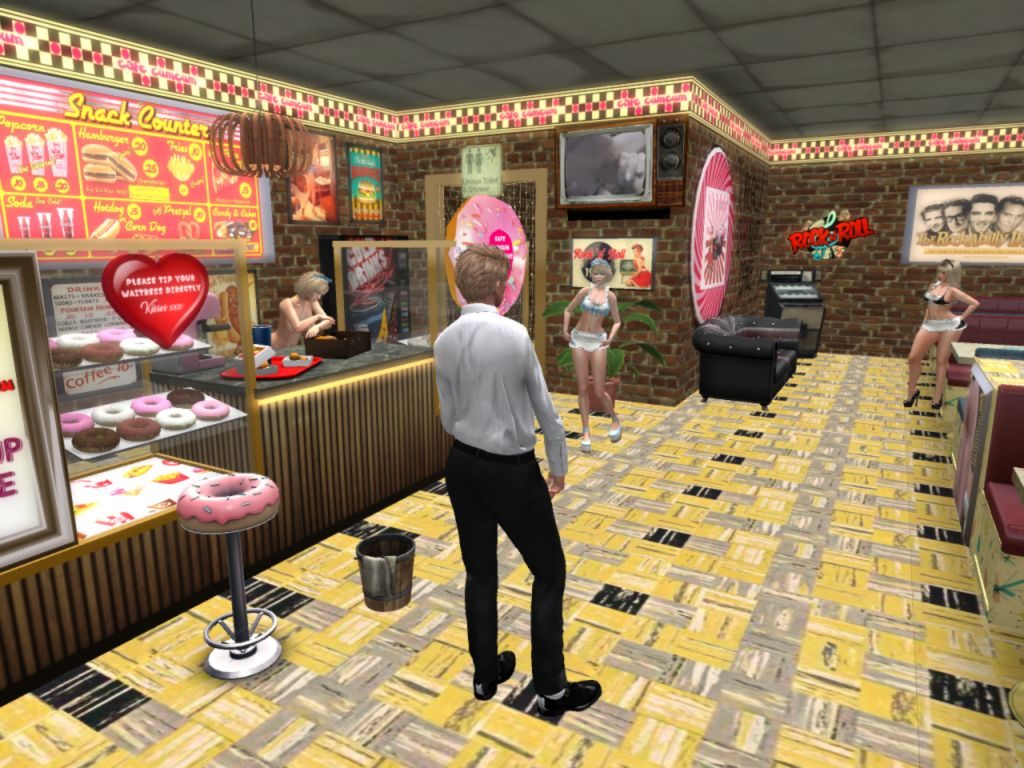 His very hot young looks did help of course. We did the entire play in open chat entertaining everybody in the Cafe. That in itself was hot. I even did climax with him.
This one deserves its own little gallery:
Very shortly after I finished him. Rudolf from the Hedone family came along. I was standing behind the counter waiting and chatting a bit with Lockie when he walked into Cafe CumCum. He didn't beat around bush at all and simply said:
"I want to fuck but Maria is not at home, so I decided to come and see you".
Ok, He is not the best fuck. He doesn't emote at all, he doesn't even look attractive and his constant moving poses around is a bit irritating.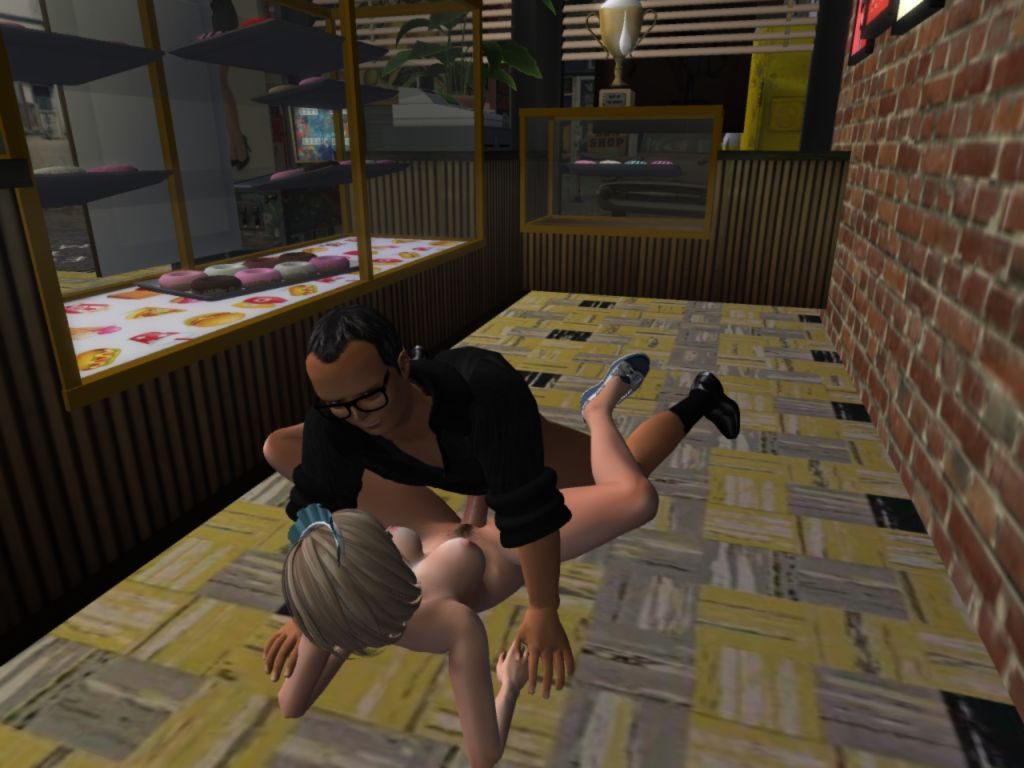 But hey, that's the job. We need to satisfy all out customers.Hence once again I did spread my legs and let him have his way with me. I didn't put that much effort into it, despite he did cum and was very happy afterwards. I guess he must have been extremely horny that day.
I had something to eat.
Later that day I had two more. First a nice German guy. It was funny when he ordered: "I have two donuts and a blowjob please".
"Not a problem", I said, "Please take a seat!".
Said and done. During me sucking and licking his cock, he actually had a talk with other waitresses until suddenly he ordered an upgrade. He wanted to fuck me instead of the blowjob.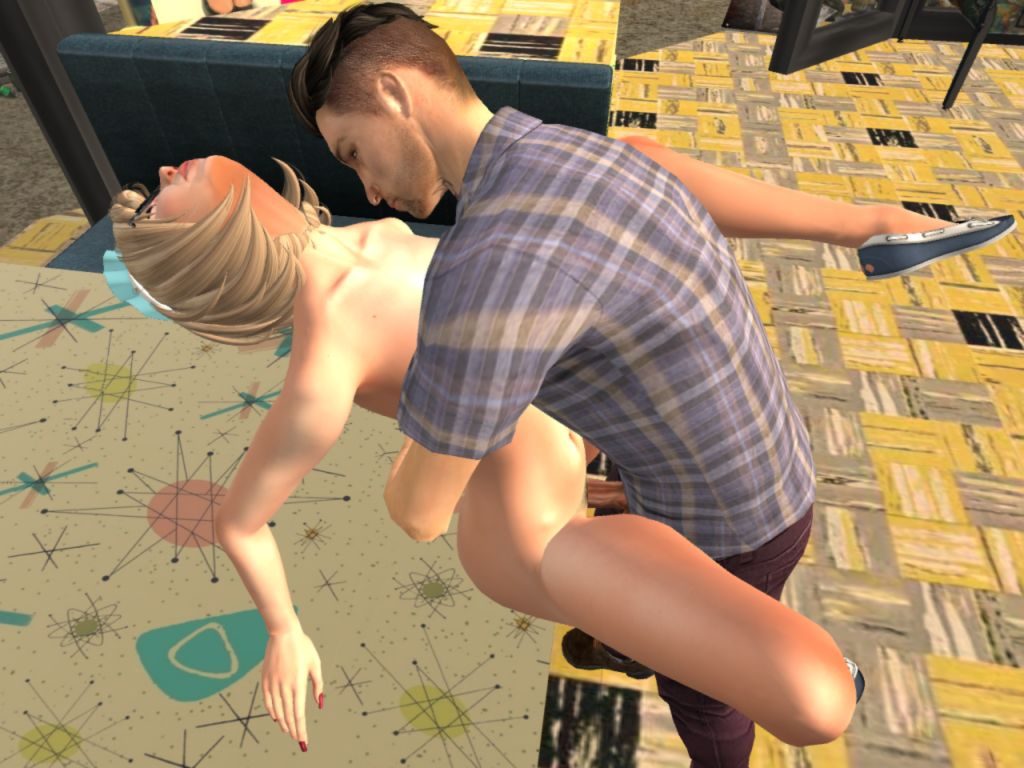 He did cum shortly afterwards and paid me a 200 L$ tip, despite of claiming that he normally never paid for sex. But this time it was exciting to him (and to me) to treat the waitress like a whore.
I am all fine with that! I never wanted to become an escort like my colleagues at SLA Media (i.e: Caroline and Jessica). Nothing wrong with getting a tip sometimes. Doesn't make me a whore. I guess. Or does it?
The last guy of the day was kinda odd.
The he asked me to buy and wear one of those cycle simulators. He wanted to try to get me pregnant. He was very much into that.
Breeding as a kink?
Well that makes it 6 in one day. I think we should get a score board!
Update
It has been a really busy week. I am typically around 11.00 PM SLT at Cafe CumCum. I lost count how many customers had been fucking me. Maybe 20 this week? Maybe 30? We so need a scoreboard!
It gets to the point that I can not remember who did and who did not (yet). It doesn't even matter anymore. I just take the order and serve.
It is great fun indeed. Now I understand what Tammy meant when she said: "It is fun to be used by random strangers here".
Some Random Pics Taken During My Shifts:
Charleen will explore Second Life as a mature woman. She writes about her sex adventures as a MILF. She also touches delicate subjects and researches ageplay, incest fantasies and other extrem kinks in Second Life. Her posts are not for the faint hearted.