I am not sure what Cathy gonna think, when she reads this.
Maybe something down those lines: Oh my god, I have seen this coming, but Carol, hands off the models please, do not fish in your own pond". One must not have divine abilities to foresee what Uwe will think about this: "I want to fuck the little blond one too."
Sorry, spoiler alarm.
Anyway what happened? Well, Cathy recruited a new model for our porn production services. Actually I can not recall how they met, but she seems to be an avid reader of my blog too.
Her name is Kioke Mio and she is a drop dead gorgeous young girl.
Here is the interview with her and Cathy: Kioke – The Interview

Next thing was Cathy introducing her to myself. She wanted my opinion about her, if she is good enough to be listed as a porn model. You must know, we only want to list a select few. We want to offer porn producers the very best girls and men we can possibly find, instead of having a long list models waiting for ages to be chosen for a production.
She did so qualify!
I was immediately fascinated by her looks, her charm, her playful behavior. It was then, that I knew there will be more to this than just a professional relationship. She is very much into sailing and flying planes in Second Life as well. That does definitely help to trigger my interest.
Yesterday we met. It really started as a quick visit. Just showing me her new place. We talked a bit and spontaneously decided to go on a little sailing trip on her new boat. A bandit, probably one of the best yachts available in Second Life.
"Where will you take me too, Mrs. Resident?" She asked.
"Well lets see. I know those waters very well. In fact, I used to live close to here", I replied and started the engine.
It was a long route we took. First sailing along the very familiar shores of the blake sea. Setting course South, we went as far as Nautilus City, then turned West sailing together into the sunset till night fell over Satori waters.
So romantic!
Eventually we even reached the Satori coast where I showed her around Alexandr Airport. It was fun seeing her amazement about this really impressive build.
Then I said: "OK. Enough of planes for today. Lets go home, what you think?"
Off we went. At the time Uwe came online too. You know what he wants when he contacts me, don't you? Well I decided to introduce Kioke to him as well.
No, not for him to fuck her. I had something different in mind. I wanted her. Very much. I combined it. We ended up on my place in Saratoga Springs. I invited her to sit with me on the sofa, teased her, caressed her whilst Uwe was watching. I knew this will turn him on big time. He actually tried to be parttake but I asked him to just watch and enjoy. He ended up watching what was about to happen.
Kioke obviously enjoyed my tease, my gentle touch. Hence I continued and became more passionate and intimate until we indulged into very passionate and sensual sex.
This wasn't a one night stand. There will be more to this. Maybe much more.
There is just one little catch to it, which makes the whole thing fall into the category "it's complicated". This is what she said to Cathy in the interview:
"I am straight I suppose… I love men and will always prefer them. But that being said I can really enjoy time with a woman as well. I don't think my preference would allow a relationship with a woman to go much further than pleasure alone though."
Time will tell and I will tell you, when time told me.
It didn't take long to cum for Uwe, masturbating whilst watching us.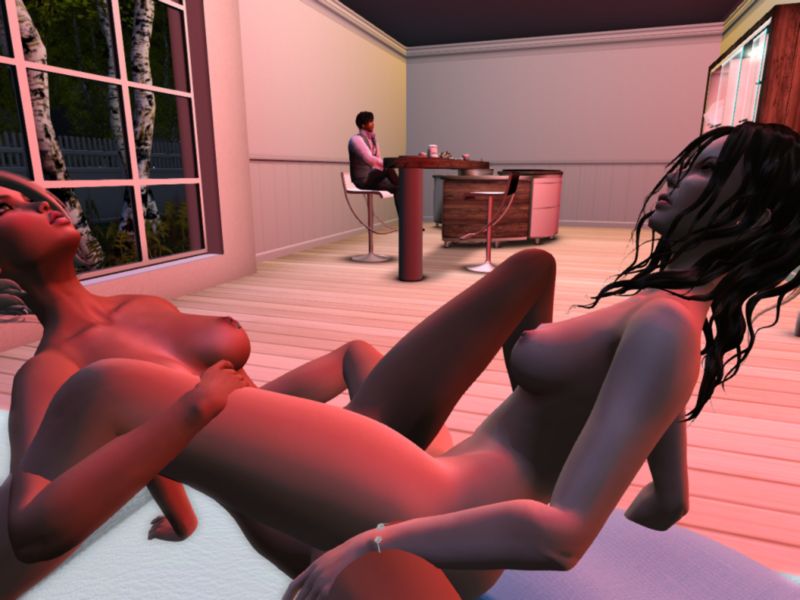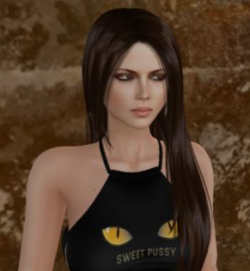 Founder of SLA Media, a company providing adult entertainment websites based on Second Life. Caroline has years of experience in the field of SEO and affiliate marketing. She runs an escort business within Second Life and is well known in the sl adult community.