I am one of the first escorts in Thrixxx Chathouse 3D Roulette. Yep, I am giving this a go myself. In one of my last posts I actually suggested that it is possible to make money as an escort in the Chathouse sex game.
I even gave you a step by step guide how to actually go about it:
I will show you with this experiment whether or not it is possible to make money in the Chathouse 3D as an escort girl.
Having been a professional already in Second Life. I know that preparation is crucial. There is two things you need in my experience:
A good looking avatar
A place where you can go to with your guest
Using the standard free avatars provided by the game is just so not an option to me. But
as I pointed out in previous posts. Making a realistic and good looking avatar in the Thrixxx Chathouse game seems quit a challenge. Possibilities are limited and every time you make substantial change you are asked to buy bits and pieces with your xcoins.
Fuck it!
I signed up for the monthly subscription scheme they offer. This gives me access to all content available in the game. Avatar modifications, outfits, sex poses, room editor …the lot. It only costs 9.95 Euros per month. A small investment into doing this on a certain level of quality.
I am actually quite sure, this will give me an edge over other escorts. The ones I have seen so far, use very hot real life pictures in their profiles, but the avatars are the downright ugly noob avatars.
I aimed at creating (with the limited options I have) to create an avatar which looks as similar a possible to my main avatar in Second Life. Not an easy task.
Next step: Verification.
Thrixxx requires age and gender verification, before you can play as an escort. The way you do that is simply filling in the application form on their website (after signing up for an account) and attach a copy of your passport, ID or drivers license. Done.
Now what?
First of all, you need to login as escort for this to work of course.
Well until this point I did not even know, how much an escort is getting paid in the Chathouse 3D sex game. So I contacted support.
They quickly responded in-game. Yes, that does exist, not in Second Life, but yes it does exists at Thrixxx. So what the guy explained is this:
A potential client who is using the "escort mode" chooses the pixels of his desire and sends a request. He then gets prompted with a message "You are initializing an escort session, do you want to proceed". If he confirms he gets shown prices. At this stage he has to tick the "i agree box" and the session starts.
The pay
A customer pais at the moment 1.000 xcoins per minute he spends with an escort. The escort girls gets 30 % commission of that. 1.000 xcoins is roughly 1 Euro. Hence we you manage to sell 100 Minutes you are making 30 Euros. In some countries many people earn less than that in their regular jobs for a day's work.
Not a lot, I know.
But remember, it is not only about the money I make in the game. It's about the stories for the blog, promoting the game (/me points to sidebar). However, having said that: 30 Euros for 100 Minutes playing a sex game isn't that bad either.
In the next update, escorts can actually put their own prices, ranging between 600 and 3.000 per minute. That sounds like a much better deal.
However, you better be damn fucking good at it if you want to make up to 54 Euros in one hour for online sex play. Yet another challenge!
Next was decorating the villa.
There are not many options actually with the stuff you have in game. However, I have read somewhere that there is a way to create things and to import user generated content. I will have to figure out how that works.
For now I have:
Cute and sexy avatar
Place to go to
Verification
Decent profile
Next is finding the right time to play. I need to figure out when are those potential clients online. I guess there will be a lot of waiting ahead for me. What I will do, until I know when is the best time, I simply run the game in the background whilst working on something else. Just like now as I am writing this post.
Let us see what happens, I keep you updated!
Guys, you want to spend some time with me? You know where to find me (Username: CarolineResident). Girls, I dare you to try this yourselves. Lets see who first hits 100 minutes sold.
Update: My First Client!
It was however a bit tricky to get in the same room with him. Somehow the system needs a bit adjusting. When somebody invites me as an escort and I am actually in the game I do not get a message or a TP offer.
I have actually to go back to the start page where I can read messages and invites. That way I already lost about 6 opportunities. But even so chatting to that guy, I found it very complicated to get to him. After several attempts we finally managed.
It was then, when I found out why those guys pay escorts in a sex game. At least this one was asking for stuff, he probably would not ask on a regular date.
Oki, I made my first 10 Dollars in the Chathouse 3 D Roulette. Now I need to find out how to optimize the procedure to actually get to clients.
Update: Second Client and crunching numbers
I haven't done much in-game ever since I had my first encounter as an escort in the chathouse 3d sex game. But it was worthwhile doing it anyway.
Yesterday I loged-in again. This time it worked much better. I had a client immediately after log-in.
A woman this time.
It was a bit weird actually. Her kink was to get ass-raped. Yes, seriously. She played even trying to get away and having pain, but wanted me to continue and fuck her ass hard and fast in all kind of positions.
After a while she turned the scene around.
She kinda played taking revenge and fucked the shit out of my ass, literally (don't ask). In the end she even made me suck the dirty strap-on dildo.
The whole thing took about one hour, which made me 20 Euro. Not bad for a bit of role play and watching my avatar getting fucked.
Time for a financial recap?
Indeed. So I made about 10.00 Euro of the first client, 20.00 Euro of the kinky lady. Not much indeed.
But: In addition I made 200 Euros with new subscribers to the Chathouse 3D sex game with the advertising on this blog due to this story. Not a bad start at all, don't you think so?
Total revenues: 230.00 Euro
Of course, not every story makes that much. Most make much less, some much more. Here a screenshot of the totals of this specific advert. You can see that this month and last month together there where around 200.00 Euro. The remaining 18.00 Euro are from the previous post about this topic.
Try it! If you need help or have a question please leave a comment here or contact me in-game!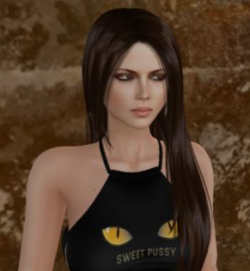 Founder of SLA Media, a company providing adult entertainment websites based on Second Life. Caroline has years of experience in the field of SEO and affiliate marketing. She runs an escort business within Second Life and is well known in the sl adult community.