Cathy (Catherine Palen) did an interview with a great artist, Igor Romanov. He specializes in erotic photography in Second Life. During the interview they decided to make an actual photo shooting. The two of them being the protagonists. The result was the featured image of this post. Very erotic isn't it?
Here is the link to the interview: Igor Romanov with Catherine Palen
This raised the question in my mind: How much did she feel fucked when making this picture?
We started a discussion on this topic. Please read the thread and join the talk. We would love to read your opinion and how much you actually immerse into your virtual persona if at all.
Here my comment on the topic:
Cathy,

Correct me if I am wrong. What you mean is erotic in the same way as looking at an erotic scene or a picture. Not intimate in the sense of getting fucked. Whereby it is an interesting question in general whether or not you "feel fucked", when somebody enters your avatar with his pixels. Is it in general just an erotic image or is it indeed a "mental penetration".

I guess this depends on how much one actually immerses into his virtual persona. In another words: How much do you see your avatar as a virtual representation or yourself, a virtual persona or a pixel-doll which does not have any kind of connection to your real life self.

I believe there is strong distinction to make between:

1. Virtual persona
2. Virtual representation of yourself
3. An avatar

It would be interesting to read from others how "real" is their virtual persona to themselves. I believe that the more you actually developed a virtual personality (or alternatively a virtual representation of yourself), the more you would feel "fucked" in such a situation.

In my case I can tell as much as this:

Caroline is not a pixel doll. Caroline is not a represantation of my real life self either. She is the "other me" in a virtual world. Sounds a bit like split personality disorder and maybe it is in a way.

To me this would not have been "making a erotic picture", it would have been "shooting a photo of me getting penetrated". The result is the same but because of the immersion being different the feeling would have been different too. If that would have been a good or a bad feeling bears relevance in this context.

This does not apply to my ALTS. They are not virtual personas, they are either pixel dolls, under cover disguises or role play characters to me. I have however ONE avatar which comes close to a virtual representation of my real life self, but I hardly ever use it.

Did I express myself good enough for this to make sense?
Please leave your views on the topic in the comment section (in the original thread please).
Carol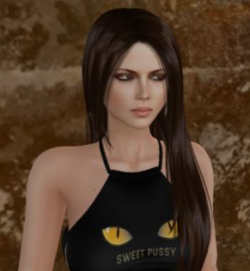 Founder of SLA Media, a company providing adult entertainment websites based on Second Life. Caroline has years of experience in the field of SEO and affiliate marketing. She runs an escort business within Second Life and is well known in the sl adult community.