This actually starts to work. We opened our escort and afk sex club recently. Of course nobody knows the place yet.
So how do we get our first guest?
Well it is actually simple. All the few girls working here have a friends list. That's a good starting point. We basically inform our contacts that we work now at Caroline's Mansion.
We did get some response from that.
Sheraka was first that day. Now you need to know a few things about Sheraka first. She is actually and ALT from our boss Caroline. As we are not many girls at the moment, she uses that one to help getting some traffic.
Sheraka was some time ago been used for research in the ageplay and "family play" scene (otherwise known as incest RP). Hence the people on her contact list are somewhat special to say the least.
She had one of her contacts coming over and he booked her right away. However he took her away from the club into a private skybox.
The scene he setted was this:
A guy travelling for business goes to a strip club. There he actually sees his nieces dancing and stripping. He takes advantage of the situation and takes her back to the hotel where he demands sex from her in exchange for not telling mum and dad that she works in a strip club.
Yes, we cater for that too. Well, Sheraka does.
A bit later it was my turn. A guy I met on "street whores" some time ago showed up. At first he thought I am AFK, but when I saw him I knew this is going to be more than just a tip.
Hence I told him I am actually available. At first he went on about how bad this AFK stuff is and how important it is to have interaction. Took him at least half an hour to make his point.
Took me a bit of effort to make clear we are escorts too, we can be booked for proactiv sex as well, not just when we are afk.
Finally he paid me 2.000 L$. Nice one. He got a really hot fuck out of that. Unfortunately he had to leave early as something in RL was intruding.
At the same time Sheraka had another guest. He wasn't into fucking her. You know one of those who don't actually want to pay for sex.
The had fun with the tequila body shots at the bar and at least the guy left a decent tip. I am sure one day Sheraka will get him to book her.
(It is actually good fun, when you are getting done and next door a colleque is working too.)
Those were our first clients.
We also left our avis at the club when AFK but nothing happened there. There may have been some people, but we did not generate any tips whilst being AFK. All income came actually from whoring.
Girls!
We need you. If you are thinking about a carrier in the sex trade in second life, please join us. We have a small yet classy place and a great friendly team here.
Give it a try: Caroline's Escort and AFK Sex Club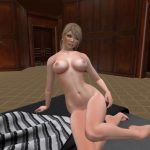 This diary is about the journey of Jessica through Second Life. As Jessica I am a team member of an in-world (in Second Life) company called SLA Media. It is a company which publishes several Second Life related websites (adult rated).