I got this sales job you remember? I wrote about that in my last post here: New Job.
One has to start somewhere. I did so on Social Island. The plan was, waiting until somebody approaches me for sex and selling him the idea of joining 3dxchat.
I would meet him in 3dxchat and have him fuck me. A good sales pitch I thought. Yes, it is a bit slutty actually, but hey, its all for the company!
It didn't work out that way.
Of course there were several guys approaching me, as usual. All of them got the link to 3dxchat from me. They din't sign up for it. One was a noob desperate to fuck and kinda started stalking me.
There was that other guy called Yasser. He actually had a more subtle approach. Instead of asking directly for sex (which is what noobs normally do) he started off with some small talk.
He actually has been away from Second Life for quite some time and just recently decided to give it another go. I told him I was working for SLA Media promoting an online sex game.
I asked what his favorite place was.
The beach, he replied.
Well, there are lots of beaches in Second Life. I decided to show him one that I like: Sams Nude Beach. Complying with the theme we took our cloth off and sat down.
It must be the fact that we were naked. Because suddenly his approach was a bit more direct:
Him: Can we have sex at this place?

Me: Its rated Adult, so I guess we could.

Him: Lets do it then. LOL.
Time for my pitch:
Me: You know I do like sex too, but i prefer it in 3dxchat actually.
I passed him the link and said: " have a look at this it is very hot and far more realistic than Second Life. This is where I usually go when I am looking for sex. In our store you can actually see some videos made in the game if you want".
He did want.
Jessica (jessicaslamedia): you watch it? It starts in my favorite in*game music club called Fresco.

yasser74 Resident: You make me horny, its hot move

Jessica (jessicaslamedia): It will get better. very well done i think

yasser74 Resident: Nice, good move, its all from behind. What next 🙂

Jessica (jessicaslamedia): in the movie?

yasser74 Resident: No, me and you lol.

Time for first closing attempt. Going straight for it:

Jessica (jessicaslamedia): You could get an account there too and we meet there. Makes you hard seeing this?

yasser74 Resident: Of course, what about you,dont get you hot?

Jessica (jessicaslamedia): I do, especially knowing how good it is in that game

[2017/12/09 03:07] yasser74 Resident: Good, lets do it then without 3dxchat lol

Jessica (jessicaslamedia): dont wanna give it a try?

yasser74 Resident: i like it here lol, maybe later ill try it.

Jessica (jessicaslamedia): Haha, too horny to make account and install it?

/me moves closer to him, kneels in front of him and takes hios cock in her hand. Starts massaging his hardening cock up and down

Jessica (jessicaslamedia): Hmm like that?

yasser74 Resident: yessss

Jessica (jessicaslamedia): /me takes it in her mouth and starts sucking on him passionately

yasser74 Resident: How you feel sucking my dick?

Jessica (jessicaslamedia): Getting wet, ready to get fucked, want to take me and use me?
That's exactly what he did next.
The role-play was  superficial , a lot of dirty talk without much emoting or descriptive text, until he finally did cum. According to him he did cum in real as well.
I tried one last line, offering to meet tomorrow again in 3dxchat.
He agreed.
But I suspect he will not be there. He got what he wanted: A quick  fuck with a pretty girl. I will probably never hear of him again.
It's ok, at least I got a new story for the blog out of it and my first experience in pitching 3dxchat to a potential customer.
What do you think?
Should I have used a different approach? If yes, how should I go about this?
Please leave your opinion in the comments hereunder!
Oh and by the way, here is the taxi to the porn cinema.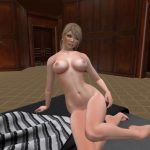 This diary is about the journey of Jessica through Second Life. As Jessica I am a team member of an in-world (in Second Life) company called SLA Media. It is a company which publishes several Second Life related websites (adult rated).