I did it for the first time. Well, as Jessica, I have had sexual  encounters in Second Life before. But not as Jessica. It does in a way feel like a first time.
It happened at a place called K.I.S.S. This is some kind of tropical beach adult region. Lots of little cabanas, a dance floor and many places you can have sex.
This very young guy ( young in Second Life terms) invited me to join him and his friend. We were chatting a bit and I realized he didn't actually have sex in mind. Very unusual for a guy and very unusual at a place like this.
I finally brought up the subject, after his friend left the place. I asked: "You are only a few months in Second Life, but I guess you already explored the sexual side of it."
"I tried some of those AFK places," he replied, " but that felt like fucking a dead body."
With great curiosity I asked: "Wait a minute, the only experience you had in those two months was an AFK fuck?"
For those who do not know: AFK stands for "away from keyboard". There are several regions in Secoond Life , where (mainly) girls leave their bodies on sex animated furniture for everybody else to use whilst they are AFK.
This stuff became a new trend in Second Life. It is actually quite popular, don't ask me why, but if you want to know more about it visit my the blog of my friend Caroline Resident here: AFK Sex Sluts and for the best places: AFK sex regions.
Alright. This got me excited. Hi was a virtual virgin. AFK sex doesn't count, because he never had sex interaction with another Second Life resident. I do not know why this had an arousing effect on me. Maybe it is because its something special to be the first one as opposed to be girl number 4793.
We do never forget our first time right?
"Do you actually know how it works, I mean how people have sex in Second Life", I inquired. He said he has no Idea, apart from the animations.
I started to explain. Told him what is an "emote", explained what it means when you write something in brackets, told him that there is nothing wrong with it when you masturbate in real whilst fucking in Second Life.
For those who want to know how it works, Caroline wrote a cool guide about how to have sex in Second Life: Second Life Sex.
"Let me give you an example", I said with tongue in cheek. It was then that I sat on his lap, opened his pants and started to wank his cock. Not only I used the animation available, but also showed him how to describe, to role play the situation.
"(this really gets me hard in real life)", he wrote.
"Good, that's the idea actually", I replied, and continued. Shortly after this wasn't an example anymore, not a lesson but hot steaming sex.
After a bit of sucking his cock , which almost did drive him crazy, he took me there and then. Slow at first, almost shy, but a bit later didn't hold back and fucked me hard and passionate until he said:
"(I did cum, what a mess here)".
It was really exciting, special and hot. Maybe "iniciating noobs" into Second Life sex is my newly discovered fetish?
Well, I will try again for sure, see how it feels a second time.
I will report here in my diary of course.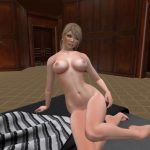 This diary is about the journey of Jessica through Second Life. As Jessica I am a team member of an in-world (in Second Life) company called SLA Media. It is a company which publishes several Second Life related websites (adult rated).