Today it is going to be short post. But with a few more pics than usual. It is about an experiment, I did the other day in 3DXChat.
As you know from previous posts, everybody who starts in 3DXChat gets his own region. It works just like a private estate in Second Life but smaller. The size is about a quarter region in Second Life.
Not bad.
And it comes with a fully furnished standart villa,for those who can't be bothered to create their own stuff. Me for example.
By default, only you and somebody you invite can actually access your parcel. Unless you actually share it with a group or with the public.
If you want to know more about 3dxchat, find out here:
Many players actually use that option. They build for example a sex club, a spa, a bar or whatever and then share the place.
I wanted to try that with my own villa. I shared it and gave it this title:
"Gang Bang me at home"
The title is what people read first when they look at the list of shared locations. I thought that one should catch their attention.
I went to the bedroom, took my clothes off and waited on the bed for the things to come. I did not have to wait very long. A few minutes actually and the first guys descended on my parcel.
Of course, having read the event title and seeing me naked on the bed the rightfully assumed it is not time for small talk.
The first one was this blondie. He was actually very much into me sucking him. Hey, that's my speciality. Whilst we were sucking and fucking numerous other guys came but most just to watch or to leave shortly afterwards.
Probably didn't have the passions to wait for their turn.
Blondie fucked the living daylight out of me:
Blondie did cum on my face, my tits, all over me. Then I sucked his cock clean again,  slowly.
At the same time there was this other guy watching us. He must have been very excited and eager to take turns.
When he saw what I did, he did not wait any longer. He joined us on the bed and without hesitation or foreplay he grabbed my hips and fucked me, used me.
Blondie left shortly after. The others turn to get to fuck me.
I made him cum too of course.
In conclusion: Yes sharing your villa can be a lot of naughty fun. Try it and tell us how it went here in the comments.
f you want to know more about 3dxchat, find out here:
Jessica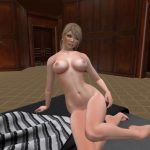 This diary is about the journey of Jessica through Second Life. As Jessica I am a team member of an in-world (in Second Life) company called SLA Media. It is a company which publishes several Second Life related websites (adult rated).