In the sex game 3DXChat there are 6 different public locations you can visit. One of which is yacht. Some people do know a workaround to actually copy the location, or the path to a location and make it a share private place. You can find those then just like regular shared apartments on the "shared apartments" list, right next to the official public locations.
It was the name of such a place which did spark my curiosity once again: "German Swinger Party". Sounds cool I think. Especially when you are into that sort of thing. I definitely am! The place I came to was such a copy of the yacht turned into a private party place.
It was no surprised to me when I found a funny small group of people, sitting in a whirl pool on the deck of the yacht. Swingers tend to be very natural and direct when it comes to sex. Hence a few seconds later I was invited into the pool. Actually right in front of the pool there was a couple fucking openly right in front of everybody.
It also did not take me long to engage with the guy sitting next to me. Without much hesitation I took his cock and started to play with it. He obviously enjoyed very much when I did take that a step further.
Later we decided to go to his place where we had a fantastic sex session.
See yourself: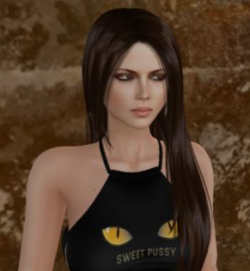 Founder of SLA Media, a company providing adult entertainment websites based on Second Life. Caroline has years of experience in the field of SEO and affiliate marketing. She runs an escort business within Second Life and is well known in the sl adult community.