Sometimes pretending to be afk and watch what's going on in the house can be very revealing, interesting, even exciting. I do that quite a bit recently.
Not that I am the gossipy kind. Well, yes I am actually.
My most recent observations do have to do with our trainer Sleen. He seems to be rather busy these days. Especially the little neko girl seems to have caught his attention.
Leffy, one of my readers who did comment on my afk post. Actually came to see me in Caroline's Mansion. I was once again doing the afk slt job, when she arrived. Again, just pretending to be afk and watching.
We spoke about becoming an escort girl and adjusted her avatar to match the minimum requirements. She looked way to young at first for my taste.
I did send her to the Sleen for initial training. It was well needed as she had zero experience in this. Absolutely none! I mean a virtual virgin still.
Quite a big step going from "never had sex ever" to becoming an escort girl. Good luck Leffy. I hoped Sleen would be gently with you and would initiate you carefully.
I think he was. At least by the looks of it. He took her virginity I would say.
However, to me that looks like much more than just training. Especially as they met again for more.
To me this looks more like an outright affair rather than just a professional relationship.
What do you think?
She took the job, that much I know and she will be available to our guest rather soon.
Fancy her?
Come to the mansion and check her out. Especially if you are into light furry style or neko avatars.
See ya soon at the manison.
Update:
I got this pic today from him. I guess taken by her, he doesn't have the skills to make such good pictures.
Don't know about you, but to me that looks like a date!
And this too:
Jess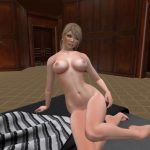 This diary is about the journey of Jessica through Second Life. As Jessica I am a team member of an in-world (in Second Life) company called SLA Media. It is a company which publishes several Second Life related websites (adult rated).