Just imagine this. You have a house on a caribbean beach. It is in the morning just before the sun would rise and you just woke up. The door to your terrace is open, the mild caribbean breeze is caressing your skin.
You feel a bit horny, even start touching yourself a little. You imagine that a stranger is passing by the beach in front of your house. He notices you laying on the bed. He walks up to the house, stands in front of the open door and ….
Not something that happens all to often in real life.
But it can happen in 3DXchat. In 3DXchat everyone starts with a small villa  on the beach on your own little parcel. You can actually configure your parcel to be available for friends , groups or the public.
I was laying on my bed, parcel set to available to everybody. Just like in the above scenario. I was looking out of the window, waiting for somebody to arrive.
I imagined a stranger might turn up, see me laying there playing with myself and simple takes me there and then, without even saying anything. Just to use me and walking away when finished. I would never know his name.
Is is called a zipless fuck!
I was waiting. Every minute I was waiting thinking about it I got hotter and excited. Finally kneeling on the bed touching myself.
Nothing happened.
I checked if my place is actually visible under "shared locations". It was. However the title was probably not enticing enough. In fact I did not put my own title, it just showed "I love 3DXchat.
Got to change that! I named the location: "Cum Fuck me at Home, don't talk".
Eagerly I was watching my terrace, the sun started to rise  already.
Finally somebody showed up at the terrace door. He was about to say something. That would have spoil it all. So I placed my finger on my mouth indicating him not to say anything.
I came closer. Opened his pants and started to suck his cock, feeling it getting hard in my mouth. Intensely and eager I worked his cock wanking and massaging it till it got rock hard.
At one point he couldn't help but to take me. He did not even bother to get me on the bed . He fucked me there and then on the floor, slowly at first, then harder, demanding.
Somebody else showed up. A guy sat on the sofa and was watching us with a hard on. We had an audience. Or was he actually waiting for his turn?
The first guy did cum. All over my tist and face. Again I took his cock in my mouth and sucked the last drops out of it.
Suddenly the other guy stood up. He didn't wait for me to finish, he simply fucked me from behind whilst I was still "cleaning" the first guys cock.
The first guy was satisfied, got dressed and left.
Number three was getting undressed!. The two guys dragged me to the sofa, penetrated me there in both holes, fucking me slowly till number two filled my ass with his warn creamy juices.
The second guy was satisfied, got dressed and left as well.
Number three dragged me on the bed, eagerly thrusting in me, fucking me now hard an fast, not holding back just using my body to cum as well – which he did shortly after.
Also got dressed, left without saying a single word. In fact nobody said anything during the encounter:
The perfect triple zipless fuck.
Want to try this yourself?
Follow this link (points to the advert) and get started!
If you want to know more about 3dxchat, find out here: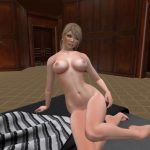 This diary is about the journey of Jessica through Second Life. As Jessica I am a team member of an in-world (in Second Life) company called SLA Media. It is a company which publishes several Second Life related websites (adult rated).