You probably remember Lee, do you? I didn't when he did send me a message yesterday. I had to check on my blog when and under what circumstances I met him.
I blushed a little when I realised that I had sex with him in the past. Several times actually. I am getting fucked that much, I even forget by whom.
Here is when it happened the first time: Forbidden Paradise .  And later we tested this motel where we "panted like race horses for hours" as he did put it: Motel Dixie Beach.
Then I did remember. It is true we fucked for hours. I made him cum three times actually.
"Let's do it again, Jess," he suggested and continued: "You drove me wild in those black stockings. Come over to this hotel where I am staying. It is called the fuck spot and does exactly what it says on the tin."
I quickly realized that it was the same motel where we did it the last time. Naa, that's boring. But the idea to book a hotel room to get fucked did intrigue me.
As you know, I am fond of hotel sex sessions.
I quickly did a search and found a new one. I had never heard of this one before: The Hotel Essencia.
Here the Slurl: Hotel Essencia
This is probably one of the best ones I visited so far. Its business hotel style combined with a spa area gives it a special luxury feel. Also featuring a bar and restaurant area.
To get an idea you best watch this video:
Hotel Essencia in Second Life
https://www.youtube.com/watch?v=JufzF_JRwJ4
I did send Lee a taxi. We booked a room for the day (150 L$ / day). Arriving at the room, he started to strip of his cloth immediately whilst I was still inspecting that really cozy hotel room.
I realized his already hard cock. He was really horny.
"Come lets have a shower, "he suggested. Laughing I took my cloth of and joined him in the shower.
Immediately he grabbed me pushed me against the wall. Without hesitation he penetrated me, fucked me in the shower, slowly at first then hard, fast, eager.
Lee: feels the water cascade down my back as i press you against the wall kising you.

Jessica : /me /me rubs her tits on his bare chest whilst he kisses her on her lipps

Jessica : /me moans as he suddenly penetrates her from the back

 Lee: running my hands through your hair roughly as we kiss more passionately. Starting to fuck you as you let out soft gasps

Jessica : Nice
Lee: feeling you pushing back into my cock as we both kiss and pant a little faster.

Jessica : Yes fuck me very deep, slowly. /me moans louder as her arousal and excitement increases.

Lee: mhmmm nods as i keep a steady pace sliding all the way in and out of your gorgeous pussy. Bucking my hips upwards to penetrate you deeper as we both whimper, kissing harder, teeth clashing as my cock slides effortlessly in and out.

Jessica : feel you deep inside me. /me breathes harder and faster

Lee: kissss oh godd jesss i groan. Pulls out pressing you against the wall as the shower rolls off our bodies…. sliding my hand under you to frig your clit as you whimper. Kissing you as you moan  shoving two fingers in deep

Jessica : come keep fucking me

Lee: spins you round. Grabbing your legs pulling you up on my cock. Looks into your eyes as i start to fuck you once more.

Jessica : yes that's hot.

Lee: gripping your hips clawing at your cheeks

Jessica : /me looks at him, bites her lipps as she breathes harder feeling his thrust in her wet pussy.

Lee: panting with you heavier as the water runs down over us. Kissing you hard as we fuck. Pushing you down again as i slam my cock in faster

Jessica : Whispers: will you cum in me? (do it real?)

Lee: mhmmm nods spinning you round to fuck you harder. Yes take me use me, hard and fast

Lee: speeding up as you whimper louder, OHHH FUCCKK JESSSS. slamming faster as you drag your fingers down the wall.

Jessica : /me shivers moans loud at every stroke he makes deep in her body. /me feels his cock pulsing in her. omg yes fuck me as fast you can, cum in my body
This went on for a bit until he finally did cum in me (in real too).
I said laughing: "Well we didn't even make it to the bed this time". "Well let's lay down and relax a bit", he suggested.
So we did. At first. After a while I had his cock in my hand again. Stroking it, feeling how it got hard again in my hand.
" Oh my god, Jess, what are you doing to me, this feels so good."
I smiled and continued wanking him faster until I took him in my mouth.  First massaging its heda with my tongue in small circles, finally sucking on it, letting it go through my wet lips again and again.
It didn't take long for him to get hard and horny again and took me again on the bed. Took longer this time, for obvious reasons.
He did cum a second time. This time spraying his seed over my tits.
I had to leave shortly after.
"That was great fucking", he whispered, and the hotel is worth its price!"
I laughed and said: "I see ya around, maybe we find an even better one for next time!"
To my readers:
Want to become a hotel tester in Second Life? Do you know a special hotel or motel in Second Life? If you do, drop me a note in the comments with your Second Life user name and the name of the place.
I will contact you and book a room for us. 🙂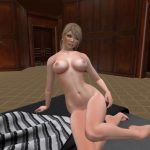 This diary is about the journey of Jessica through Second Life. As Jessica I am a team member of an in-world (in Second Life) company called SLA Media. It is a company which publishes several Second Life related websites (adult rated).