SLA Porn productions needed an investor. Or better two investors. What for, you might ask. Simple answer: It does cost money to promote a website.
One of the easiest ways to get this so important, initial traffic is simply buying it from other related websites. But I will not bore you with details about online marketing in this post, I rather tell you how I got the first investment in our new venture, a machinima porn production company.
Those who read my blog regularly, know about my friend Uwe. I know him since the days I worked as an escort girl at Magic Angels. In fact he was a regular client back then.
What you need to know is, that Uwe is a very sex driven person. In fact everything he does in Second Life has to do with his enormous sex drive. He actually sponsors Magic Angels every month in return for sexual favors of the owners. He also hires escorts on a regular basis to satisfy his lust. I actually lost count of how often this man fucked me already.
When me and Catherine Palen started this project, it was clear we need money to get this going. It was only logical to approach Uwe to be part of this. First of all he can easily afford an investment and secondly the very nature of our business will get his attention.
1.000.000 L$ (yes, that is one million), is the price tag I did put for a share in SLA Porn productions. A lot of Linden you might think. Actually it is not that much, considering that I bring in an established website which has a considerable amount of traffic. Heck, I should have asked for 2 Million.
He was thinking about the proposal for some time. In the end he said, well why not, what is the worst that can happen? To loose a million L$ whilst having a lot of fun with porn babes. Not a bad way to loose money. Best case scenario? Getting an actually considerable return on investment, if the plan works out.
Yesterday, we met at my place. He was almost ready to go for it. I should him around my little new home at Saratoga Springs. I ended the tour in my bedroom. For a reason. He said: "I will most likely exchange the cash tonight and then we celebrate the occasion in the appropriate frame". What he meant by that is having sex of course.
"Well, isn't my bedroom the appropriate frame, right now?". Said it and took off my sweater and striped of my leather jeans. I think his hearts skipped a beat when he saw me in my new very sexy piece of black lingerie.
"You are bad, Caroline", he said, "just looking at you I get a hard on already!" I smiled and indicated towards the bed. "Make yourself comfortable", I said with a cheeky smile on my face. He followed the suggestion, and laid on my bed.
I was standing in front of the bed, seductively moving my hot ass asking: "You know how to motivate me to join you there, don't you?"
"Oh my god, I really want you now, but that means I need to finalize our deal right now." I simply answered: "You know that getting paid for it is a huge turn on to me".
Just minutes later I became a Linden-millionaire.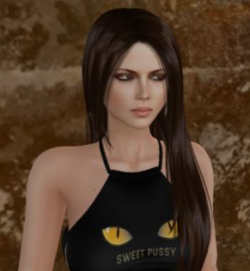 Founder of SLA Media, a company providing adult entertainment websites based on Second Life. Caroline has years of experience in the field of SEO and affiliate marketing. She runs an escort business within Second Life and is well known in the sl adult community.