I am now in charge of the SLA Media flagship store for 3DXChat in Second Life. We are selling subscriptions to the popular online sex game.
The job is called sales manager. Sounds cool doesn't it?
I do spend quit some time at the store and the attached cinema. The idea of having a cinema, is to be able to show movies made in the game. That way potential customers get an idea what to expect in 3DXChat.
I had no idea how much sex is involved in this job.
The store is located very clever. Caroline bought this parcel, because it is located near to some popular adult themed parcels. On one side it borders at an urban role play region and a whore trailer park.
Very distinguished neighborhood indeed. More about that in another post!
We benefit from their traffic. Whenever I am working at the store, I check for people around and get to talk to them. It is quite easy to get them over to the store, where I then give them a small video presentation and answer questions they might have.
If they are interested I show them those porn movies in our cinema. Yesterday I had several people in the cinema. Guests for one and two friends of mine who I haven't told yet what I am doing for work in Second Life.
Basically I did spend most of my time watching porn with potential customers. Did I mention it is tough job?
It made me horny. Can't blame me for that can you? My guests left after a while and I was sitting there alone in the cinema. Well, me and my hornyness.
I stripped of my dress sitting there in lingerie. I started playing on myself. Imagined that somebody walked in, sees me here half naked. He would come closer, watching me fingering my pussy, then takes me there and then in that seat.
This is actually what happened next. Well almost.
Somebody I met weeks ago on a beach, showed up unexpected to have a look at the place. I gave him a LM last time.
"Oh looks like you are a bit horny", he said.
"I am sitting half naked in a porn cinema, masturbating, what do you think I am then?"
"I know what we can do about that" he said , came closer, on his way taking off his cloth. Didnt bother with foreplay which was certainly not needed.
Just as I imagined, just took me there then, fucked me hard and fast, taking advantage of having found me like that here.
Eager to cum, he pushed hard into me, my shouts and wild moaning must have been heard until the store and the office.
Didn't take me long to get to climax. It was hard working day after all.
You want to check out our cinema?
Here is the taxi, looking forward to see you there: 
SLA Porn Cinema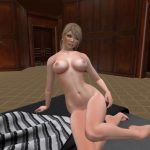 This diary is about the journey of Jessica through Second Life. As Jessica I am a team member of an in-world (in Second Life) company called SLA Media. It is a company which publishes several Second Life related websites (adult rated).