I asked the man sitting  in front of me with a cheeky smile on my face, moving my naked hips seductively in front of him and looking at his already erected cock. I knew he was horny as hell, now after I performed a lap dance for him and stripped almost totally naked.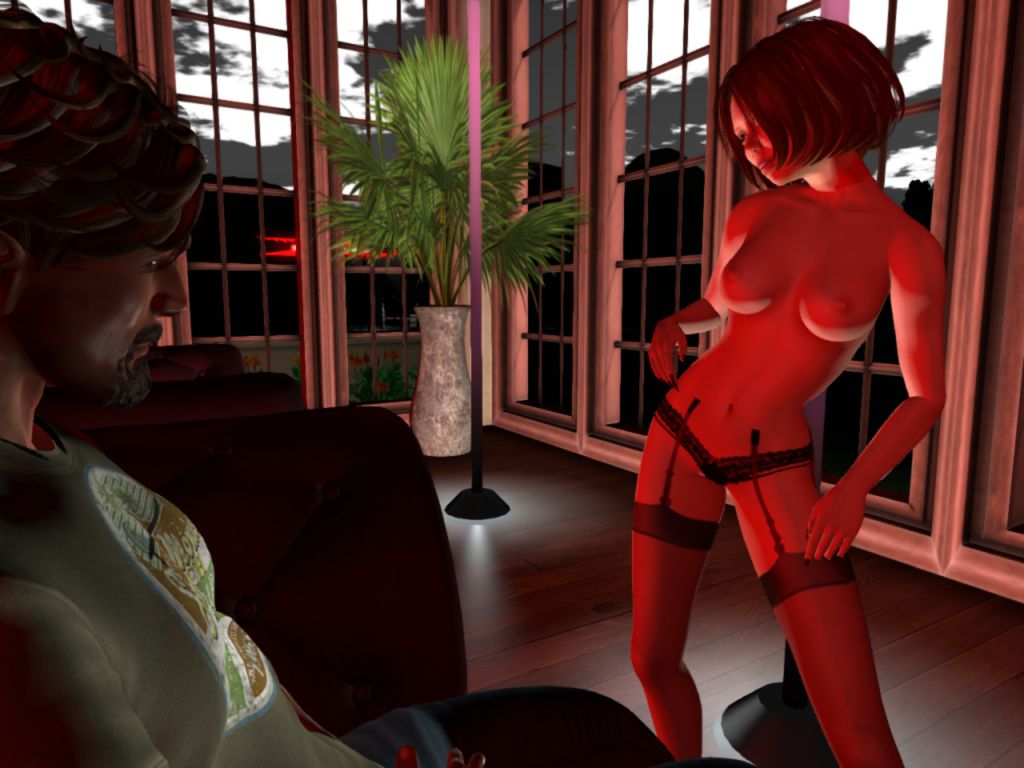 Just a few minutes before that:
I saw his name Will popping up in my friends list showing him to be online. I had no clue who he is, as I recently lost all my chat logs.
Well, I simply asked him, nothing wrong with that: "Hi there, I am terrible with names, from where do I know you?"
He refreshed my memory. I met him some time ago and he showed me an island style region with all sorts of caves and castles and stuff.
We actually had sex in one of those caves. I  start forgetting previous sex adventures. Yes, that is a bit embarrassing. It were too many to remember each and every one. Yes, I am that sort of bitch.
I told him what I am doing now and invited him over. He sat in front of me, the armchair in front of the dance poles. I was doing a pole dance in my work-outfit, some very hot black lingerie.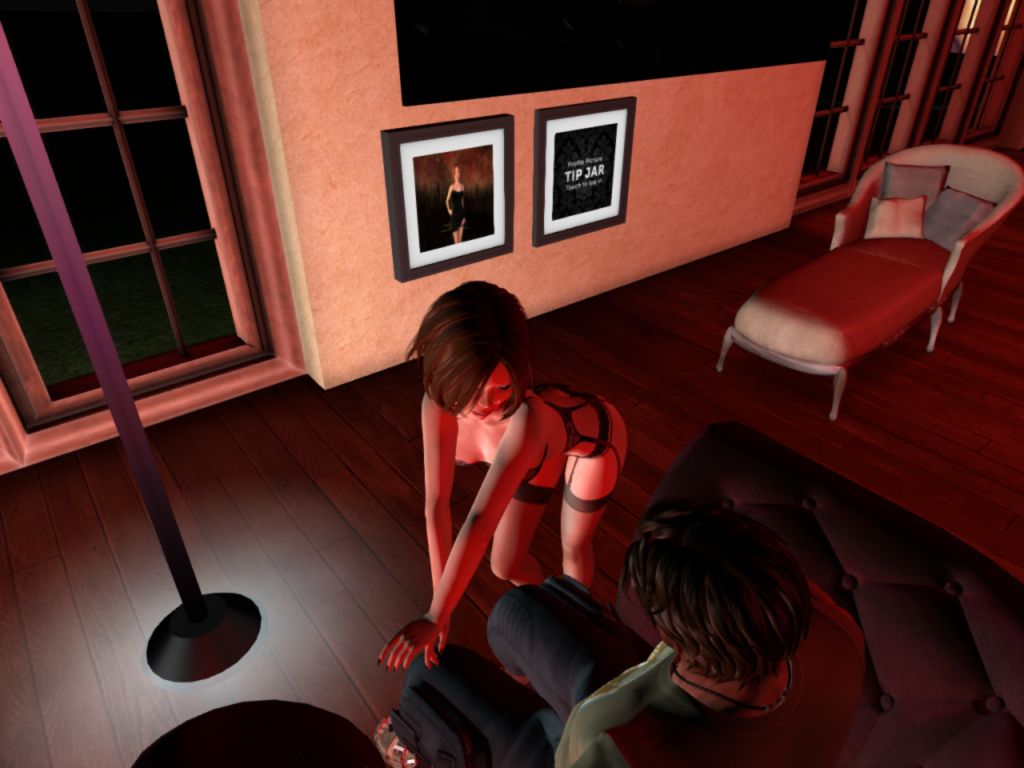 At first we chatted a bit and I explained the concept of Caroline's mansion. Basically what we offer is afk sex on the ground floor bedrooms, and escort services in the rest of the house based on tips instead of fixed rates.
We believe nowadays people are much more inclined to pay tips for a good performance as opposed to pay a fee for sex upfront. At least that is Caroline's idea. We will see how that works out. Until yesterday I was a bit sceptical.
Suddenly he actually tipped me. I didn't really expect that. I haven't done anything but dancing around the pole.
Ok that entitles you for a bit of lap dance, I thought. Said and done:
Jessica comes closer touching his face.
Will York: enjoying your scent. In RL – i fell asleep getting a lap dance, had anesthesia earlier in the day – and a friends bachelor party at night.

Lap dance caroline's mansion

Jessica stands up and shows him her bum, wiggling it in small circles.
Will York: smiles, that's a nice tight one

Jessica comes closer starts grinding with her hips over his pants, but barely touching him.
Will York: looking as she grinds slowly – feeling her soft hands on my thighs.

Lap dance caroline's mansion

Jessica grins, looking backwards asking: "is that a turn on?"
Will York: "of course – how could it not be ".

Jessica grinds getting a bit closer, touching his bulb with her ass.
Will York feels himself engorging a little as she brushes on him. (the animations are not bad ) her scent enveloping him as she presses closer.

Jessica: Hmm like what you see?
Will York: lol of course – who wouldn't !

Jessica slides up and down his body. Feels his cock through the pants getting harder as she rubs it with her ass.
Will York: feels her stroking along his shaft as she moves.

Lap dance caroline's mansion
He kept paying me tips in between!
Jessica opens her bra and lets it slide to the floor.
Will York: smiles as her breasts come free, pert and suttle.

Jessica exposes her tits to him, moves her hips seductively.
Will York: "those are beautiful".

Jessica moves her hips with the rhythm of the music. Smiles and cheekily asks:

"want to have more than a  dance?"
He didn't answer straight away. He blushes. It really looked like he is kinda shy to ask. I explained, that there is no reason to by shy about it. This is what the place was created for:
Sex with escort girls!
I continued:
Jessica dances sensually with the rhythm of the music, smiles at him having her Pussy exposed now too.
Will York: smiles as she dances – her open lips catching his eye.

Jessica: If it gets uncomfortable in your pants you can take him out. Smiles and looks at his semi erected cock, asks with tongue in cheek: "The gentlemen needs a bit of services there?"
Will York: looks down. "it seems to be waking up doesn't it "

Lap dance caroline's mansion

Jessica comes closer and gets on her knees, takes his cock in her hand and starts gently massaging it.
Will York: (ok – now thats nice !)

Jessica inbetween lets her tongue flick over his cockhead a little.
Will York: oozing precum as she gently strokes, and feels her tongue gently working over the head.

Hand Job after Lap Dance

Jessica: You are obviously enjoying my touch.
Will York: I certainly am.

Jessica  leans over it, slowly takes it in her mouth, massaging its head with her tongue at first.
Will York: its hard not to enjoy a beautiful petite womans mouth and hands on me.

Jessica starts passionately sucking on his cock, letting it go in and out her mouth over and over again.
Will York feels her warm soft tongue and mouth on his shaft – massaging the head.

Blow Job after Lap Dance

Jessica sucks at harder and faster.
Will York: feels himself filling more – oozing precum as she sucks, hard and full in her mouth.

Jessica tastes his precum, swallows it and keeps sucking her lips enclosing his shaft firmly.
Will York rolls his eyes as he feels her throat contract – swallowing his precum and feels his head swell in response.

Blow Job after Lap Dance

Jessica starts maoning whilst sucking him as she feels her pusssy swell and drip.
Will York: runs his fingers through her hair as she sucks – bobbing to take him in.

Jessica: /me takes it i her hand again, keeps rubbing it gently and looks up to him asking: "want that pussy too?"
Jessica: (doing it real too?)

Will York: smiles "if its on the menu absolutely "

Will York feels his shaft running up along her bottom – spreading her cheeks.

Jessica sits on his lap, takes the cock with her hand and places it at her entrance lets him slowly penetrate her warm and wet whole. Moans out as she feels his cock penetrating her.
Will York: the head slowly spreading her – tight and wet and hot on the tip. Slowly stroking – a bit deeper on each stroke.

Getting Fucked after Lap Dance
And he kept tipping me!
Jessica hears the tip jar, she starts moving faster, squeezing his cock with her muscles.
Will York: rolls his eyes as he feels her contract – stroking in deeper as she relaxes – then holding in as she clamps. Feeling her walls – tight and hot as she moves up and down.

Jessica turns around and lets him enter here again, starts riding him fast up and down shouting out loud: Fuuuck.
Will York: he rotates his hips – moving the shaft side to side as she strokes, stretching her a little deeper inside.

Getting Fucked after Lap Dance

Jessica: Yes that's good I will make you cum in my pussy, fuck!
Will York: hearing the wet sucking sounds as you move – and watching your pussy lips grabbing my shaft.

Jessica: (will you cum real?)
Will York: Spreading them wide to take my shaft

Jessica: want to take me from behind?
Will York: (certainly get hard watching this, do you like it deep from behind ?)

Jessica: (good do it, I want you to cum in real too).  Ohhhh yes, fuck that slutty pussy.
Will York: reaches around and rubs your clit – in time with our strokes, pressing firmly and reaches my other hand to your breast – pinching a nipple in my thumb and finger.

Jessica moans louder at every stroke he makes deep in her body, moves her hips in small circles whits he is pressing deep into her.
Will York: smells our scent – hearing the sucking sounds as we stroke in and out, juice mixing, swell more as i feel you clamp and release and push in deeper.

Jessica: Yeeees take me hard an fast don't hold back till you cum in me.
Will York  feels my curve press hard against your front wall- as my tip curves up- running along your back wall- stretching you and start stroking faster and harder.

Fucked hard from Behind

Jessica: yes fuck me, use me!
Will York: pushing in as my hips thrust, forcing your ass open as i stretch you. I see your ass winking – clamping as your pussy clamps on me, I press my thumb in and push it down against my shaft as i stroke.

Jessica breathes faster, her bod sweating and shaking: " omg".
Will York: breathing harder – i stroke deep and hard.

Jessica: cum in me fill that pussy with your seed.
Will York: slapping my balls against your clit as i stroke, growling.

Jessica: Yes, don't hold back.
Will York: feel tightening at the base of my cock as you clamp on me – pushing me out – then pulling me in. Stroke my thumb in and out of your ass in time with my strokes tight.

Jessica cries out a little as she feels his thumb in her ass.
Will York: such a tight pussy and ass, pounding harder, faster – deeper.

Jessica bits her lips anticipating his seeds in her pussy.
Will York: holds his breath – and explodes in you.

The moment of cuming

Jessica: Yeeeeeees!
Will York: flooding your pussy

Jessica feels  his cock pulsing, the warm juice in her body dripping out of her.
Will York: seed running down over my shaft and your thighs.

Jessica: sooo warm and juicy. Smiles and kisses him.
Will York: nice


Afterglow

Jessica: (did you?)
Will York: made a mess – lol
Jessica: Good!
Jessica smiles.
He paid me some more. I thanked him for all those tips and he said: "You certainly earned them".
Actually I totally forgot to invite him in the group. I have to do that next time he is in the house then.
By the way: If you would like to visit us, you know now what you can expect, more or less.
Here is the taxi: Caroline's Mansion
Jess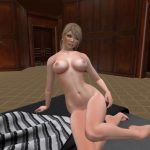 This diary is about the journey of Jessica through Second Life. As Jessica I am a team member of an in-world (in Second Life) company called SLA Media. It is a company which publishes several Second Life related websites (adult rated).