Our home and office vanished. Just like that. Without warning.
It was actually my own mistake. I thought I had paid the rent way upfront. Wrong! It ended and the landlord returned everything to me. Actually I believe it was set on auto return when the time is up.
So I stood on the parcel, wondering what happened. Uwe, my investor did the same. He sat on one of those park benches. I joined him there and explained what happened.
For those who don't know who Uwe is, I suggest you read these posts:
"We get a new place," I suggested, "maybe it was time for a change anyway, "I continued and suggested:
"I recently got introduced to a region called Liberty Bay. It is actually a role play sim, but one can rent apartments there too. In fact I checked in at the motel in town to get a feel for it. Its a quite big town with all sorts of stuff including a red light district. That would suit you nice wouldn't it?"
"Well, sound intriguing," he replied.
"The thought of having a fuck place in the neighborhood, sounds interesting". Then he remarked: "Actually thinking about that, makes me want to take you now, it has been some time and as you know, I like fucking you".
I was still wearing my work-lingerie as I had a sex client last time I logged in. I guess that turned him on even more.
I laughed and suggested: "Well, sex was part of the deal wasn't it? So why don't we go to my motel then and I help you getting rid of that anxiety". Said and done, off we went and I had him fuck me in this scruffy, simple yet naughty and exciting motel room.
I am his one million linden bitch. It's a tough job, but to keep him happy someone needs to do it. That someone is usually me. Or Chathy.
Here the meeting minutes: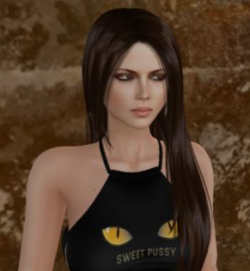 Founder of SLA Media, a company providing adult entertainment websites based on Second Life. Caroline has years of experience in the field of SEO and affiliate marketing. She runs an escort business within Second Life and is well known in the sl adult community.