I had a deja vu. It was this Motel I went to with Lee.
Lee is the guy I met at Forbidden Paradise the other day. You remember ? We  fucked there in public in a whirlpool.
I had seen this building before. In fact I actually had sex in it. However it was not at the same place, just the same building: Spontaneous sex adventure in a motel.
The trick is this: It is a prefab building, sold many times on marketplace. You can buy such a building for around 600 L$. You want to become a motel owner? Easy! Rent some cheap land, buy a building like that get some furniture, done.
This motel is actually aiming at the AFK Scene in Second Life. If you don't know what that is, please read this post on Caroline's blog: here : AFK sex in Second Life  and here: Best AFK locations in Second Life.
Here is the taxi: Cheap sex motel in Second Life
Anyway. We didn't go there for the architecture. We met there to have sex again. I dressed for the occasion with black minni dress and some hot lingerie under it.
Lee didn't waste any time. He undressed and went straight to the bed.
What followed were hours of wild sex. This bed had really cool animations.
He actually came three times.
First time here:
Second time shortly after like this:
I was done. However he needed a third time. I told him:
"Hey, I am done here, but if you need it another time, go ahead use my body".
So he did and did cum a third time:
This was certainly a hot afternoon.
Kisses
Jessica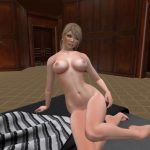 This diary is about the journey of Jessica through Second Life. As Jessica I am a team member of an in-world (in Second Life) company called SLA Media. It is a company which publishes several Second Life related websites (adult rated).