You might remember from previous blog posts, that SLA Media opened a sex club in Second Life. It was a combination of escort club, afk fuck dolls and swinger parties on weekends.
The intention behind that was having a place where sex-interested people come and see our adverts for 3DXChat and hopefully some off the guest would join.
It didn't really work that well.
The main reason for this not taking off, was probably that all those girls we hired and trained hardly ever showed up. A sex club without working girls.
Caroline enquired and ask the staff members, what is happening. Basically what we all said is, that the "sex against tips policy" doesn't work for us. Yes sometimes people come, fuck with us and then leave without paying a tip.
No good that!
In addition only group members who paid an group fee (1.000 L$) were able to use the menus of the furniture. Not everybody who is looking for a fuck with an escort girl is willing to pay that or become a group member.
After some discussion we Caroline agreed and suggested a compromise.
The Mansion is not Members only anymore.
We agreed that we still serve her existing members on the same basis as before (tips only). However we do not promote the group any longer in public and the MAnsion is open to the public.
If we serve a non member, the rate is a minimum of 1.000 L$ by the hour. I personally take 2.000 an hour. It is not much for an hour of sexy fun. In real life you can hardly invite a girl for a couple of drinks with that.
The swinger parties at the weekends will move to 3DXChat
This results in more effective advertising of 3DXChat subscriptions and at the same time it will be clear, that there is no such thing as free sex at Caroline's Mansion in Second Life.
The parties will be free of charge, no escorts, no afk dolls just sex amongst like minded people who joined 3Dxchat through our affiliate deal.
The girls keep 100 % of their tips and rates
This should be a strong motivation to actually come, work with us and actually spend time at the mansion.
Caroline herself is not making money from Caroline's Mansion in Second Life, but in return asks us to help promoting 3DXChat.
A win win situation, I would say.
Caroline's Mansion in 3Dxchat
This is typical for her. Once she decided upon something she gets moving fast. The building is already finished.
It is an old Spanish finca style Mansion. It is huge actually, much bigger than the mansion in Second Life. The reason being is simple: in 3DXchat you do not have any restrictions for size and prim usage like you have in Second Life.
You get there (included in the regular subscription fee) a private estate (the call it "Your World") and you can build whatever you want. Check out my post about user erated locations in 3DXchat and you know what I am talking about.
.Below some screen shots of Caroline's Mansion in 3Dxchat. Hope to see many of you there at the weekends. I will actually host many of the parties and will be there for a lot of sexy fun.
Related Posts
Caroline's Mansion in Second Life
The story of the Mansion in Second Life. Read all previous posts about Caroline's sex club on Second Life Adventures.
Caroline's Mansion in Second Life
All of Jessica's Posts about Caroline's Mansion.
Caroline's Mansion in Second Life
Post by Cathy Palen about the opening of Caroline's Mansion in Second Life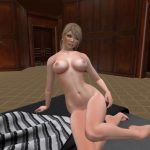 This diary is about the journey of Jessica through Second Life. As Jessica I am a team member of an in-world (in Second Life) company called SLA Media. It is a company which publishes several Second Life related websites (adult rated).