SLA Porn productions is currently building a presence in Second Life. We rented a nice parcel for that purpose and started constructions. It is actually almost finished. I will post an article with pictures and all soon on the our official blog on the machinima Website.
Today I had the opportunity to give our main investor Uwe a tour around the premisses. He was actually quite impressed by it. At last we tested the photo studio upstairs, making a couple of shots with different backgrounds and light effects.
I had my business costume on when we did those shots. I decided to add some spice to the pics and open my blouse a few buttons, exposing my bra just that little bit.
Uwe got kinda silent after that until he suddenly said: "I am not shooting pics since two minutes. Your bar looks so sexy, I can't help but attending my erection".
I laughed at first and asked: "Just watching me makes you that horny?"- "You can't imagine how much", he replied.
"Then I need to show you something, which will drive you nuts", said it and left the stage, going downstairs to the office. He followed. Once down there I asked: "What would tear off me if you could?". You must know, my office suit has a special feature to it. I somebody clicks on my breast I can grant that person access to a menu, a very special strip menu.
It did not take long and he pull my blouse off. To make it even hotter, I dropped my panty down to the knees. I knew I was driving him mad.
I walked up to the copy machine lend back and said: "Come join me here. What about a quick fuck, right here , right now.
He did undress already in the meantime, came over and with not much beating around the bush, he took me there and then just way I was. Skirt up, panty down and taking me hard and fast from the back, me bending over the copy machine.
Only took maybe 5 minutes until he did cum hard in me.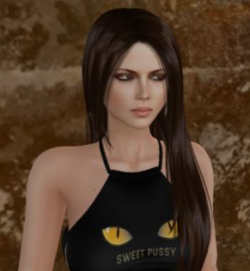 Founder of SLA Media, a company providing adult entertainment websites based on Second Life. Caroline has years of experience in the field of SEO and affiliate marketing. She runs an escort business within Second Life and is well known in the sl adult community.