Today is about a really short but hot encounter with this married man I see sometimes to have sex with him. Those of you knowing me are well aware of my preference for guys with partners in the profile.
The other day, right after rezing, I did message him. I am actually not doing that often if it is a married man. I prefer them to contact me. They might feel stalked or something.
Me: Hey :-), Busy? Just asking, in case you are with your wife, then i dont want to disturb :-).
Him: Were chatting..but shoes off soon.

Jessica : Shame, I found such a nice place and did put some very sexy lingerie on. The plan was you to fuck me here.
I did send him a photo (see above picture). It didn't take long for him to answer:
"I will be free shortly".
Now what. Shortly can mean anything between next couple of minutes or next couple of hours. I decided to wait.
I actually took off my bra and panty, laid down on the bed. Ready for him to come and take me. It is very arousing to lay there almost naked just waiting to get fucked.
The imagination grows wings.
No need to touch me. The anticipation of getting it any minute now was enough to actually get excited, aroused – even notably physical. After a few minutes I felt my inner tighs getting wet from juices dripping of me.
The longer it took the more horny I got. The desire was building up more and more, until craving for that fuck.
The conversation went on.
I knew he was actually there with his wife and aside chatting with me. I might be able to top that.
Jessica : You know what would be a big turn on for me? If we met in a hotel to fuck whilst she is online too.
Him: If i told her i had to go do something..and fuck you while shes on?

Jessica : Yes, a quickie even.
Him: could you cum in a quickie?
Jessica : Oh yeah, in that context certainly.
Then he changed the subject. For now that is.
Him: wife never sucks me.
Jessica : I love doing that, it is a huge turn on.
Him: would you suck me after i fucked her? You tasting her on my cock?

Jessica : Or just before, preparing your cock for her and then somehow secretly watch you fucking her

This kind of talk makes me horny. Talking about sucking , i just recently had a spontaneous blow-job experience, that was funny.
I told him all the dirty details about that blowjob at the Champer Hotel.
The conversation went on like that. Sharing sexual preferences and fantasies. We have a lot in common in that respect. We found that we both would love to do threesomes, foursomes even double dates with swapping partners. All stuff his wife would never even think off.
She must be very conservative, even prudish.
I had to have it now. All this talk and me laying there, ready, expecting, waiting, craving.
Jessica : Can't get away for a quickie?
Him: I have time for a quickie.
Jessica : Now?
Him: Yes hurry.
Said and done. He promptly took the taxi, landing next to my bed. Naked, obviously aroused as his erection clearly showed.
Looking at his hard cock and anticipating that this one will penetrate my wet and swollen pussy any minute drove me almost insane.
Jessica : She is still there?
Him: yes:), Stroking my cock..looking at you. I told her i had to run. I got hard just thinking of you.
Jessica : Come take me now. If it takes to long she gets suspicious. It has to be quick.
What follow was the wildest fuck I had so far in Second Life. He hammered my pussy with his big hard cock like an animal in heat. The goal was, for us to reach our climax as fast as we possibly can.
It didn't actually take me long as I had it build up anyway almost to that point.
What a relieve!
Didn't take us much more than 5 minutes.
He left quickly after cuming in me. For the obvious reason.
Ok, dressing again. Ready for the day. I had to do stuff at the store. When you work at a place that sells sex games, it is good to have a fuck before work.
That way I got that out of the way and can concentrate on sales.
Hey!
What was your best ever fuck in Second Life?
Please let us know in the comments.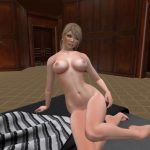 This diary is about the journey of Jessica through Second Life. As Jessica I am a team member of an in-world (in Second Life) company called SLA Media. It is a company which publishes several Second Life related websites (adult rated).