I finally bought myself a yacht. Its called the Looneta. I bought it for a specific purpose: It is my intention to actually sail around the entire mainland, a trip around the entire Second Life World so to speak. Not in one go of course. I will sail from one interesting port or location to the next, until coming back to Blake Sea which is my starting point. Which is in itself a challenge as every time I need to find a location which allows rezing, otherwise I can not continue the trip from the location I last logged out.
Yes, I financed this great yacht from the money I made with escorting and I even have about 5.000 L$ travel money left. A juicy back-story isn't it? How lame is using a credit card compared to this?!
I am not sure if what I plan is actually possible to achieve. There are many possible obstacles, such as ban-lines for example. I don't even know if there are sail-able regions or open waters around each and every continent of Second Life.
I will start the trip in the Blake Sea region, going West to the Nautilus continent and then sailing its coast line as far North as possible, hoping to find a port or region were I can rez my boat to be able to continue the trip from there.
I am asking myself whether or not I will be able to go around Corsica reaching Tomuli´s restaurant on its North coast, one of my favorite places in Second Life. Will I ever reach Bay City, Second Life´s nonofficial capital? For my readers this will actually be an excellent lesson in Second Life geography. I will try to get maps of the grid to show you the different locations I visit on this trip.
By the way, if anybody fancies to join me for a part of the route, simply leave a comment under this post, telling me a bit about yourself (interests and what you normally do in Second Life), indicating your online times and user name. I will take passengers with me, for sailing and exploring that is, not for sex. For the later I am looking forward to see you at the club 🙂
Note to clients & potential clients of Magic Dream Angels:
The fact that I am traveling around the grid will obviously result in me spending less time at the club. However, I will still be available for guests, both new and regulars. If you come for some sexy fun and you don´t see me at the club, simply look at the ad-board to see if I am online. In that case you can always send me a message to find out if I am available.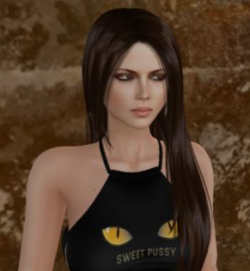 Founder of SLA Media, a company providing adult entertainment websites based on Second Life. Caroline has years of experience in the field of SEO and affiliate marketing. She runs an escort business within Second Life and is well known in the sl adult community.