Sam's Nude Beach is the place I took that noob too the other day. After this disastrous encounter I took the time to explore that place. It is actually a quite cool place. It is a mix between a nude beach (with lots of sex animations and sex beds) and a small scruffy red light district street.
You can do it anywhere. Dirty rooms, the rubbish container, in small cabanas, eveywhere are sex animations freely available for everybody to use them.
It is not a super busy region. Which is good. However there are usually enough people around to give it that feeling of having sex in semi public and others are watching.
It didn't take me long to get in touch with people. Jason for example. Its very arousing to do a sensual dance, totally naked on the beach.
So arousing that only a little later we decided to go in that little warehouse behind us and do it there and then. Was a super hot encounter.
The next day it turned even more naughty and spacey.
I logged in and landed straight at the rubbish container at Sam's Nude Beach. That was my last location the day before.
I saw Jason in the list of nearby people, zoomed to him to find out what is he doing. He was with another woman. He met her recently, he explained and she is now his sub and girlfriend.
We talked about it after she left. He wants to keep seeing me anyway, she doesn't need to know he said. In other words: I am having an affair now.
Huu, I love that kind of stuff. Having an affair with somebody in a relationship is an extreme turn on to me.
Yes. I am that sort of bitch.
Of course, she will never know about it because…
…what happens on Sam's Nude Beach stays at the Beach.
And if you are not yet a Second Life resident, come and see me inworld:
Your World, Your Imagination – Join Second Life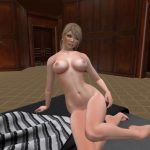 This diary is about the journey of Jessica through Second Life. As Jessica I am a team member of an in-world (in Second Life) company called SLA Media. It is a company which publishes several Second Life related websites (adult rated).