Update October 2018
After a meeting with Cathy we decided to close our porn movie site. We will contine the blog about Second Life porn.
The site never really took off. Recently we had an hacker attack. We would have to rebuild the site almost from scratch, too much work for such little revenues. The blog format was far more succesful anyway.
Cathy will continue her interviews with Second Life porn producers, models and porn photographer. You will read about some of the best erotic artists in Second Life and see some of their work too.
Not to be missed:
https://porn.second-life-adventures.com/
Update December 2016:
If you want to see a collection of the best Second Life porn videos check out our new machinima porn site. It is a plattform where Second Life porn producers can showcast their work as an alternative to naughtymachinima.com.
Update: October 2016:
I am currently producing porn movies in Second Life like the ones you see hereunder (or better). I am realising the filming and editing part is rather difficult. Therefore I am looking for partners and porn producers, to do the actual filming and editing. I would take care of all the promotional stuff , get exposure and monetize our  porn movies. For that purpose I even set up a separte, dedicated porn tube  website.
I am also looking for top notch models to star in my movies (male and female). If you have fun being a porn star also get in touch with me. Of course, this is  new venture, a virtual start up so to speak and I do not know if its gonna work out. However its your chance to be part of something new, build it and who knows become famous in Second Life. We are not going to  become millionaires with this, ist about fun and creating something exciting. I am sure we will have some really hot and naughty times too along the way.
If you are interested, and you have the skills and technology needed, please get in touch Inworld (user name: carolinestravels) or send e-mail to:
caroline@siemensnews.com
Here I show you my first attempts to produce porn movies in Second Life. My friend Uwe Karlsbar was the camera man and the male model at the same time. I can assure you he had a good time assisting me!
Those are actually our first attempts to create Second Life porn. I know they might not be as professional, as some others you might have seen. However for us being total noobs in the porn scene, I think they are not that bad.
Kamasutra Sex in Second Life:
Filmed in a skybox at Magic Angels Escort Club
Anal Surprise in the Bathroom
Filmed at the CFNM Mansion
Seducing the House Maid
Filmed at Toni's house in the blake sea
 Swinger Party at the Mansion
Filmed at Caroline's Swinger Mansion
Want to see more movies like those or maybe even staring in one yourself? Please leave a comment!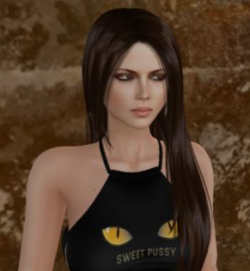 Founder of SLA Media, a company providing adult entertainment websites based on Second Life. Caroline has years of experience in the field of SEO and affiliate marketing. She runs an escort business within Second Life and is well known in the sl adult community.