In my last post I told you DouDou (also called Dave) joined me traveling around the Gaeta continent. Remember? NO? Well. Here is the story:
DouDou follows this blog.
Last time we met In-World he called me up on this statement I made in the Gaeta story:
I was surprised he did not ask for sex that day. That is usually what he wants when he visits me. He even paid to be in my "special attention vip group" called Caroline's Lovers.
"I did actually make subtle probes", he said laughing.
Ok, let me be as blunt as I can:
I am a prostitute. A whore. You don't need to make probes to a whore. If you want to fuck me, simply tell me, pay me and lets do it. No need to flirt, seduce or to be subtle about it.
Your place, my place, a hotel or any place that triggers your imagination.
Yes, I am just a part-time whore, as my main Second Life occupation is a media business. In fact I am making a lot more money with advertising on this blog than I get paid by my escort clients.
I also write about my adventures as an escort girl. That means I am actually making most of my money not with working as an escort but with writing about it.
In addition, I actually have fun doing it. I enjoy serving you for cash. Its arousing, exciting and so fucking naughty.
It all started actually as research for a story:
I told him that and he got the message.
"Well, then I want you now instead", he said.
"Cool, I am available right now, where shall we meet?"
He Tp-ed me to a small harbor. That was surprising at first. Then I understood, He wanted to continue where we left it last time, when I did not get the "probes". Very cool idea.
So he setted sail, gave me a glass of campaign and off we went. Taking course to Southern Blake Sea.
After a short while he made a fun suggestion.
"Hey, why don't you take off your bikini. I love seeing you naked. It does turn me on?"
We were sailing through several G rated , as well as M rated regions. That means nudity in public is actually not allowed on such regions.
"Come on, I dare you, there is nobody around here anyway".
(Cathy will be dripping when reading this. I am sure about that.)
Well not at that moment, but we could encounter other boats or planes any moment, as blake sea is a very popular sailing destination in Second Life. We could get kicked out or even banned from blake sea if somebody would report us.
You must understand, that blake sea residents and admins are on the rather conservative side and take such an offense rather serious.
I did it.
I even laid on the front deck taking some sun. Feels arousing and naught I admit. I am a bit of an exhibitionist anyway as most of you probably know.
We actually did pass other boats, and people on an island. I hope they did enjoy the view as much as DouDou did. He got actually very excited about it and had a hard time to hide his excitement in his pants.
Finally we stopped between a group of small islands. A residential area rated M. There was nobody around at the time. I know he didn't stop to enjoy the landscape.
I smiled and said: "Come lets go in the bedroom, I owe you a little treat".
First time he took me anal. As usual I made some pictures for my readers.
Here is how it went: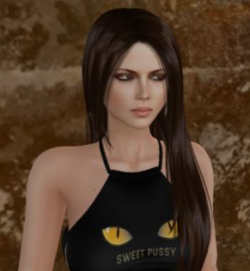 Founder of SLA Media, a company providing adult entertainment websites based on Second Life. Caroline has years of experience in the field of SEO and affiliate marketing. She runs an escort business within Second Life and is well known in the sl adult community.