I did not post anything here for more than 4 weeks. Sorry for that. The reason being is for one that I got very busy in real life. I accepted a new job which is rather demanding.
That doesn't mean I haven't been in Second Life at all. But the few adventures I had in this time, are not special or exciting enough to write about them. That's what I think at least.
I want you to judge.
In this post I give you a compilation of Caroline's most recent naughty sex adventures in Second Life.
At Jane's RLV Force Rape Playground
Exploring new adult beaches. That was the plan. I put my bikini on and did a search for "beaches". On og the place which came up was "Jane's RLV Playground Force Rape".
One click later I found myself on Janes RLV Rapeplay .
Nothing to to with a beach. It was basically a place where the owner didn't even bother to think about a design or a theme. The simply tossed dome RLV enabled sex furniture in the middle of a shopping and advertising mall.
Strangely enough, it is still a concept which works. The place has quite some traffic and most advertising boards are actually rented, despite of their relatively high price.
It didn't take long and I got approached.
" You are so sexy, If I could I would just grab you and have you somewhere here". That was his opening line. Well, it is one of those place where this seems acceptable. I laughed and explained that I am here because I was made believe it is a beach.
"Oh, there is actually a beach too", he replied. "Follow me, I show you". So I did. It wasn't a beach where he brought me. It was this house at the other end of the place. I entered the house and followed him to this strange room.
It was there when he closed the door behind us.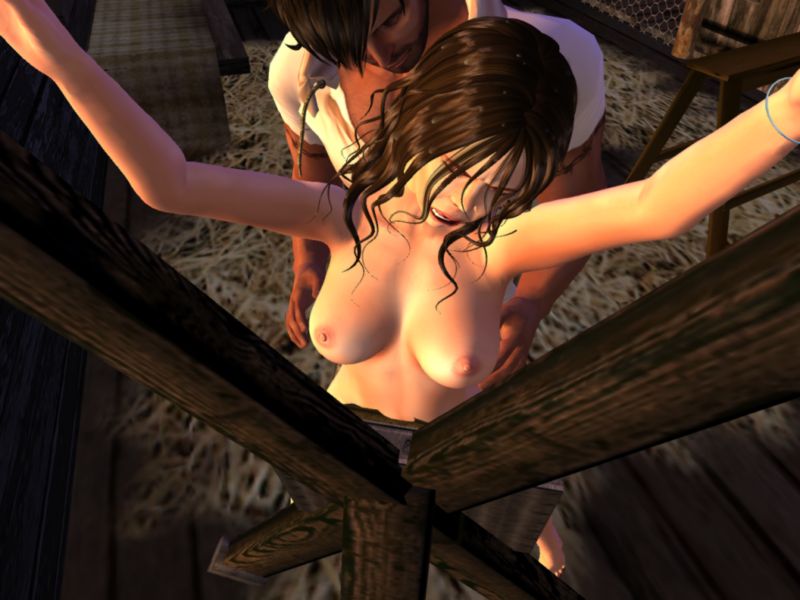 "You have no intention to show me the beach right?" I asked, sensing whats going to happen.
"No, I don't", he trapped me there and then, pushed me on the cruz standing in the corner and had his way with me:
Just before he finished, a Girl walked into the house. She sat there watching us. He didn't even realized as he was busy pushing his cock in my pussy.
He did cum.
"What are you doing there," she said all of a sudden. It was his girl friend. I did put my bikini on and left them alone. I sensed she wasn't very amused and they had probably some stuff to discuss.
Finally I found the beach myself.
The place happens to be a skybox and the corresponding ground is actually a beach. I wasn't surprised when I saw a poorly designed beach area. Basically sanded ground texture, a palm tree wall paper for tropical background and some sex toys tossed here and there on the ground.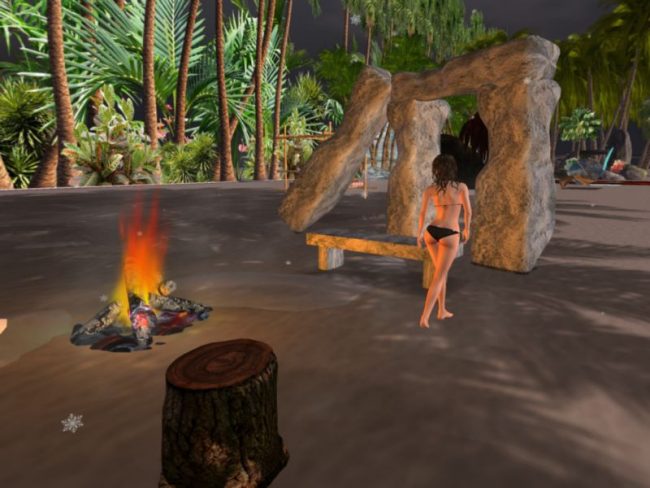 With one exception actually.
There was this strange door on the ground. Looked like one of those cellar doors. Curious as I am, I clicked on it. Seconds later I found myself in a dark cellar style place. It was well furnished and had this ambiance of naughty and dangerous feel about it. It felt like a place where somebody holds a sex slave in captivity. You know what I mean, don't you?
I was still aroused from the previous adventure, and this place actually did kinda increase my excitement. The rape scene left me kinda half way, if you know what I mean.
One of the guys from the advertising skyboy was still in my IM. He very obviously fancied me. A lot. Well, why not I thought, and invited him over.
No, not for a cup of tea, for this: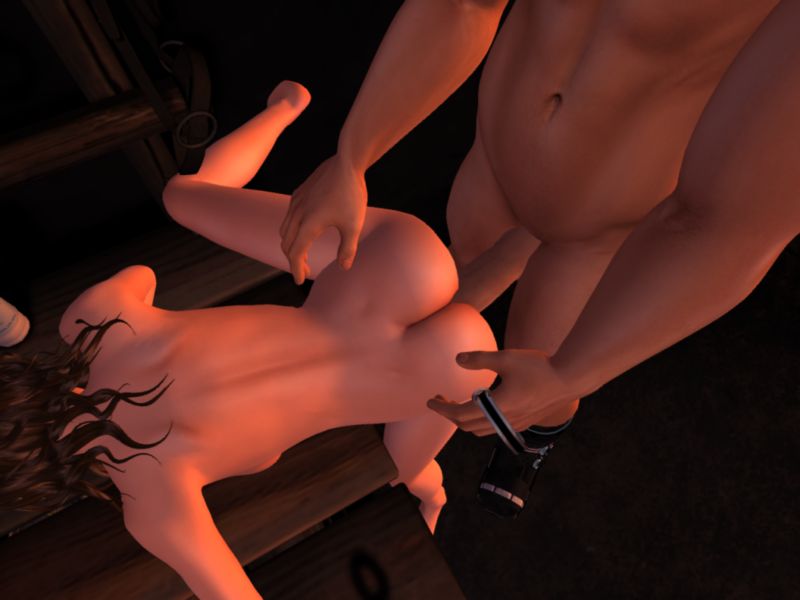 If you want to try the place yourself, here is the taxi:
Jane's RLV Playground Force Rape Bondage
In the Sex Trade Again
First of all, I am into the sex trade again. No, I don't need the money. It is, once again, the fantasy of being a high class, demanded and recommended escort girl.
Serving and satisfying is a real turn on actually. Until now I am not working in a club. I am working as a freelance sex servant, charging 2.000 Linden per hour.
My most recent clients were an old regular and a guy who fancies me since quite some time. The regular you know from old postings like this one:
https://www.second-life-adventures.com/reporting-street/
When I told him that I am into the sex business again, he immediately booked me. There and then. I guess this one will become a regular yet again.
I brought him to my new little skybox, I am sharing with Uwe, right above our office in the sky.

The other client you know from this post:
He is after me ever since he met me in the old office. He knew I am a prostitude, a whore. But despite off knowing that I am easily available for anyone, well almost anyone (in exchange for 2.000 Linden) he never requested my services.
I guess he was hoping for a freebie one day. Sorry my friend, but for a free fuck you need to be damn good looking and provide a cool story. Or rape me, always an option if you play that well. I have the sin tracker stuff on and RLV enabled all the time.
The other day this changed.
He just wanted to show me his new skybox. Well, why not. But once I was standing there he got into the mood so to speak. It did not take long and I had 2.000 Linden more on my account. What followed wasn't my best performance ever, but enough for him to call it "best ever".
I am sure he will be back for more too.

Spontanous Morning Sex
This was a very exciting encounter. Just stepped out of the shower. Still having wet hair and just my morning robe on when an IM from a old fan hit my in-box. I met him several times already. We always had good chats but never anything more happened.
Until that day.
He invited me to his home. He is actually good looking. Me standing there half naked, in the apartment of a handsome guy, made me feel excited.
He invited me for a dance.
We both kinda knew whats going to happen this time. Hence It was rather natural when he took my hand and lead me to a sofa. We both wanted it to happen there and then.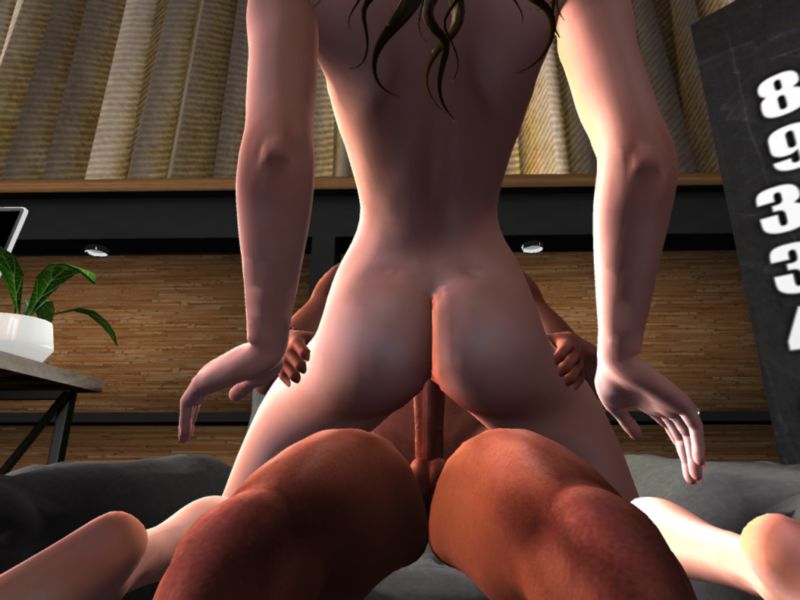 After this very hot fuck, I still didn't have enough.
He excused himself AFK. Most likely to clean up the mess he made on his desk. In that time I explored his studio. I took a shower and then made myself comfortable on his bed.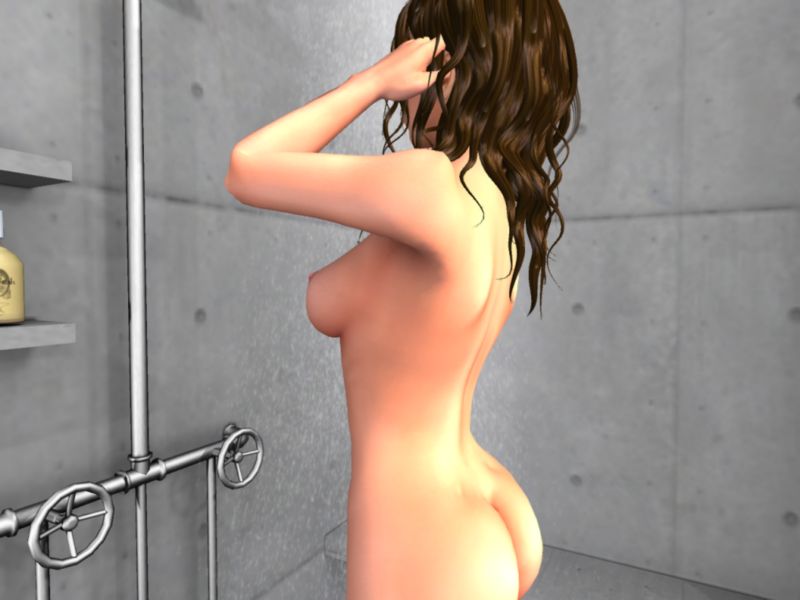 When he returned I said: " Huhu, I am on your bed, want to join me ? Its rather comfortable here".He smiled and followed my invitation. I managed to get him hard again for the second round: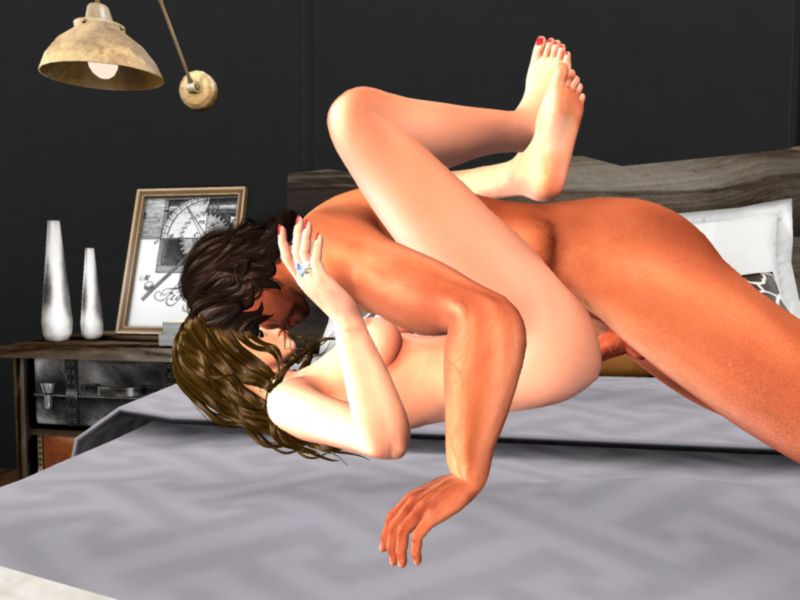 Sex on the Beach
A few days later. I met him again, but this time not at his place. He invited me over to a beach. He was sitting on that chair. Naked, wanking.
I did not know that he actually has a girl friend until then. She was there too. However not with him. She was close by in a tree house having sex with a stranger. He was watching them, aroused excited.
It is probably the most erotic thing you can do: Watching your partner been fucked by somebody else.
I smiled and asked with tongue in cheek: "May I help you?"
"You surely can", he replied.
So I did: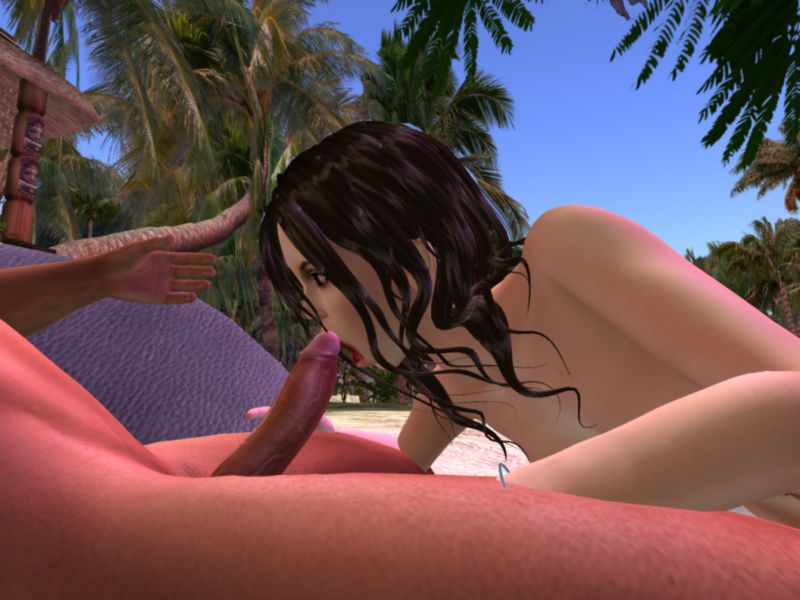 The Public Bathroom
I found this landmark in my inventory. You know, that kind of landmark you look at it and think to yourself. What the jeck is that, hav e I ever been there?
One click later I landed at here: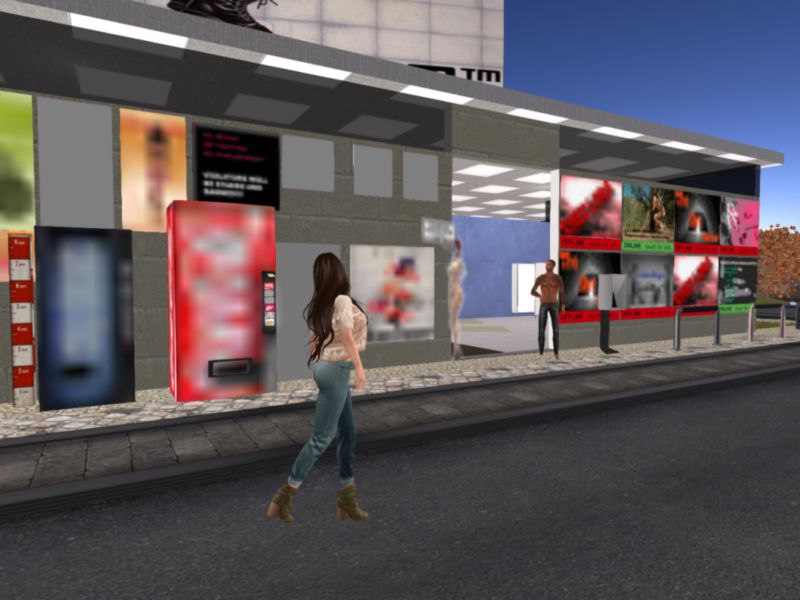 First I explored the place a bit. It is actually rather basic, some toilets, a sauna, a locker room – nothing special despite rather busy.
Here some pictures of the public restrooms:
The most popular part are apparently the showers. Several people indulged there on sex in public. Quite an exciting view. Those who read this blog on a regular basis know that I have a kink for semi-public sex.
You probably remember this adventure at the keyhole club:
https://www.second-life-adventures.com/audience-sex-hot/
I couldn't help but joining a young man in the shower. He was pleasantly surprised when I engaged on stroking his cock without hesitation.

Not enough.
After he did cum hard in me, we left the shower to inspect the sauna. Sadly it was occupied. That didn't stop me from seducing him again. Right there in the locker room. We had several people watching us, a real turn on.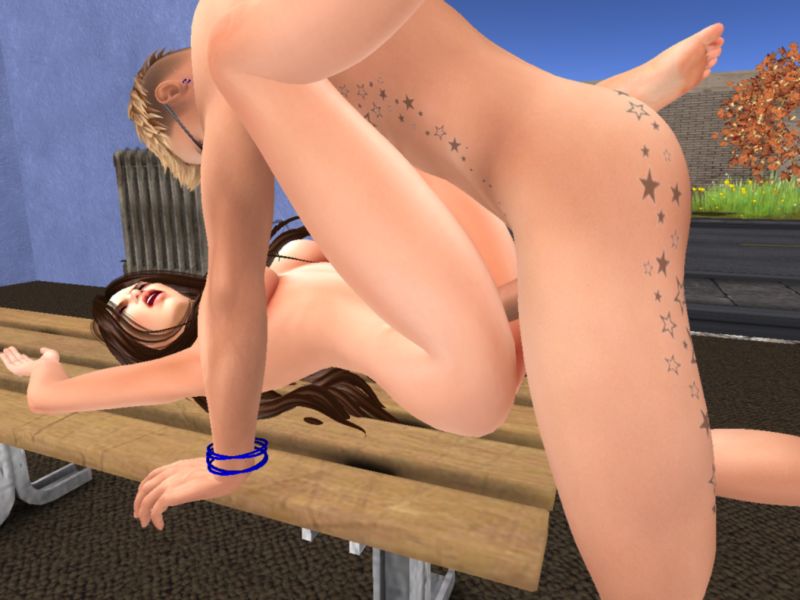 According to him, I made him cum twice that day.
Fany a fuck in public? Here is the taxi: Public Toilets
Update: Fucking with Laz Ferraris Again
" I didn't fuck you for some time".
That's how Laz Ferraris opened a chat conversation with me this week. That's the guy from my "spontaneous morning sex" and "sex on the beach" adventures. Actually an old fan of my writings here on the blog.
" And I bought some new toys too, wanna come over and see?"
I didn't hesitate to follow the invitation. I did go shopping right before this happened. New piece of very sexy lingerie, which I was trying on right before he contacted me.
He was waiting for me on his sofa – naked. I walked into his place dressed to please, an arousing situation indeed. Just by looking at me he got an almost instant erection (in SL and RL).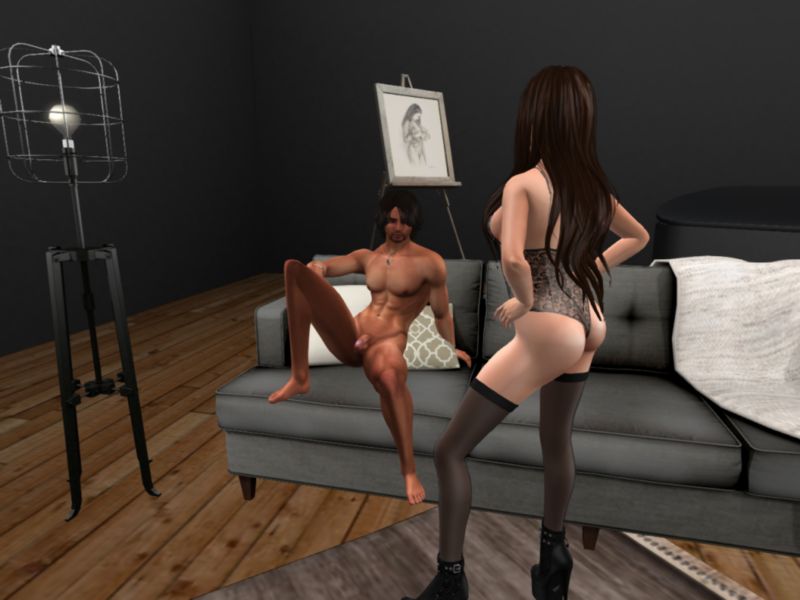 As you certainly know by know, I am not of the inhibited kind and did not follow the invitation to olay chess either. Hence without beating around the bush, I made myself comfortable on that sofa and started to play with his hard cock.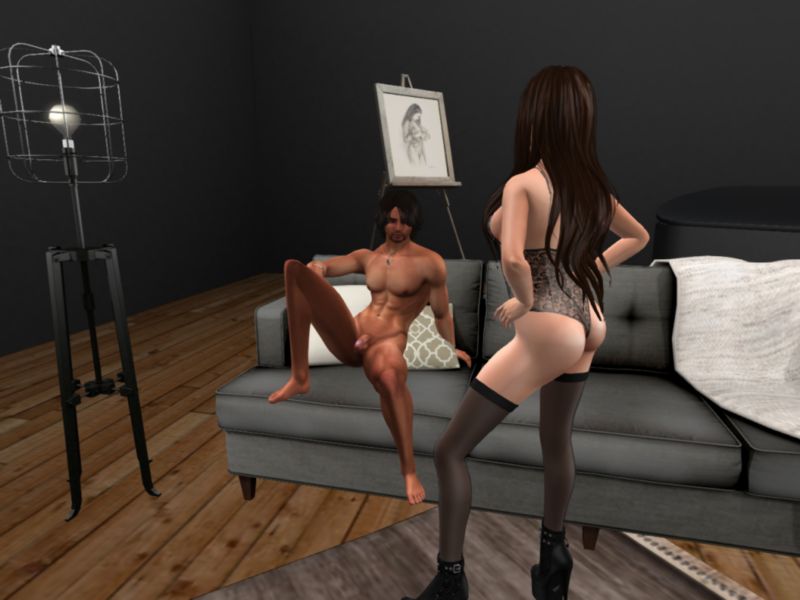 "Lets go to my new massage table", he suggested after a while. That was the new toy he was talking about.
This is how we inaugurated the table: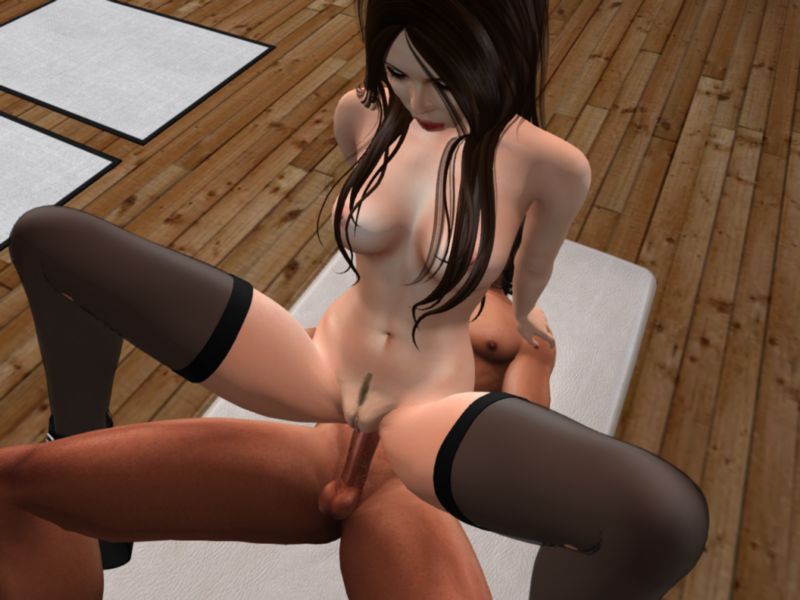 What else have I been up to? Well, I introduced Uwe to rapeplay in Second Life and I continued my under cover story about ageplay I started some time ago here:
But this is stuff for other stories for future posts. Stay tuned, those are really hot stuff.
By the way: You fancy an encounter with me? Well, you know I am in the sex trade again. For a small contribution to my Second Life finances, I will make sure you have a good time. Simply IM me or reserve time via email. (user name: carolinestravels, mail: caroline.resident@slamedia.de)
Or simply leave a comment with your user name here. I will get in touch with you as soon as possible.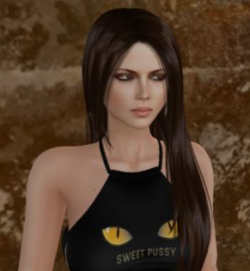 Founder of SLA Media, a company providing adult entertainment websites based on Second Life. Caroline has years of experience in the field of SEO and affiliate marketing. She runs an escort business within Second Life and is well known in the sl adult community.