Sex sells. I think everybody knows that.
I knew that too when I took the job at SLA Media. I will not be able to sell memberships of a online sex game behaving like a virgin. It was clear to me that sex was part of the job.
Not a problem. In fact that's why I took the job. I love sex. But more so I love getting paid for having sex.
As you know from previous posts I even tried whoring. But this is better. And makes me more money.
I can't tell you how much commission I am getting each time I sell somebody a subscription to 3DXChat, but trust me, it is decent money. Real money that is, not just a couple of Linden-Dollar I could make as a whore in Second Life.
By the way, SLA Media is actually recruiting more sales staff at present. If you are interested contact me in-world.
Want an example of how it actually works?
Here we go.
The other day I was checking out "street whores" again. I was actually quite tempted to join the girls on the street. The thought was arousing, exciting. But I didn't do it. Instead I played the barmaid in one of the little strip bars in that region.
Lets see what happens, I thought. maybe I take a guest to the toilette and let him fuck me?
No. Nothing actually happened.
The place was kinda dead and on the street were quite a number of whores competing for a few clients.
I took action. I did send a message in one of the groups I belong and little later I had guests. One of them was interested in me. Very much so.
After a bit of chatting he invited me to his home. Ok, why not, I thought, I still had the bathroom in mind, but that will do as well.
We had sex then. I am not going into details this time, as I usually do. The point here is a different one.
Afterwards, in his "afterglow", laying in each others arms, I started talking about how much better 3DXChat is when it comes to sex.
He got interested. I answered some of his questions about it and led him through the installation process.
He signed up! Yeah, that was well worth it, I thought.  Just for a month to try, but hey, I will make sure he loves it.
I am such a slut and loving it.
The job wasn't completed yet. I always offer my new acquisitions personal services in 3DXChat. That is what makes SLA Media different to other affiliates or the game development company itself.
I actually meet them in the game and show my noobies how it all works. Help to get started is always appreciated in any game or virtual world isn't it?
We met at the door of an ingame music club called "Fresco".
There is actually no user search facility in 3DXChat. Hence I have to make an appointment with my new customer at a certain place and time ingame.
Once I have them on my friends list, it is easy to connect and meet again, but until then it is a bit tricky.
After I explained some basics it didn't take long for him to say: "What about sex in here, can you show me how that works too?"
I smiled and took him to the bedroom in his new private villa (every new player gets one to start with). I could have started to explain and lecture him about how to use the menu, where to click and such.
I went a bit more intimate instead. I laid on the bed and indicated him to join me.
"Wow, is that part of the service, are you going to be my first one here?" He asked.
"Can you do it again? I mean you already did cum before!" I inquired.
"Oh yes, you turn me on that much, I am getting a hard on just by looking at your sexy body and the anticipation of having you again".
What followed was the hottest virtual sex experience he ever had, according to him.
Well, that's how it works, that's what the job is all about.
Interested to become a team member?
Contact me In-World. (username: Jessicaslamedia) or leave a comment with your username here.
Questions?
Feel free to post them here in the comment section. I will answer every question posted here.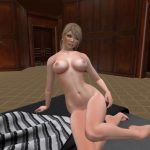 This diary is about the journey of Jessica through Second Life. As Jessica I am a team member of an in-world (in Second Life) company called SLA Media. It is a company which publishes several Second Life related websites (adult rated).