I just discovered a online multiplayer sex game. It is called 3DXCHAT. The trailer and the different user comments on their forums actually sparked my curiosity yet again. Hence it did not take me long to register and give it a go.
If you want to know more about 3dxchat, find out here:
Now after several quite exciting hours in game, I thought it is time for yet another review and comparison with the Thrixxx sex game (called Chathouse 3D) which I advertise since a couple of weeks (and tested exhaustively).
I know its actually not really fair to compare that kind of online sex game with Second Life. Unlike the 3DXCHAT and Thrixxx Second Life is not just about sex.
In fact sex is only a small part of what Second Life has to offer. Therefore my comparison is limited to the sexual aspects of Second Life, disregarding all other aspects in this context.
18.08.2017:
Time for a little update. I yet discovered another amazing multiplayer online sex game called AChat. This is why I rewrite today this article to include achat in my multiplayer sex games review.
I evaluate the four "multiplayer sex games" by different aspects:
Diversification of Locations
The winner is: Second Life
Second life has a huge number of regions which cater for sex play. This is obviously due to most locations being actually user created and due to Second Life being around now for quite some time.
You can find nearly anything one might fancy when it comes to sex. Hundreds of clubs, BDSM locations, sex and nude beaches, swinger clubs, escort places make the choice of location unrivaled to any other game.
3DXCHAT come second. It offers 6 stunning locations. Discotheque, pub, night club, beach, love island and a party yacht. All very well designed and very detailed. In addition every user gets two free apartments which maybe furniture and amended at your preference. However, many users actaully make their place a shared location.
That means in addition to the 6 standard locations, you have almost always a choice of about 20 to 30 accessible user apartments. Usually the user organizes a themed party or event in his apartment and allows access during the event.
Chathouse 3D Roulette is the clear loser in this category. All you have is a beach front villa and, against payment of 20.000 of their coin (about 20 US), access to a fetich BDSM room.
Thats all. I don't know if they plan to add more locations to the game. Maybe if an active player or even a member of staff is reading this, please feel free to comment.
Quality of Graphics
The winner is: 3DXCHAT
I have yet to see a game with better detailed, high resolution graphic work than the 3DXCHAT. The realism is incredible. This accounts for both in-game items and textures as well as for the the avatars.
The loser here is clearly Second Life. There is an obvious difference between the work of a professional graphic designer and user generated content. In addition Second Life runs on technology which is more than 10 years old whilst 3dchat and Thrixxx are based on modern engines and servers.
Sex Animations
The winner is: AChat
This was a difficult one. The two best are AChat and 3DXChat. The animations system is very intuitive and animations  are very realistic. I give AChat a little edge over 3DXChat, because it has an abundance of poses (so-called scenes) which come with at least 16 different actions each. The varity is amazing.
One could say that about the Thrixxx animations and some huds in Second Life too. But I think, having used numerous sex animation in all four sex games, Achat has the edge over the others.
To be fair I want to add: Second Life animations are user made. In the other games animations are made by professional programmers and designers.
Here some Screenshots from 3dXChat and Achat for you to see how small the difference really is:
AChat Animations
3dXChat Animations
One clear disadvantage of sex animations in Second Life, is the need to adjust poses all the time. In 3DXCHAT and Thrixxx, poses and animation adapt automatically, no need for adjustments in height of the avatars or the correct positioning of a penis.
I am sure many of my female readers remember those awkward situations when trying to get a blow job to look right, but his cock sticks out of the back of her head. Sounds weird reading this? I feels weird writing it and even more so doing it. If you have had similar experience share them in the comments please, for a bit of a laugh.
Socializing and Flirting
The winner is: Second Life
Unlike Chathouse 3D Roulette and 3DXCHAT, Second Life is not sex centered. You meet all kind of people in music clubs, events and many other locations which are there to chat, socialize, get to know people and so fourth.
You can do that in 3DXCHAT too if you want to, but its far more limited than Second Life in that aspect and most users have actually something else in mind.
The clear loser in this category is Chathouse 3D Roulette. In Thrixxx you always meet one person only. You log in, arrive at the villa having a blind date basically. Yes, you can change to another server and meet somebody else, but you have no clubs, events or public places. Its one to one meet-ups at the villa.
Don't get me wrong. Blind dates can be exciting, but if you are a social animal who loves going out dancing, flirting and all the motions to chat somebody up then Chathouse 3D Roulette is not your best choice.
Availability for Sex
The winner is: AChat
I got laid three times within a few hours at my very first try. Easy. The site has actually a "sex partner search" as well as a blind date facility. It also has some public places, called party places, where one can go to hook up.
Second is Thrixx Chathose 3D. This is possibly an obvious one. Almost everybody who comes to Thrixx goes on a blind date with having sex in mind. If you don't get laid in Thrixxx, there must be something terribly wrong with you!
The loser in this category is Second Life. Yes, there are fuck regions in Second Life, but you still need to put some effort into chatting somebody up.
"Wanna fuck" as a chat up line will not get you very far in most cases, whilst in Thrixxx Chathouse 3D Roulette that might be just the right thing to say, after a short "get to know chat". In fact, sometimes you don't even need that. Just lay on the bed, play with yourself and wait for a partner to join in. It is that simple, especially for women of course.
The easiest way in Second Life is, simply hire one of the escort girls in Second Life. Myself or Cathy for example. For 2.000 Linden an hour, I will be your sex toy, your lover or whatever you want me to be and I will make sure you have a really good time.
Cost Involved
This is a difficult one to answer. There is no clear winner or loser. So lets look at the three individually
Second Life
Second Life is free to join. You only need Premium Membership if you intend to buy land. If it's only for the sexual aspect of a virtual world, you don't need premium membership (about 70 US per year plus fairly high tear fees for land).
However, your avatar looks shit when you first enter Second Life. Sooner or later you will want to invest a little in your appearance. Noob like looking avatars do have a hard time to find sex partners, for the obvious reason: you are down right ugly!
To create a decent looking, attractive avatar with a mesh body and a couple of different outfits you need around 30 to 50 US. You buy the stuff not from the company but in shops where other Second Life residents sell their designs. The choice is overwhelming. There are hundreds of good shops with quality cloth and other items at fairly reasonable prices.
Thrixxx Chathouse 3D Roulette
The Thrixxx Chathouse 3D Roulette is also free to join. The content however, such as sex animations, cloth, avatar design is sold against "coin" at their online shop. You need to buy coins first at relatively high rates. The stuff that comes free with it is not very good quality, and you have only a few animations you can use.
Update, 16.10.2016:
I visited thrixxx chathouse 3D today after a long absence and found out a bit more. There is actually a subscription option, which starts at 9.95 US $ per month. With this option you get access to all content, poses and features, just the same as in 3DXChat. This includes all available sex poses, a room editor and the features of the avatar maker.
3DXCHAT
3DXCHAT is pay to play. There is no free version, not even a trial version. You are asked to pay when you sign up. If you pay monthly the recurring fee is 19,90 US and all developer created content is included in the price.
You don't pay for animations (available in abundance) and all cloth, items, avatar amendments and even your own customizable apartment is included in the price. No hidden cost, one flat fee and you are done with everything.
AChat
Joining is free, and the free versions includes quite a bit of possibilities even so limited. You canedit your avatar a little, you have some animations and you can join the party places and you can use some basic  free rooms. If you want more choice you buy A$. Packages start at 14, 50 US.
There are also premium subscriptions available starting at 9,95 USD per month or 49,oo USD for a year. This is substantially cheaper than 3DXChat and the same as Thrixxx Chathouse 3D.
Conclusion
When it comes to the sexual experience, my favorites are 3DXChat and now Achat as well. For everything else there is Second Life and if I fancy a quick and dirty, getting-to-the-point encounter, it is Thrixxx.
Want to give it a go?
Share your own Experience
If you have been in any of those three games for sex, please share with us your own views. Leave a comment (moderated) and tell us which one is your favorite and why!
If you want to know more about 3dxchat, find out here: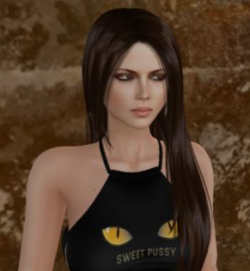 Founder of SLA Media, a company providing adult entertainment websites based on Second Life. Caroline has years of experience in the field of SEO and affiliate marketing. She runs an escort business within Second Life and is well known in the sl adult community.