"Do you remember us talking about sailing some time ago? Did you buy a boat in the end?" I asked Benny.
You know Benny, don't you? It is the books store owner I seduced some time ago. Later he fucked me twice at Caroline's Mansion. Once in the kitchen, and once after he watch me getting fucked by another guy.
He has gotten a girl friend now, which makes him first choice for yet another sex adventures. Yes, you know that I am that sort of bitch.
"Funny you are asking this. I am right now on a boat trying it out." Want to see it? He replied.
Yes, I wanted to.
His teleport brought me to bay of a small tropical island. Very pretty scenery indeed. The sounds did fit perfectly. Such as the waves breaking at some rocks and seagulls crying in the background.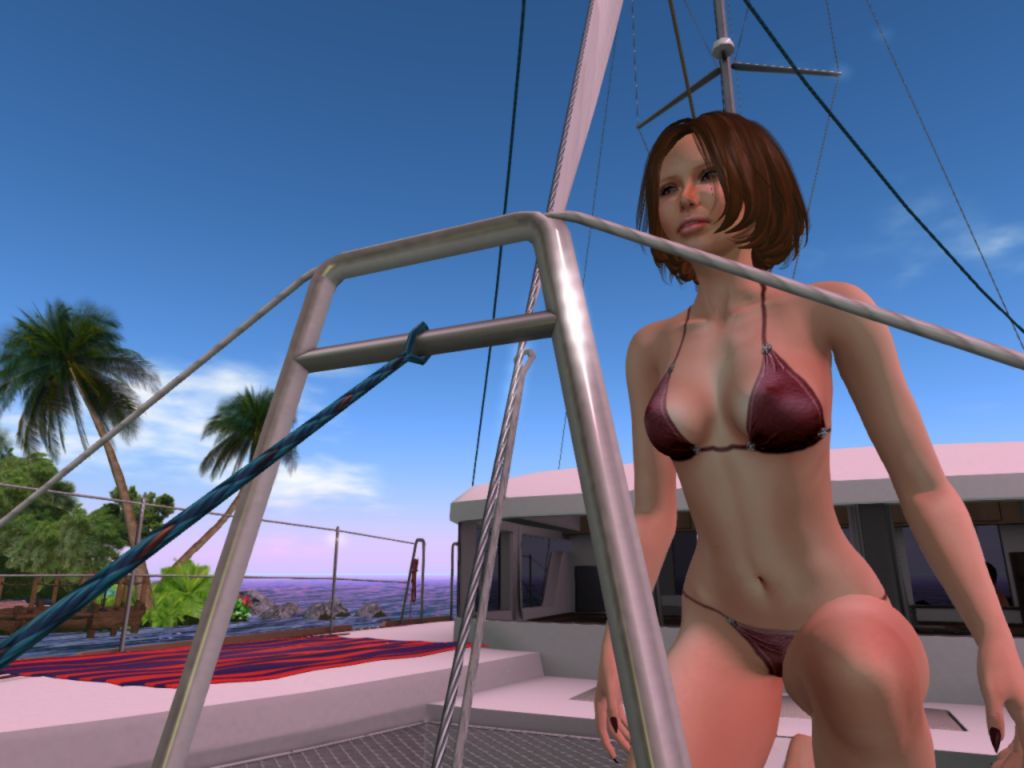 I tested all those some of the regular animations of the boat. Quite a lot of them available, such as sitting standing or doing work on the boat.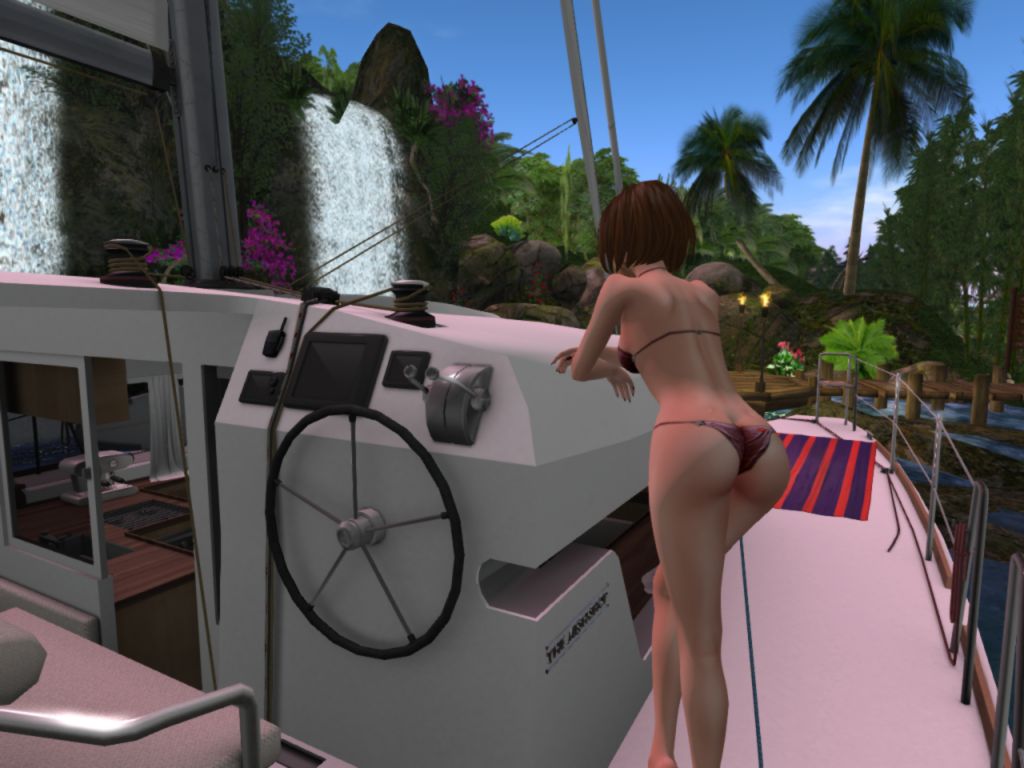 We discussed the difference between this boat and my all time favorite, the Bandit 60! I also asked him:
"So once you have the boat you also want a moore".
He completely misunderstood. He didn't actually know what a moore is (not native english speaker) and answered:
"Only if you want. You know I would never ask you to do something you don't want."
I bursted out laughing and clarified: "I was talking about a place to put your boat in a marina, what did you talk about?"
He blushed and felt a bit embarrassed. Nevertheless mean me made him say it: "I was thinking about sex!"
This is what followed:
Jessica caresses his inner thighs with her finger tips, smiles and asks: "so you are a bit horny right now?"

Benny: I wasn't thinking on that… but now that you touched me…..

Jessica: Haha

Jessica me lets her hand slide higher reaching his bulb, playfully lets her fingertips dance on it.

Benny: mmmm
Benny lean my head back and enjoy your fingers touching me.

Jessica opens his pants and lets her hand slide into them, reaching for his cock

Benny feels harder and harder with every touch you make. My heartbeat increases fast… and help you taking it out!

Jessica takes it out of his pants, grabs it firmly and starts wanking his shaft, feels how it gets harder in her hand.

Benny starts rubbing your head, feeling your smooth hair, and how you make me happy, with every stroke you do….

Jessica opens her bikini top and lets it fall on the floor.

Benny: mmmmmm.
Jessica rubs his cock faster.

Benny grabs your butt cheek and squeeze it….
Benny: That's very firm!

Jessica: Well, let me taste it.

Benny presses your head against me, penetrating your mouth deep, until feel the back of your mouth!

Blowjob on the deck

Benny: mmmm

Jessica takes it in her mouth her wet lips firmly enclosing it, sucks on it eagerly letting him go in and out  her warm mouth, whilst doing so takes his balls in one hand and massages them gently.

Jessica: (doing it real?)

Jessica slips quickly out of her bikini, then continues sucking on him eagerly, tasting some precum already.

Benny: That feel so good! And you there with no panties.
Benny Feels deep your cares, your wet mouth, your warmness….

Jessica: Want to take me already? Ready for that pussy?

Benny: I'm ready, and you, are you ready for this cock? Do you want to feel it deep inside you?

Benny slowly I rub your clitoris, feeling you all wet.Then gently I penetrate you, moving slow, stretching you until all is inside….

Jessica: /me moans  as he penetrates her with his big hard cock, feels stretched.

Benny grabs hard your butt, and fuck you, starting moving faster, going deeper and faster.

Jessica: Yes fuck me, hard and fast. Yeess want me to stand?
We went inside the boat, to the kitchen of the yacht.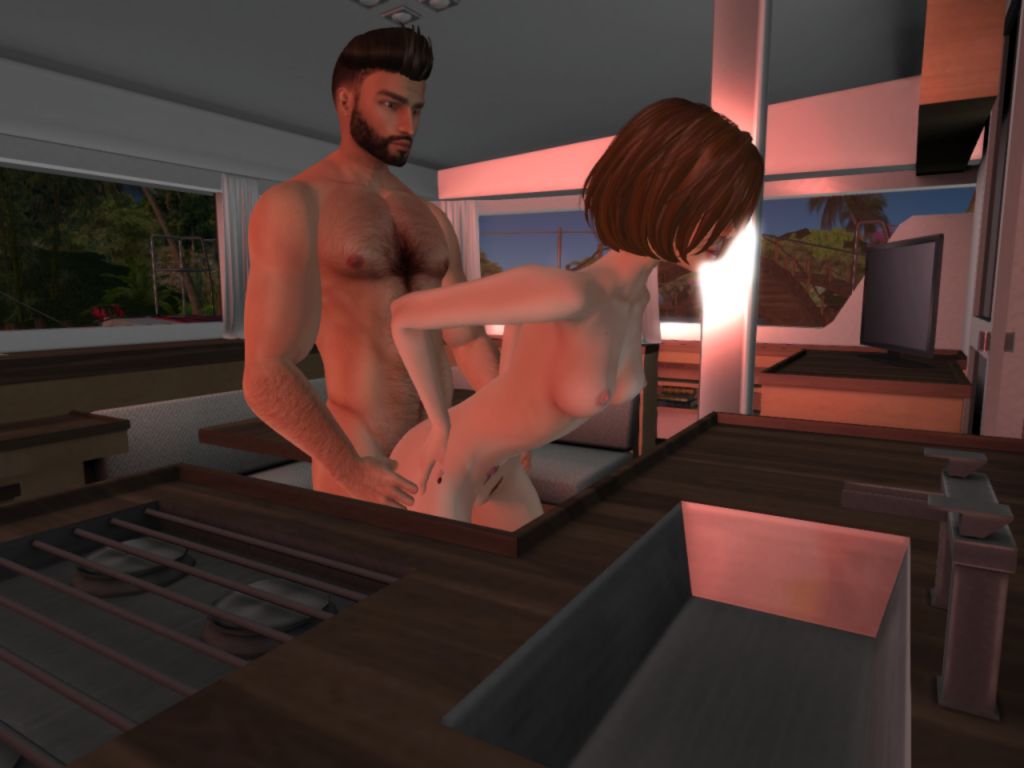 Jessica spreads her legs wide for him to enter her deeply.

Benny with one hand on your shoulder, and the other grabbing your hips, I continue going deeper, feeling you sucking my cock with your pussy…..

Jessica breathes faster, massages his cock, squeezing it at every thrust he does into her.

Getting Fucked in the Kitchen

Jessica: (doing it real?)

Benny: Yessss, hope no client enters now! OMG

He was at work. In his books store in some kind of back office. Anytime somebody could have entered the store.

Jessica: want me on my back too?
Benny: Yes…
We went to the cabine with that small but cozy bed.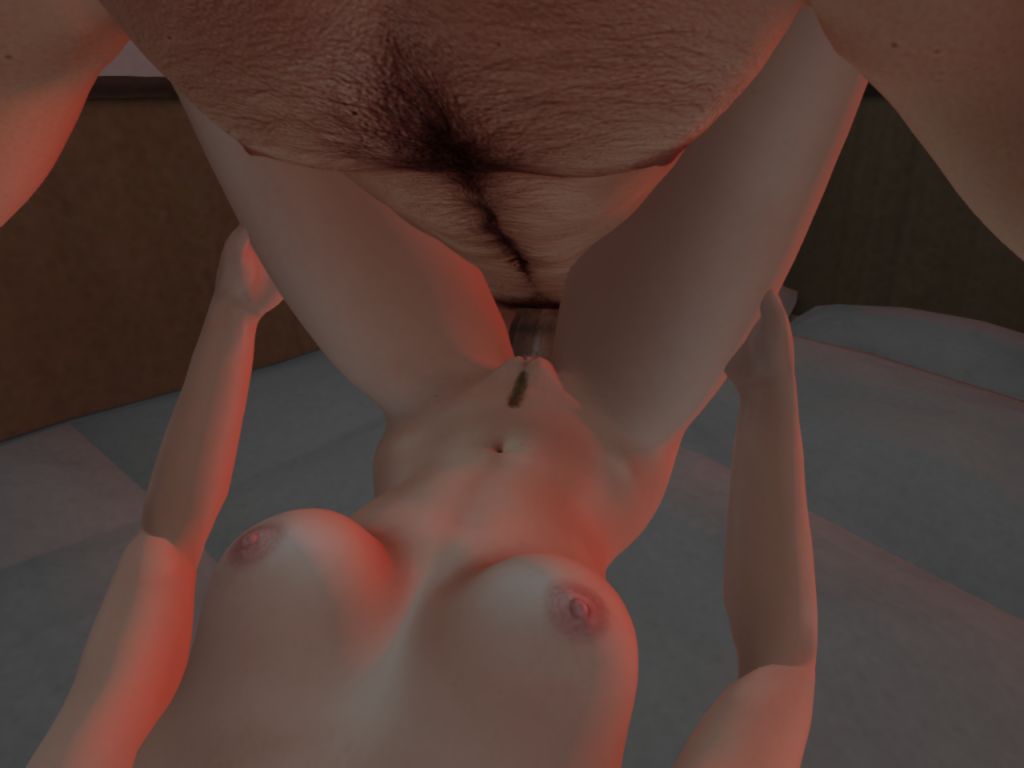 Benny with you on your back, I go even deeper…
Jessica: Yes love that, Fuck me! use me!

Benny spreads your legs so wide…to go deeper, deeper…..
Jessica: /me feels her body shiver getting close to climax.

Benny: mmmmm, my legs starts to shake, feeling the urge to explode…. sensing all your movements, feeling them, tasting them. That's amazing. Oh…..Nooooowwwwwww.

Jessica moves her hips back and forth in his rhythm, feels his seed filling her pussy. Rubs on her clit whilst still getting fucked, squeezing his still hard cock.

Benny: That feels so good.
Jessica: and…..cooooming.
Benny looks at you and seeing your body shaking!

Benny: It was very good! You did very well. Did you like it?
Jessica: very much so. I guess you did cum real too.
Benny: Oh yes! lol.
Jessica: Guess you need to go clean up before somebody enters the door.
Benny: Already done it…. I was prepared!
After that we kept cuddling a bit at the boat, Some very sweet animations.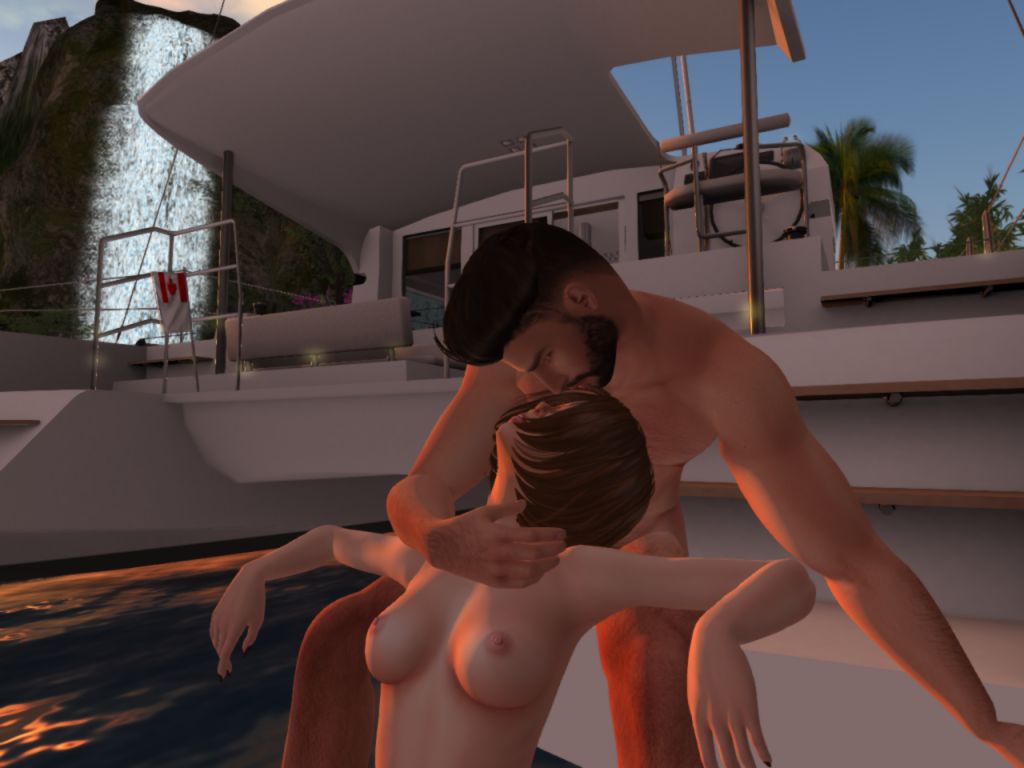 Not long though. We decided to go to Dutch Harbour instead, a place where you can try and buy boats and yachts.
But that will be stuff for another stor
y.
Jess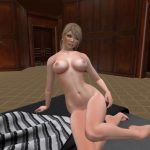 This diary is about the journey of Jessica through Second Life. As Jessica I am a team member of an in-world (in Second Life) company called SLA Media. It is a company which publishes several Second Life related websites (adult rated).