You remember, that I went into the porn business with Cathy and Uwe? We own the in-world company "SLA Media" which operates the site slamachinima.com. For those who do not, here is the story: machinima porn. Remember this post: BrettSmith: Interview with a 3DXChat Machinima Producer?
I met Brett Smith (and got fucked) a porn producer in the sex game 3DXChat. We agreed to work together and he actually gave me permission to upload his movies on our machinima site.
Here are 7 really hot and awesome sex movies made in 3DXChat. Don't miss them, they are a must watch!
The HO 2 – JBHeat Productions in 3DXChat
Samantha (played by Chriistina) is back. Actually she never left. This movie is continuing where The Ho 1 was left off. "Ass for sex" as the Law of Ghetto rules and that is what Samantha will show us in this part of The Ho. Get yourself ready and enjoy the ride.
Loveberg – JBHeat Productions in 3DXChat

Somewhere up north on the ocean there is an iceberg. A couple mysteriously ended up there, all alone, with a fire, completely naked… in this improbable story a young man and woman will heat up the scene and might melt the ice in a loving, romantic and of course erotic hot time.
The Ho – JBHeat Productions in 3DXChat

Samantha – played by Chriistina – is a single while female in the Ghetto where they have their own rules about sexual life. White single females must offer their body to every black men in the Hood.
The Date – JBHeat Productions in 3DXChat

The story of a young woman and a middle aged man. Somewhere on the sunny open ocean they met on a private yacht of a common friend and in a very short time they fell in love. When they went back to the hotel, their love became a steamy hot becoming of a new beautiful relationship.
Meet Jina and Brett and follow them how they complete each other in love, sex and fulfilling satisfaction.
The Stripper – JBHeat Productions in 3DXChat

After closing the Strip Club the owner and one of the dancers will stay behind for one more, extra heated, erotic dance and some more… After all the boss always deserves the extra.
Double Rebound – JBHeat Productions in 3DXChat

Christina's (played by Chriistina) best friend, Sarah (played by Juicy Jina) finally decides to get a taste of the life her blonde "sis" enjoys so much and after a short texting she joins her to go out clubbing. Brett and John joins them soon and after some dancing, party they go back to Christina's place and what follows soon after will make her flat juicy and hot.
The Creep – JBHeat Productions in 3DXChat

She loves going to clubs and dance. She is young, beautiful and sexy. But there is someone watching. The Creep is a darker end of the adult film industry which is made for entertainment but also offers an awareness about possible dangers in real life.
If you want to know more about 3dxchat, find out here: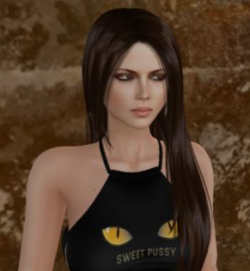 Founder of SLA Media, a company providing adult entertainment websites based on Second Life. Caroline has years of experience in the field of SEO and affiliate marketing. She runs an escort business within Second Life and is well known in the sl adult community.