Caroline decided to totally redesign the SLA Media parcel. When she decides something, she moves fast. Within no time the entire parcels looked totally different.
The 3DXChat showroom move to the sky. On the ground we have now a massive mansion serving as an AFK club. This might not be the final design, but the basic concept is having an AFK club on the ground.
We want to drive traffic to the sim and advertise 3DXChat. That is the idea basically.
If you want to know more about 3dxchat, find out here:
Of course I tried my luck on our own AFK place. Caroline herself is sitting on those beds or at the bar occasionally, leaving her body for everybody to use against tips.
It feels strange when you see your boss almost naked at the bar and more so: her getting fucked. I saw her once getting done at the bar by a shemale (See featured picture).
Really weird!
So far I didn't make a fortune with this. We still need to build traffic and we need more girls, a lot more girls.
Interested?
Come to "Caroline's Sex Mansion", join the group and help us to make the place busy. It is gonna be fun!
Here is the taxi: Caroline's Sex and AFK Mansion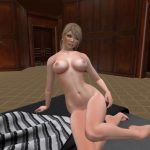 This diary is about the journey of Jessica through Second Life. As Jessica I am a team member of an in-world (in Second Life) company called SLA Media. It is a company which publishes several Second Life related websites (adult rated).