Sometimes I date for sex, sometimes it just happens.
Today just a short post about a spontaneous sex adventure
I was sitting at the wine bar in the North Sea Hotel again. It is one of my favorite places actually. When Doc sat with me. He was good looking actually and I had something naughty in mind.
We did only have a short chat, when I suggested out of the blue:
" you know, one of my kinks is to fuck in different hotels, its kinda one of my quests to have sex in most hotels in Second Life. Do you know a hotel which we could test together?"
Did take him a while to find the LM. This was probably his lucky day, so he made the effort.
The hotel was nothing special. A simple motel, basic design and some not very special furniture.
But spontaneously inviting a stranger to fuck, was exciting, arousing.
Got to do that more often, it was really hot.
Jessica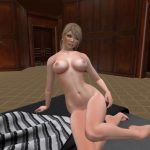 This diary is about the journey of Jessica through Second Life. As Jessica I am a team member of an in-world (in Second Life) company called SLA Media. It is a company which publishes several Second Life related websites (adult rated).