I did it. I finally did it.
My regular readers (both) know, I have been tempted to go whoring since the day I had sex for money in the past. Back then it happened kinda by accident. Read the story here: Cheap whores trailer park, and here : Oops I did it again.
This time it was different. I actually went on the street to go whoring. Intentionally. On purpose.
Typically if you want to work as escort girl, you look for employment at a popular escort club. The reason for that is simple: They have the clients.
The downside is, you have to share your income with them (usually 20% for the club) and you have to go through a sometimes complicated hiring process.
I didn't want to fill in forms or go to interviews. Hence I decided to try my luck as a freelancer. I dressed for the occasion (very sexy) and teleported to a sim called "street whores".
Nothing fancy. The opposite is the case: dirty, slutty and raunchy. Exactly my thing.
If you think that all it takes to find clients is standing there, looking sexy you are most definitely wrong. There were not many punters around and I competed with at least 5 or 6 other whores on the street.
It was boring at first.
In addition many guys who eventually landed there were just tourists. They did not come to pick up a whore. They came to have a look at the place..and the girls. Sightseeing of sorts. Others try to chat you up for a free fuck. /me sighs and rolls her eyes.
Finally a guy approached me. Not to chat me up, but for what I was actually there for.
Him: Hey, baby doll. I'm great, could be better, of course 😉 You?

Jessica: Very well too, Looking for a girl here?

C.: /me grins and nods, gliding his fingertips along your bare arm, gazing down at your sweet face.

Jessica: /me smiles and allows his touch then asks:" so what are you looking for?

 C.: Private RP (Role Play), 30 min, maybe more?

Jessica: Sounds ok. 1.000 L$  is ok for you? We could go to my place I have great animations.

 C.: Yep, sounds good. Let me send you a note of roles. Let me know if any in particular peak your interest. ;). (Got sick of typing them all the time ;).
Straight to the point. No beating around the bush. This guy knew what he wanted.
I am sure this is not the first time he picks up a girl from the street and he seems to be an avid roleplayer.
Here is what the notecard said:
Creative roleplayer looking to explore some fun and interesting scenes. IM me and let's see what we can explore together. Sometimes I'm up for quickies, but most of the time I love playing out scenes. Not many limits.

I like to play manipulaTIVE or manipulatED depending on my mood. Not many limits aside from scat. I usually play older and of course those limits stay between you and I in private. 😉 I'm not really into BDSM, but I love T&D, and of course, either of us might not quite be…willing…to do things without a little..encouragement. 😉

1) Seductive babysitter trying to make a few extra bucks.

2) Innocent babysitter caught smoking pot.

3) Girlfriend's naive, jealous younger sister getting way in over her head.

4) Seductive or innocent daughter trying to convince Daddy to give her the car keys for the evening.

5) Innocent, younger sister coming to her older brother for advice about her older boyfriend pushing her to try new things.

6) At a family gathering, I grin as I follow you into the bedroom with everyone's coat on the bed, watching you, my young niece, remove yours , revealing your cute holiday outfit, quietly shutting the door to the rest of the family behind me.
We went for option 4!
Not what you ask a regular date. It does make sense to hire a professional for that instead. We went to Caroline's Villa and he paid me upfront  for half an hour 1.000 L§.
Nice.
I know it is not a lot of money. I would be making more at McDonalds flipping burgers. That is not the point. Flipping burgers is boring, this is not!
For the sake of discretion, I replaced his name in the chatlog with C.
Daughter wants go out and needs daddys car

Jessica: /me walks down the stairs from her bedroom in her "going out" outfit, sees her dad. Just what she has been looking for, smiles innocently and sais: "Hi Dad, I have a question".

C.: /me 's eyes drop to your short skirt, scanning up to your tight, top, quickly regaining his composure, shaking it off, trying to focus on your sweet face.

Jessica: /me comes a bit closer, looking in his eyes and with an irresistible smile of y young daughter asking: " Hey can you do me a favour?"

C.: Oh, um.., h-hey, sweetheart. Heh, um.., s-sure, sweetheart. Wow, is that a new outfit?

Jessica: Yes, got that to go out and have a bit of fun. Which actually gets me to my question. You know, I have this friends from college and we want to go out tonight. By the way, you like the outfit or is to sexy. What you think?

Well, normally one of friends is driving when we go out but his car broke down, hence its about the car, would you mind if I would take yours just for tonight, I promise i will be careful.

C.: Oh, yea, those older guys? I dunno if I like you hanging out with them….and does Mom know you have that outfit?!

Jessica: I am gonna be good and no mum hasnt seen this yet. I saw it in the store and had to have it, I know it is a bit provocative, but hey I am 18 not 10.

C.: You driving the car again? I dunno, I'm still trying to get that dent out from last time….

Jessica: Come on just this one time. I will be careful, promised! And the outfit, well I am an adult you may not have noticed that, but I am not a small girl anymore.

C.: /me 's eyes scan your sexy, wrapped frame up and down, whispering under his breath, "That's part of the problem.." *slipping a hand into his pocket, adjusting himself*.

Jessica: /me walks towards the rug and stands in a seductive pose saying: "Look at me, I am not the little girl anymore"

/me looks at him little surprised watching him getting obviously somewhat nervous: "Dad, whats up?"

C.: I know, but.., you don't know what those guys want. /me looks at you curiously.., "or do you….?"

Jessica: I know exactly what they want, and what's wrong with that? Will you give me the car then?

C.: Well,if you know what they want….*walking toward you, hand gliding along your bare arm.* Then you must know…seeing you in those outfits…what I want…

Jessica: Dad? So you want me to prove that I am an adult?

C.: /me snakes a hand around your bare waist, grinning down at you. Well., I can't have you going to college parties without knowing you know how to behave like a college girl…

Jessica: Ok if that is what it takes. /me walks up closer and lets her hand slide over his bulb, realises that he already got a small erection looks him in the eyes and says: "That is what you want?"

/me waits for his reaction and walks slowly in a seductive way towards the bed. As he comes closer she caresses his bulb again, smiling, then opens her top and lets it fall to the ground exposing herself to him.

Jessica: You see, those tists are not the tits of a little girl.

Role Play with a customer

C.: /me driven by years of wanting you, darts at you, tossing you back onto the bed

Jessica: Oh, you really want me do you?

/me lets her hand slide towards his pants, open them and takes his cock out , starts firmly massaging his hard cock.

C.: /me glides his hands along your pinned bare arms, gazing down at you, nodding

Jessica: Yes i can feel how hard this made you,

/me strokes his cock a little faster.

Take off your pants dada, let me show you what a big girl I am

/me whilst wanking his hard cock she leans over him and kisses him on his lips her tongue caressing his lips.

C.: /me inhales sharply as he feels your fingers wrap around his shaft.

Jessica: /me  opens her bra and throws it away.

Jessica: this will be our little secret dad.

Jessica: /me moves down on him, slowly, looks at his erected cock and lets her tongue cruise over his cock head in small circles.

Blowjob

C.: /me tilts his head back in ecstasy, moaning softly.

Jessica: Dady likes this? You see how big I am now?

/me takes his cock deep in her mouth, lets it slide through here wet lips in and out. Looks up for a moment whilst still wanking him and ask: " You want me to release you or is there anything else you want?"

/me takes it in her mouth again, sucks on it whislt wanking its shaft

C.: /me glides his fingertips behind your head, gazing down at you in astonishment

Jessica: /me lets her tongue circle over his cock head in circles Massging it in her warm wet mouth waiting for his answer.

C.: mmmm., you aren't getting it that hard and getting away with a car with just those lips of yours.

C.: /me tugs on your hair, pulling your body up onto him.

Jessica: Ok, Dady want it all the way, but then we never discuss the car issue again.

Jessica: /me sits over his cock, with here hand placing it at her whole then moves down lets his cock enter her tight pussy. Not being bothered taking off her sex skirt as she wears nothing under it anyway.

Fucks his daugther in second life role play

C.: /me 's hands sliding down your back to your ass, feeling it through your skirt.

C.: You have no idea how long I've wanted this

Jessica: /me smiles , lookin nis eyes then starts slowly moving her hips up and down.

C.: h-holy f-fuck. so tight.

C.: /me instinctively thrusts his hips up to meet yours.

C.: /me loving every moment of you slowly gliding up and down on his shaft.

Jessica: /me cries out a little as she feels him penetrating her body with his big and hard cock

C.: /me grins up at you, mmm.., you're VERY good at this… 🙂

Jessica: I told you I am a big girl now.
Jessica: /me starts moving a lot faster enclosing his hardness firmly.

Jessica: Yes, Dad, use my little pussy I will use the car for that

C.: /me breathing harder, soft moans escaping his lips, "Fuck…fuck.omg…"

C.: omg…that's it….*eases back as you slow, loving every moment of being edged inside you*.

Jessica: /me starts moaning as well, massaging his cock with her pussy as she moves and grinds over him. (hard in real too?)

C.: (Mm.hmm., trying so hard to delay it… 😉 )

Jessica: /me stops moving and lays on her back, whispers: "Take me Dad, use my pussy.

Jessica: /me moans as he penetrates her again.

Fucks his daugther in second life role play

C.: /me slides on top of you, grasping the top of the mattress, thrusting up inside you.

Jessica: /me wraps her legs around him and pushes on his ass, for him to start pumping into her.

Jessica: Like it like this Dad?

C.: /me tries pumping you slowly, unable to keep that pace, and starts slamming into you harder and faster, using the bed for leverage, driving your tight body into the mattress.

C.: Mmm., that's it, sweetheart.., take it…take that big thing!!

Jessica: /me cries out as he starts hammering her, : "Yes come use me to release you, you have been waiting for this long enough"

C.: /me slips a hand over your tit, massaging it, pinching and twisting your nipple, slamming into you over and over, ignoring your cries.

Jessica: /me closes her eyes, spreads her legs wide and lets him have his way, waiting to feel him cuming.

C.: /me moaning against the pillow near your ear, "omg.., you fucking little slut.., mmm.mmmm".

Jessica: /me at every stroke he make into her youndbody she shivers a but and cries out loud. (tell me when you cum).

C.: Fuck…fuck…omg…*drives it deep into you, holding it in you as he spasms inside you*.

C.: /me 's body quivers against yours as he feels himself empty into you.
This was a shortened version of the entire role play of course. The whole thing did take about an hour. He did actually cum in real in the end.
He paid me another 1.000 L$ in between, as it became obvious that half an hour would not be enough for this.
Nice. My first customer made me 2.000 L$. But the best thing came after the fuck:
Sales pitch in the afterglow

C.: Thanks, sweetheart. That was fantastic! 😉

Jessica: (did you cum?)

C.: (*nod*)

[Jessica: glad you enjoyed it despite the little technical glitches.

Jessica: Oh and thanks for the full hour pay, if you want to repeat that sort of play I could use another avi which looks younger.

C.: Also, how's 3Dx chat? I've never used it.

Jessica: Oh well 3dx is waaaay beter in sex animations and graphics.

C.: I might just download that. Who are you there?

Jessica: It costs a flat fee for everything, including all content such as animations and land

Jessica: http://3dxchat.com/?AID=3415902. Jessica: If you subscribe use this link, so it gets credited to me..

C.: (Hmm.., bit more expensive than SL. But it includes everything?.

Jessica: Yes, it's actually cheaper than sl because once you paid the fee EVERYTHING is included, no need to buy anything. Oh, and I am included too, as my job is to make sure customers are satisfied, literally. I am there to help get started, explaining how everything works, including sex haha

C.: Hey, that's convenient
You know where this is going.
Not only I made 2.000 L$, I also got a new customer of SLA Media subscribing to 3DXChat. That does get me a nice commission on top.
Want to know what 3DXChat is all about? Click on the advert hereunder. It takes you to a page which explains with a video what it is all about.
Hint: It's got something to do with sex.
Advert:
Anyway.
Dear readers.  Yes both of you. 
Did you ever think about whoring yourself? Or have you even done it? How did it feel? Did you enjoy it? Did you make money?
Please tell us about it here in the comments. Looking forward to read your stories.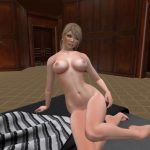 This diary is about the journey of Jessica through Second Life. As Jessica I am a team member of an in-world (in Second Life) company called SLA Media. It is a company which publishes several Second Life related websites (adult rated).