As I am writing this, I am standing on the street again, waiting for punters.
Just minutes before I was getting my cloth together again, in order to get dressed. That was in the dining room of a large mansion were I just got fucked on the dining table.
Waiting on the street can take hours. I knew that from the  Caroline Resident blog
Best I can do is writing yet another blog post. Second Life runs in the background where I stand in sexy, well slutty clothes at a lamp, waiting to get approached.
Back to the previous events. Yes, I did it again.
I was standing at my lamp (I have a preference for the one next to that window with the blow job animation), when I got an IM (in-world private message).
It was from a guy who found my profile. Probably because of some group messages I posted. Again, for the sake of discretion I do not mention his name but refer to him as S.
"Hello, you are looking good. What do you typically charge?"
I thought that will be an easy catch. Boy was I wrong.
I told him my rates: "Normally 2.000 an hour, unless the client wants really strange stuff which is hard to play for me. If its too heavy stuff I sometimes refuse to."
That's true actually. I had a guy the other day who wanted to be castrated whilst I fuck him in the ass with a strapon.
Thanks, but no thanks.
Back to S.
"I just like regular things. I am really looking for more than just sex. But you know , now and again…", he explained.
That's what whores are for right?
He asked for a TP (teleport). When he came we actually started a chat which proved to be a long one. He was very interested in myself, not only in my body, but wanted to get to know me.
I don't mind that. Even so I know that in most cases, the punter would use such a line to chat me up for a free fuck.
He admitted to be shy with prostitutes, as he feels its not right to use a woman, she is worth more than just to be a sex toy.
/me sighs.
"Its the the woman you pay for, it is a service. Just like going to a hairdresser", I explained.
After a while the issue came up that he would like the girl to enjoy it, and not just becasue she gets paid for it.
"I love to take her shopping instead of paying for it", he explained.
Oh my god, why do you contact a whore then? Ok, so I took a chance on that one and explained:
"Well, I sooner or later want to have that yacht called bandit 60. But it is a bit pricey. So if anybody would gift me that boat, He would have a 3 hour sex-credit with me."
He actually thought about to do that!  
After bit of back and forth beating around the bush (and my 3dxchat pitch) he finally said: "Let's go to my place!"
Booked!
Advert:

We went to his house. A quite big one.
He showed me around and I got the feeling he is quite well off. I better treat that one good, I thought. He could become a well paying regular.
Once we came to the dining room. I started the action after he paid me. I had, he was to shy to take the initiative. Even so I actually told him, that hiring a whore has the obvious advantage, that you don't have to be shy at all.
I teased him a little. Touching, caressing until he all of a sudden kinda grabed me and made me lean over the dining table.
No more shyness, no more hesitation.
He first was treating my pusy with his hands and sucking me. Not something I particularly enjoy that much, but hey he is the boss. He who pais calls the shots.
Finally he took me on that table. Hard and fast, using me for his pleasure. Not holding back at all anymore.
Felt like he really needed a good fuck. Well, here we go, thats the job.
Afterwards he became a bit cuddly again and raised the issue that he would like to get me better. He would love to have somebody to care for and spend time together in Second Life.
I said: "well, why not, as long as you can afford me."
We probably will go sailing. I suspect he will buy me that boat soon.
I can't post the entire chat, as it was all in German. Sorry can't be bothered to translate all that.
Hope you enjoyed today's post anyway and as always: please feel free to comment.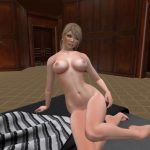 This diary is about the journey of Jessica through Second Life. As Jessica I am a team member of an in-world (in Second Life) company called SLA Media. It is a company which publishes several Second Life related websites (adult rated).