Since a couple of weeks I have a new advertiser. Its company called thrixxx, who do all kind of adult gaming entertainment. The game I am reviewing today is the Chathouse 3D Roulette. I did not really know what it exactly is, until a couple of days ago.
I decided to give it a try. In the end I should know, what I am advertising to my readers. So off I went downloaded the viewer and created my first Chathouse 3D Roulette avatar.
At first I was a bit confused. I am used to the way you move an avatar, use the camera and all those things in Second Life. Here it works all different. Especially the camera needs practice. But after a while things are really easy and smooth. My advice is, to lower the speed of the camera in the settings. Its much easier that way.
Continue reading "Sex Game Review: Thrixxx Chathouse 3D Roulette" »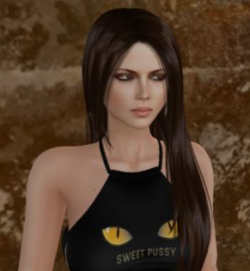 Founder of SLA Media, a company providing adult entertainment websites based on Second Life. Caroline has years of experience in the field of SEO and affiliate marketing. She runs an escort business within Second Life and is well known in the sl adult community.