I "woke up" in the Aislin at Cairn Howff. That is where I did spend the evening with my new friend Basiliscs. My sex date, you remember. There was somebody else in the room.
I was not fully awake yet (rezed) , waited until I see clear. Yes, there he was, and I felt like having a deja-vu. I have seen that kind of avatar before, in 2007.
Horgh Hax was his name and this is what he looks like:
Male, leather pants, naked breast, no shoes, long hair, schwarzenegerized shape, no animation over-writer. You get the picture. Most of those used to call themselves a Master or a Dom and demanded to be treated as such.
According to the profile he already has been 10 years in Second Life. Just what I thought: a 2007 noob. But I gave him chance.
He is German actually and quite a nice guy. I told him I am on this quest to find nice hotels in Second Life, hence the reason I am here and asked him if he knew any.
He checked his inventory for old landmarks and indeed found something that he thought is a hotel. Off we went and had a look.
The place wasn't actually a hotel. It was a huge mansion called
Looked old and darkish. I checked the land profile and found out what it really is: A place where a certain group goes for a BDSM themed role play. I am not sure what exactly the play here, but judging by this cage and a bedroom for kids I suspect it has to do with age play.
I am thinking about getting in touch with them and find out what this is all about. A guy called Peter Black seems to operate that place.
This is what if states in his profile:
"looking for role players who would like a quiet place to play away from the larger sims if this is you im for a landmark."
Yep, you dont have to tell me twice. Lets see what happens. I keep you posted.
And no! I did not have sex with him. So not!
Kisses
Jessica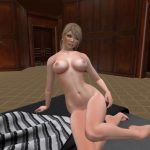 This diary is about the journey of Jessica through Second Life. As Jessica I am a team member of an in-world (in Second Life) company called SLA Media. It is a company which publishes several Second Life related websites (adult rated).