The first time I met Dave was at the Golden Sun Beach. I reported here: Golden Sun Family Beach. The second time he invited me for a coffee hier: Little Playground.
At the Little Playground I saw the same type of rules as at Golden Beach. All must be in PG. Absolutely no adult behaviour, nothing sexual in your profile.
I went there a second time on my own. I wanted to know what the place is really about. I had my suspicions.
When I came there, I was actually asked by a member of staff to remove my adult related groups from my profile. They would not be appropriate at such a place.
Yeah, sure. I did as I have been told.
I watched the scene. Indeed a playground. Lots of children games and toys. Avatars of all ages. From very small kids, teens and some adults.
What did stroke me quite odd was this:
There were a lot of kids and teens, but only 4 adult men standing there. Nobody said a word in open chat. That typically means all the conversations are done in IM.
I would have thought, that at a family hang-out there are mums and dads and kiddies. Not at the little playground. There are kids, teens and a couple of single adult guys.
Odd isn't it?
I spotted a German teen standing a bit aside. By his looks about 14 to 15 years of age, his profile however stated 18+ in both worlds. I decided to give it a go and see what happens. I did send him a message. Harmless, nothing flirty at all.
After a while (I was already back at my apartment, he was probably afk at first) I got a response: "Oh, hello Miss, I would love to get to know you better."
That doesn't sound like small talk, does it.
I invited him over to my apartment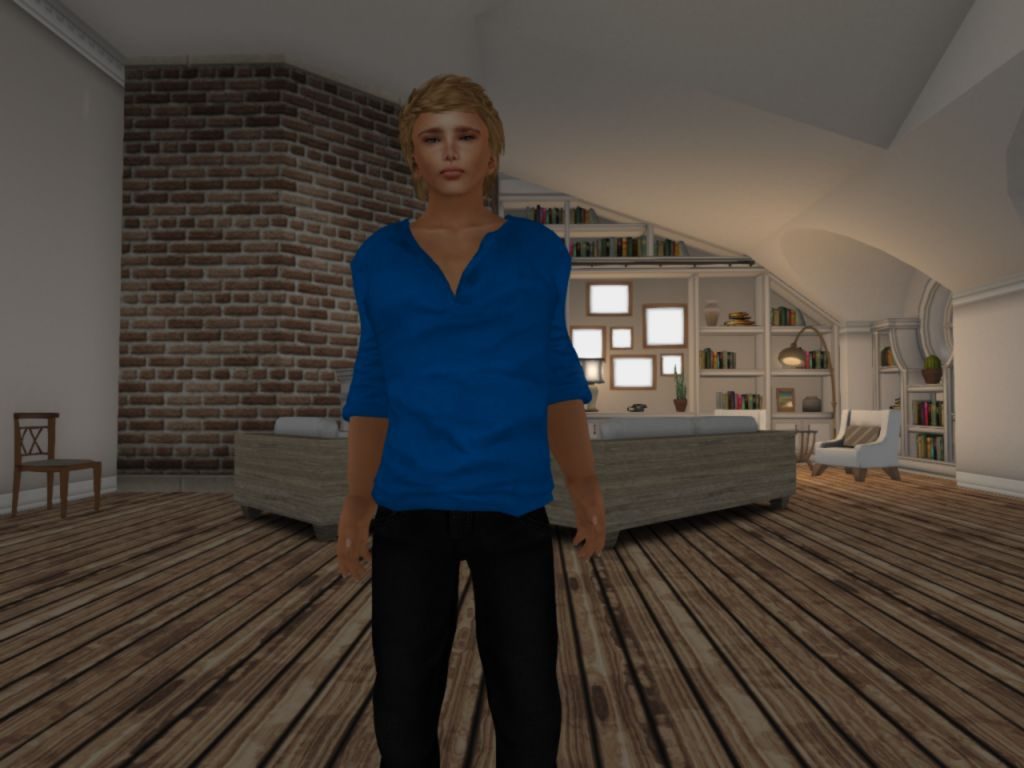 "What will the receptionist say, when he sees you getting a visit from a young boy like me?" He asked. I figured he went straight to roleplay.
"No worries I don't have a receptionist here. I live in a skybox 4.000 meter over the ground, with no neighbours around." I explained.
He arrived. It became very clear that he is looking for ageplay. His fantasy was being seduced by an older woman of the same age as his mum.
We played that scene a little. Not getting into hard core sex. Just auntie Charly showing him what game he could play with his little friend. He didn't have much time anyway, and wanted to play that when he has sufficient time for it.
This is a grey area I guess
He clearly states in his profile that he and his character are 18+. This type of ageplay is not against the TOS on Linden Lab. The Avatar could pass for 18 years of age, but could also be seen as 14 years of age.
A Linden staff member would have to decide upon that. My guess is, that it's ok.
However.
This could have been an isolated incident. Somebody as a teen looking for ageplay on a location declared as "PG family hang-out". But it also could be the norm at "Little Playground".
An ageplay pick-up place disguised as a PG family playground? Maybe, maybe not.
There is only one way to find out: going undercover
As a MILF it might be a bit difficult. Maybe I should create a little daughter and take her to the "Little Playground".
What you think? Please leave a comment hereunder.
Charly
Related Website:
Caroline Resident on Ageplay in Second Life
Article about different aspects of underage ageplay in Second Life. Including Linden Lab's stance on it and the legal aspect:
Charleen will explore Second Life as a mature woman. She writes about her sex adventures as a MILF. She also touches delicate subjects and researches ageplay, incest fantasies and other extrem kinks in Second Life. Her posts are not for the faint hearted.