Caroline redesigned the entire club. It is now somewhat more modern and a bit smaller. I went to check it out yesterday.
Here the Taxi: Caroline's Mansion
My landmark made me land right in what I identified as a living room of sorts. After rezzing I looked around and suddenly realized I was not alone.
Those of you who follow this blog might remember Ash, Caroline's friend who fucked me at her home: Getting fucked by a friend of my boss.
It was him there on the sofa with a beautiful girl dressed as a cleaning woman. He invited me actually to participate.
No, thanks. I had something else in mind.
I went to one of the rooms which are designated for afk sex offers, sat on the bed and logged into the tipjar. The idea was chatting with some friends which are online and see if I can make some tips at the same time.
I do that sometimes.
I realized the other room was occupied too. It was Caroline herself, offering her beautiful and sexy body. Wow the boss is working as an afk doll herself.
Nice one.
Benny was online. I told him about the new place and invited him over to have a look at it. If you don't remember Benny, here is how I met him: Noob Benny the book store owner.
Ever since he really improved his looks dramatically. He is now a really good looking guy. I thought, I might actually do more than just showing him the new house.
But then something unexpected happened.
Benny was inspecting the living room whilst all of a sudden Ash stood in my room. Totally naked. Apparently the girl he was busy with has been gone and he wasn't satisfied yet.
He didn't hesitate, sat on the bed and took me without beating around the bush, whilst I was chatting with Benny:
Jessica: I was thinking maybe going to Franks a bit, what you think? Oh look he fucks me now too, after he did the Housemaid

Benny: ahahah, Have fun, I'll wait in here!

Jessica: Hmmm you could do Caroline and when finished we go dancing.
Benny: It's ok…You know… I'm seeing you. Do you like to be watched?

Jessica: Does it turn you on watching me getting fucked?
Benny: Or do you want some privacy?

Jessica: Oh no, this place is not meant for privacy.
Benny: I enjoy very much seeing you being fucked, if you're really enjoying it. I like very much to see women cuming…

Jessica: Its hot getting used like that.
Benny: Well… He's going for all! Are you enjoying it?

Jessica: Well it's getting a bit boring now haha, but I guess he will finish soon. I am having a coffee in the meanwhile.

Getting fuck whilst a friend is watching
That was interesting actually. Benny actually enjoyed watching me getting fucked by somebody else. This was strangely arousing to me. Maybe I should try this cuckolding stuff one day.
Ash finally did cum.
I couldn't believe at first what he did then. He actually went to Caroline's room, tipped her and laid down with her.  
He didn't tip me actually.
After a bit of cuddling her, he went hard again and did her too.
I kept talking to Benny:
Jessica: I can't believe he does Caroline now.
Benny: Again? Did he take a full box of blue pills?

Jessica: No idea. But it is good that means traffic and traffic gets better rankings in search

Benny: Oh I see.. But, tell me, do you want to be here? Or would you like to dance with me?

Jessica: Yeah lets go dancing. Franks or you have a better idea?
Benny: Franks it's a nice place, but if you know a better one..I'll just follow you!

Jessica: I get dressed. Unless this got you so excited that you need a fuck yourself haha.
Benny: You're pretty. But I'm good..Unless you want!

Jessica: Ready to go.
Benny: wow

Jessica: Like the outfit?
Benny:Very much.  You're very beautiful with it!

Jessica: From naked to slut to ladylike in seconds haha
Benny: That's the beauty of SL…
Off we went to Franks Jazz Club. Whilst dancing I brought up the subject "watching me whilst getting fucked".
To cut a long story short: We will try a couple of things together in the future which involve watching.
Probably the start of yet another series of sex adventures.
Stay tuned.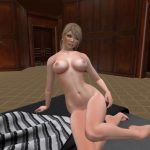 This diary is about the journey of Jessica through Second Life. As Jessica I am a team member of an in-world (in Second Life) company called SLA Media. It is a company which publishes several Second Life related websites (adult rated).