Karl did cum and left almost immediately. He didn't realize how late it was. Probably real life obligations of sorts. You remember, the guy I checked in with at the  Chamber Hotel.
I just imagine someone coming late to the office, due to a Second Life sex encounter. Whatever excuse you come with, you will have a hard time saying it without a cheeky grin in your face. At least I could not.
Anyway.
I was still in the Hotel room and decided to explore the building. I went down to reception and realized, that the yard is actually full of people.
That struck me kinda odd. I mean, nobody in the hotel but everybody standing in the yard?  To make it even more weird, nobody was actually saying anything.
I had to think of the walking dead.
But me:
"Good morning everybody, why is nobody saying anything here? Is this some kind of one minute's silence? Who died?"
Aimee, apparently member of staff, or self declared "blockwart", said:
"Members can stay in the yard and be silent as long as they want, its not your business"
Hey baby, I was just wondering!
Suddenly I got an IM from a guy called Bill:
Bill: i think most people here chat im Ims, unless some lil group is goofing around in public chat. Boring but yeah…I guess maybe one reason people don't talk in public is that some time ago management here we're pretty quick to throw people out. Mostly for not dressing up fancy enough

this was before my time so I have only heard the stories. But i would have been banned for sure for wearing jeans. Seems like Aimee still has a bit of an attitude.

Jessica: well it says formal dress code. Guess they want to keep a certain standard.

Bill: yeah, i know. I just cant be bothered most of the times, I wear a jacket sometimes tho i suppose. So… wanna go inside and look?!

Jessica: Yeah I have been inside already, actually before coming here to the beach.

Bill: I have never been off this square, not even down in the sand

Jessica: so what are you doing here on the square then?

Bill: people watching, chatting sometimes, checking out cool outfits on other guys ill never actually bother buying.

Jessica: haha funny. Come lets go inside the Hotel.

Bill: okie!

Jessica: you see? No monsters here.
Said and done. He was amazed how beautiful the actual building is, we went upstairs crossing a library with a guy sleeping in a chair.
We got to the billiard room. Also a very nicely decorated room with a small bar in one corner.
We sat down on the bar stools. At least that was the idea. However we somehow ended up in each others arms. I wouldn't be me, if I not make something out of this situation.
Bill: Ill fix you up with a drink if you wanna though. Youve been to a lot of hotel rooms?

Jessica: yeah quite a bit and Iwrote about it.Bill: I would love to read that story! Different rooms, different men?

Jessica: haha most of the times yes.
Bill: and some hot steaming sex?

Jessica: always!
/me lets her hand run over his chest, till reaching his jeans, gently strokes with her fingertips over his bulb.

Bill: /me feels his pulse quickens, running his hands down your back, pulling you a little closer.

Best hotel you have been to?
Jessica : cant tell, they all had their charm.

/me opens his belt and zip then lets her hand slide into his jeans. Take his cock in her hand and whilst smiling cheekily starts massaging it, feeling it grow in her hand.

Bill: fanzy, sleezy…I suppose they do. That feels pretty good ya know…

Jessica: That's the idea, turns you on I guess. (in real too?).

Bill: Keep touching me like that and itll get messy…
Jessica: /me intensive her massage, kisses him on his lips.

Bill: /me breathes faster. Hey now… don't wanna get your dress all stained.

Jessica: /me gets his cock out of his pants as he gets growing, starts wanking it faster, firmly enclosing it in her hand.

Bill: so close… better stop if you don't want me to cum!
Jessica: /me pulls his jeans down

Bill (: /me looks at er pretty face, knowing hes gonna cum all over it any minute now.
/me grunts "ummg…." biting his teeth together, got toooo

Jessica: /me take sit in her mouth and starts sucking on it, in-between massaging his cock-head with her tongue in small circles.

Bill: /me lets out a sigh and cums, exploding in her mouth.
/me takes a deep breath and smiles

Bill: wow…

Jessica: /me smiles as she gets his juices in her mouth, swallows it and asks: "did you enjoy that?"
He did. Obviously. And according to him he also did cum in real. We agreed to meet up again, maybe at the Spa?
I think I will have fun at the Chamber Hotel.
Certainly not time for check out yet!
To be continued.
Jessica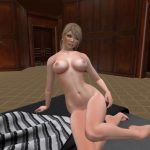 This diary is about the journey of Jessica through Second Life. As Jessica I am a team member of an in-world (in Second Life) company called SLA Media. It is a company which publishes several Second Life related websites (adult rated).