You might remember my post about what hotels are for in Second Life Hotel Priviledge. No? Then I suggest you read that first, as this is kinda part two of the story.
I found another interesting hotel. It is called the North Sea Hotel.
Landmark: North Sea Hotel
It not only offers free rooms , but also 6 skyboxes you can rent for free. Of course you can not live there or occupy those for as long as you like. Hotel stays are limited to three hours per day and skyboxes to 90 minutes.
Fair enough. I don't need more than 90 minutes for what hotels are for in Second Life. Do you?
So here we go again. I was sitting at that pretty wine-bar on the first floor of the North Sea Hotel and chatted with Clark (the guy I fucked with in the Hotel Privilege) telling him about my new discovery. Unfortunately he was busy with something else.
All right. Not a problem. But what now? I came with having set my mind on sex in that hotel and I was curious about those rooms too. What animations they offer, what the design is like and so on. A bit like a proactive hotel bed tester.
Somebody entered the hotel lobby.
He saw me sitting there and came straight to me. He greeted and shook my hand. After we introduced each other (Terrence is his name). The conversation went like this (including some role play emotes):
Him: finds his eyes keep getting drawn to Jez's lovely legs
Me: Want to have a seat? We have plenty of wine here
Him: Thank you – I'd love a glass of wine
Me: What brings you here to the North Sea Hotel?
Him: realizes her has been staring at Jez's legs and looks aside. His face reddens and he tries to focus on conversation.
Him: I got a tip off that it was a good place to come to meet people. What are you doing here?
Me: Not a lot actually, today i was supposed to have date. or kind of a date.
Him: gaze starts to drift back to Jez's legs, then his eyes move slowly up over her body.
Yes that guy was up for it. Plus apparently he knows how to role play (an important part of Second Life sex). We call that emoting, if you d not know what that is I highly recommend Caroline's articles about that subject: Emotes crucial element of sexual role play  and Second Life Sex.
I continued testing how far he would go and said:
"Not a lot actually, today i was supposed to have a date. I met this guy at Franks and he offered me some cash if I would sleep with him in a hotel, this hotel. I agreed after a bit of thinking about it, but looks like he changed his mind. Well it was kinda sexy the idea, made me nervous and excited at the same time. So that why i am sitting here in a mini dress, nothing under it feeling ridiculous. I would have been quite happy about those Linden."
What followed was this:
Him: takes another long sip from his glass and starts to feel his inhibitions dissolving in the alcohol. Finishes the last of the wine in his glass, sets it down and places his hand lightly on Jez's knee – looking straight into her eyes, searching for a reaction.
Me: looks back, smiling and whispers: "looks like you would love to take my dates place"?
Him: smiles
I have to admit that I am very attracted to you
Feels the alcohol swirl around his head and can't believe how forward he has just been.
Me: well, but I guess you would not do be paying for it too?
Him: I'm sorry I wouldn't want to do that – it kind of spoils it for me. Is that a problem?
Me: Na not really. I came here with the mindset I will have sex, and the whole thing about serving this guy for cash did actually arouse me, so when I stay poor I should at least have the other part. And who knows maybe you leave a tipp anyway haha.
Him: grins and lets his hand slip over Jez's knee onto her inner thigh.
Me: Opens her legs a little for him to see her naked pussy.
Him: Slides his hand slowly higher, all the time keeping his gaze on her eyes. As his hand slips higher and higher up her leg – his fingertip barely brushing against her soft skin – he leans even closer to her and whispers:
"I want to fuck you so much right now".
Me: There is one skybox available, should we go upstairs?
Him: Lets go!
So I had a replacement. And a good role-player on top.
The room he had chosen was very nice. Cool design and an excellent sex bed with top quality animations. I was very surprised. I will have to test the other rooms too when I have an opportunity.
After we landed I rather quickly took my dress of, exposing my naked body to him, then went straight to the bed, indicating him to follow me.
What followed was a very hot fuck, probably one of the best Jessica had so far. Realistic animations a and short but sexy emotes make such a difference when having sex in Second Life.
I am not going to bore you with the entire sex chat. Just a small extract of it for you to see how it went (in brackets is referring to real life):
Him: Hauls his body over hers – with his cock in his hand guides it towards her pussy.
Me: Moans out loud as she feels him penetrating her
Him: Sliding his cock deeper into her he starts to move his hips back and forth with a steady regular rhythm.
Me: Fuck yes, that is so hot.
Him: (Oh Jez – you are really making me hard now)
Me: Feels him slide deep into her body, watches getting him in and out makes her even more horny
Him :gazes deep into Jez's eyes as he slowly but powerfully drives his cock deep into her again and again.
Him: Oh, – that's so good!
Him: His cock sinks even deeper into her warm wet pussy and he slams it into her hard. His cock sinks even deeper into her warm wet pussy and he slams it into her hard. He increases the pace of his thrusts. As he starts to lose control he slams his body wildly into hers.
Me: Fuck yes! I will cum fast today.
I did. Very much so. So did he.
Him: Me collapses, exhausted. Oh God, Jez! That was powerful!
Him: Wraps his arms around her body and draws her close – still breathing hard and trembling.
Me: this is what hotels are for in Second Life haha.
We decided to meet again for more of the same soon. Oh, and I found out he is as broke as I am.
Any of my readers want to join me in hotel testing?
In that case leave a comment here, including a bit about yourself, your user name and which hotel you would like to test with me and why. I will get in touch with you asap. Ff you are not yet a Second Life resident: Join Second Life
 . It's free to use.
In case you wonder:
Yes, that also means having sex with me in your chosen Second Life hotel.
Yours
Jessica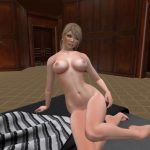 This diary is about the journey of Jessica through Second Life. As Jessica I am a team member of an in-world (in Second Life) company called SLA Media. It is a company which publishes several Second Life related websites (adult rated).