There are nice hotels in Second Life.  And there are old hotels.
Some actually date back about 10 years ago. I don't want to call them ugly, or bad, because at the time they served their purpose and the people who made them did invest a lot of time in making those places.
But, boy how times changed. I have found one of those.
It is called the Onduty Sex Hotel
It has been years that I have seen such a place. It is made totally of prims and textures. It felt a bit like traveling back in time.
Here is what happened. I got under one of my recent post a comment form a reader:
My avatar's name is Alatar Luik, and I've just gotten back into SL after some time away. Updated my avatar a bit, and thought it might be fun to meet up. One of the old landmarks buried in my inventory still worked, after I brushed the dust off it. The "OnDuty" hotel, named after (and apparently featuring) a popular freebie cock that's been around SL for longer than I can remember. The hotel itself is pretty rough looking by today's standards (very nostalgic if you've been around a long time), but the rooms are free and the animations work just fine.
In the post I proposed to my readers to find a hotel in Second Life and we would book a room there to " test" drive the beds. Which basically means having sex with me at the place.
Thats how I met Alatar. A quite good looking man.
The first time we met, we only had a chat. I did just awake at the Motel Rouge. Yes, looks like I spend most of my Second Life in hotel beds. I actually do.
I didn't have much time that day, but we had a good conversation about sex and second life. I share part of that with my readers.
Here we go:
Alatar Luik: Well, I've managed to reconnect with a couple of old friends, so that was nice. Most of the places I used to visit aren't around anymore. I never really had a purpose in SL, it's always been something of a casual amusement. I dabble in the adult side of things, clearly – though not always with a lot of success. I always found people to be very standoff-ish – if that's the proper word to use.

But mostly I've just been getting myself up to date, doing some shopping/demo testing, looking around at what sort of places are out there now. Just getting familiar with it all again.

Jessica (Jessicaslamedia): Cool, and now in the adult side of things again? 🙂

Alatar Luik: Hopefully so 😉 I do enjoy it. Though I've usually tended to be more wordy/emotive than a lot of people I've had encounters with. I have a feeling you'll be able to match me on that, so that's enticing.

Jessica (Jessicaslamedia): Well, to an extend I also dont wnat to overdo that part haha.

Alatar Luik: /me nods, "Naturally." I mean, we're not writing novels here.

Jessica (Jessicaslamedia): Hihi so the sex offer was your motive to write?

Alatar Luik: Somewhat, yes – how do I put it? I do tend to overthink things. Normally I wouldn't have commented and taken someone up on that kind of offer. This is different than my usual/past experiences here. It's something new. It's an exciting idea. I found it appealing when I read it the first time, though I didn't comment until a day later. Still took me a little time to actually go for it. 😉

Jessica (Jessicaslamedia): Cool, you know, sex in Second Life is my hobby so to speak and I am very open about it, just not the go-to-pose-ball-and hump-it type but I like stories around it. So I thought this might be fun.

Alatar Luik: And I've not actually met anyone like that. Until now anyway. And I appreciate your approach to it.

Jessica (Jessicaslamedia): Of course he needs to look at least the part, know basics of emoting and….

Tell me the truth about "real life activities". I love it when he does it in real and cums in real. You have not met anyone that open about it or anyone that slutty hahaha.

Alatar Luik: It's good to know that sort of thing ahead of time, because not everyone wants to bridge the SL/RL gap that way. And I haven't met anyone in SL that open who also has a mature, sex-positive outlook. That's appealing to me as well.

Jessica (Jessicaslamedia): I actually decided for myself to be that way in this second life, it was by choice, by being as liberal and open as I can without being cheap treating it as normal, natural way of having fun without inhibitions and it works well.

Other people go dancing I have sex.

Alatar Luik: /me laughs, "Well, there's something here for everyone." But I like your approach, and I'm very much looking forward to matching my schedule to yours for this. For now, though, I need to get going – RL awaits.

Jessica (Jessicaslamedia): Oki, sounds cool, so we are going to fuck in a cheap escort hotel haha

Alatar Luik: Yes. Yes we are.

Jessica (Jessicaslamedia): Maybe i should find appropriate underwear.

Alatar Luik: Give the place at least one more good fuck, in honor of all the escorts and newbies long gone. /me wipes a sentimental tear away.

Jessica (Jessicaslamedia): I will try to give the article a nostalgic touch then.
We met a few days later at the hotel bar.
Me naked.
This place used to be promotion for a network of escorts. When you get there you get a penis as a freebie The hud of that penis is connected to the escort service and tells you which girls is currently available. The hotel is there for the girls to take their client to a room.
Clever strategy targeting noobs actually. Noobs don't care much about the quality of an hotel or about sophisticated sex animations. They just need a cock, a girl and a bed.
That's exactly what you get at the Onduty Hotel. No more, no less.
We took the elevator and chose a room. Because of the nature of the place I felt almost as being an escort girl with a client.
I am not of the shy kind as you know.
Alatar Luik: /me loosens his tie and begins to undress.

Jessica (Jessicaslamedia): /me come a bit closer caresses his bulb a littel and asks: "How you feel about this arranged sex maeeting? Also a bit like a call girl thing isn't it?

Alatar Luik: I'm excited. I've been looking forward to this since we met. And yes in a way it is!

And a few minutes later

Blowjob for Alatar Luik

Jessica (Jessicaslamedia): /me keneels in front of him take his cock in her mouth firts licks under his cock head. Then starts massaging it slowly with her tongue in small circles all around the cockhead

Alatar Luik: /me softly groans at the sensation of her tongue teasing his cock, "So VERY helpful".

Jessica (Jessicaslamedia): yes what nice big and hard cock that is.

/me continues sucking at his cock, lets it slide through her et lips in and out

Alatar Luik: /me nods as his cock slips into her mouth, "Mm-hm. It's been waiting for you."

[2017/11/04 06:12] Jessica (Jessicaslamedia): /me looks up for moment, wanks on his cock and ask: "so how much did you desire me?"

Alatar Luik: /me smiles back down at you, "Would it surprise you to know that I lay in bed at home the last couple of nights, thinking of you as I, uh…took care of business on my own?"
That was certainly a turn on, and despite of the very basic and badly synchronized animations we got very excited about this. Yet again, words always beat animations, don't they?
It went on like this, got wilder, more passionate till he finally did cum in pussy.
Here the happy end:
Alatar Luik: /me positions himself between your legs, guiding the tip of his cock to your wet, waiting pussy. Alatar Luik: /me wastes no time, pushing himself eagerly into you.

Jessica (Jessicaslamedia): /me moans loud as he enters her again, faster and harder this time. Her nails scratching his back, pushing him to fuck harder, faster and shouts out : Yes honey fuck me, use me.

Alatar Luik: /me moans loudly as your nails rake his back, "Ohh, fuck Jessica…" Alatar Luik: /me lowers himself, his chest pressing against your breasts, his hips increasing to thrust as his cock pumps into you harder and faster.

Jessica (Jessicaslamedia): Soo love cock in me, take me hard and push it deep into me. Jessica (Jessicaslamedia): /me breathes faster, moans loud at every thrust he makes, her bod shivering as she feel her climax nearing already. Oh God yes, will you cum inside me?

Alatar Luik: /me grips the bedsheets tightly as he fucks you, his breathing heavy, gasping with pleasure at the sensation of your pussy around his cock.

Jessica (Jessicaslamedia): If you perefer fuck me from behind to cum.

Alatar Luik: /me nods, "I would love to fuck you from behind, Jessica. I'll fuck you any way you want me to."

Jessica (Jessicaslamedia): /me pushes backwards everytime he strokes into her, listening to the sound when his ball slap her ass on the strokes forward. omg am almost there. /me rubbing her clit fast as he fucks her.

Alatar Luik: /me groans as his cock pounds your slick, wet pussy over and over. "Nngh…I'm close too. I'm going to fill that pussy with cum…"

Jessica (Jessicaslamedia): Yes do that fill me with them juices, I love it when it drips out of me, warm and creamy.

Alatar Luik: /me moans loudly, gripping your hips roughly as he fucks you even harder, your ass slapping against him with every thrust.

Jessica (Jessicaslamedia): yeeeeees, coooming (coming).

Alatar Luik: /me cries out loudly as he cums, his cock pulsing and twitching inside of you as a warm gush flows deep inside your pussy. /me holds himself deep inside of you as the throbbing of his cock slows, and the last of his cum exits into you.

"Ohh, fuck…Jessica…"

Jessica (Jessicaslamedia): (coming real too?)

Alatar Luik: (hmm – just after my last comment there.)

Jessica (Jessicaslamedia): Gooood

The Moment of cuming together
Check out My Sponsor: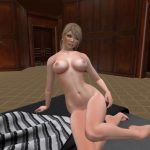 This diary is about the journey of Jessica through Second Life. As Jessica I am a team member of an in-world (in Second Life) company called SLA Media. It is a company which publishes several Second Life related websites (adult rated).