Honestly, I only wanted to listen to music, dance a little and chat at Franks Jazz Club. Frank's is an institution in Second Life. Probably the oldest dance and jazz club on the grid.
I got myself this quite pretty long rather formal dress and Frank's Jazz Club is the perfect place for such an outfit.
I chatted with a couple of people. Small talk, bit of teasing nothing too heavy. Until finally someone invited me for a dance.
Yes, I haven't done that in a while , so my skills in maneuvering the dance menu, meaning matching an appropriate dance with the music being played.
I hate in when they play salsa and we dance some kind of cuddly slow dance. Ridiculous. Clark managed to this quite nicely.
Clark has been a long time in Second Life. According to his profile it has been 11 years. But he explained that he was on and off during that time a lot and has not really seen much in Second Life. After a bit of small talk, the lag at Frank's, about tips, Djs (he used to be a DJ in Second Life) and about my previous experience as an escort girl in my former Second Life, he asked this question:
"Do you have a house here?,"
I explained him my plans to not use real money at all this time. Hence no house, no Linden and what I own so far are freebies. With one exception actually: A nice guy gave me 200 Linden the other day, to get started. Just like that, he said he can spare a couple of hundred Linden.
"I am the same", he told me,"I have a bout 250 Linden, no house either".
After a short break he asked: "Where do poor, homeless people like us go when they want to have sex?" I burst out laughing and answered:
"Cheap hotels, public beaches, sex clubs and the most fun of all: breaking in luxury villas on blake sea and hope the owner doesn't come online."
"Shall we book a hotel or go to a beach?" He asked pretty direct.
What a naughty idea. Picking somebody up from a dance floor and go straight to a hotel to have sex. Sounded indecent indeed, hence something that excited me.
"Now?" I reassured myself.
"Yes, why not, would you like that?"
Second later I found the right place in search: It is called Hotel Privilege. It is not exactly a 5 star resort. It is more one of those red light establishments where they rent the rooms by the hour – exactly what we needed.
It was a really good fuck. Not because of special emoting skills or great animations. Probably because the naughty atmosphere and the spontaneous decision to go somewhere with the explicit plan to fuck.
Afterward I told him about a cute and sexy idea, I just had: Visiting all cheap or free hotels in Second Life and fuck in all of them.
He laughed and said: "Sounds like a plan, but there are lots of hotels on the grid!"
We shall see, how many we find.
If you, my readers, know cheap but exciting and naughty hotels on the Second Life grid, please leave a recommendation in the comments hereunder.
Thanks 🙂
Jessica
And if you are not yet a Second Life resident, come and see me inworld: Join Second Life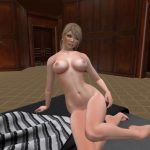 This diary is about the journey of Jessica through Second Life. As Jessica I am a team member of an in-world (in Second Life) company called SLA Media. It is a company which publishes several Second Life related websites (adult rated).