You remember my affair with that guy who happened to have a girl friend? Yes, the one I met at Sam's Nude Beach.
I have another one like this. And it is even hotter. I was actually his first fuck in Second Life. But soon after our sex encounter he found this other girl and they became a couple. They even partnered and want to do a full scale marriage in Second Life.
Sweet isn't it.
That doesn't stop him seeing me. In fact it was me who seduced him on Sam's Nude Beach, after I heard about it.
It is such a turn on to me.
That happened right in front of the rubbish container.. On the floor, there and then.
That should not have been the last time we had fucked.
Yesterday, he asked for a TP. Just like that, without warning or talking. I accepted. He found me sitting on a bed in one of these typical skyboxes. Somebody I met before allowed me use his skybox (another story you will read about here).
"Wife to be is not online?" I asked with tongue in cheek.
"She is," he replied and continued: "She is trying on wedding gowns. That is something I am not supposed to see, I guess. So she said I shall see some friends whilst she is busy with that. So I saw you online and came to see you."
Now that aroused me straight away. The girl friend is preparing the wedding and he is with me in a bedroom. Things like that get my pussy warm and floated.
Yes, I am that sort of bitch! And I love it.
I smiled and without hesitation I slipped out of my dress, laying backwards on the bed, indicating him to come and join me. I did not have to tell him twice.
I was extremely aroused, excited and maybe that's why I did climax rather soon. Before he could cum.
No Problem.
I do irresistible blowjobs. About 5 minutes later, spoiling his cock with my mouth and tongue he did cum in my mouth. I sucked every drop out of it.
Then let him go to his future wife. I had a huge smile on my face.
Kisses
Jessica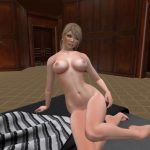 This diary is about the journey of Jessica through Second Life. As Jessica I am a team member of an in-world (in Second Life) company called SLA Media. It is a company which publishes several Second Life related websites (adult rated).